Thinking about applying process mining to your organization? In this blog post, you'll find answers to the most common questions that we get from companies considering if, and how, they could use process mining software.
You'll find answers to questions such as: "We already use a BI system, why should we take another system into use?" and "What is required from us in order to use process mining software?".
---
The basics
How does process mining software work?
Our process mining software, QPR ProcessAnalyzer, draws event data directly from organizations' IT systems (such as ERP, CRM and BPM systems). It then visualizes and analyzes process flows that currently take place in the organization - providing a holistic view of processes, while identifying risks (such as bottlenecks, process deviations, compliance violations) and opportunities (such as the most suitable and profitable processes for Robotic Process Automation).
Who can use process mining? Where?
Essentially any organization, in any industry, can use process mining. QPR's process mining software has been used to work with 70+ processes (such as P2P, OtC, logistics, service management, and more) and includes solutions for a variety of use cases, such as Robotic Process Automation (RPA), Digital Transformation, and Auditing and Compliance. Our customers include companies like Ericsson, KBC Group, Nokia, Metsä Board, and Terumo: customer stories can be found here.
You can also read about process mining in our blog post "What is Process Mining?".


---
Questions & Answers
Below are the process mining -related questions that we get asked most often! Is your question missing? Comment below or book a meeting with us :)

1. "We already use a BI system. Why should we take another system into use?"
There are clear differences between Business Intelligence (BI) systems and Process Mining, although they both serve the same purpose of providing insights into processes and enabling business leaders to make better, fact-based decisions.
Perhaps the most significant difference concerns finding the root causes of problems: Although both BI and process mining help you measure and monitor targets, process mining adds to this by helping you perform process analyses that easily reveal bottlenecks, compliance violations, and process deviations, which are visualized in real-time based on your operations.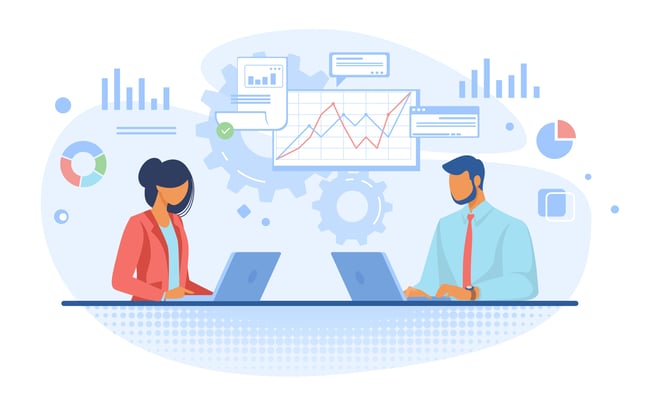 Process mining helps you focus on the problems with the biggest business impact

Process mining reveals problem areas in your processes by highlighting them in flowcharts and ranking them based on how they contribute to business outcomes.This tells you what to prioritize when you want to improve your business operations. Moreover, process mining provides answers not only to "what is happening", and "when is it happening" – but also "why is it happening".
The second difference concerns ease of use: Whereas millions of rows of process data might prove difficult to tackle using traditional BI methods, you can get an understandable, visualized overview of your processes using process mining. QPR ProcessAnalyzer is extremely user-friendly (in the words of KBC) and you won't need an expert to interpret results.

"We gave the data of the system, and right away, in 5 minutes, we saw the bottlenecks of the process." -Piraeus Bank
2. "Suppose we find a problem in the process. How does this tool help us fix those problems?"
Just as Word does not write documents itself, QPR ProcessAnalyzer cannot fix the problem for you. However, it helps you identify the most significant problems at a glance with its built-in root cause analysis.
When you have discovered how your processes work in reality, you'll surely find areas that you want to dig deeper into. With Root Cause analysis, you'll easily see what's causing problems such as long lead times or repetitive work. Besides identifying the areas that are causing problems, QPR ProcessAnalyzer also ranks them according to their contribution to business outcomes, so you know how to prioritize your corrective actions. However, how you fix the problem depends on the type of problem you identified.
Tip: Integrated Root Cause analysis
The built-in root cause analysis is integrated with the other analyses, meaning that you can instantly use it together with other types of analyses, such as duration analysis or conformance analysis. This is something that customers such as EY have found very useful – first, you spot a problem with conformance analysis, and with one click, you'll see the root causes of the problem.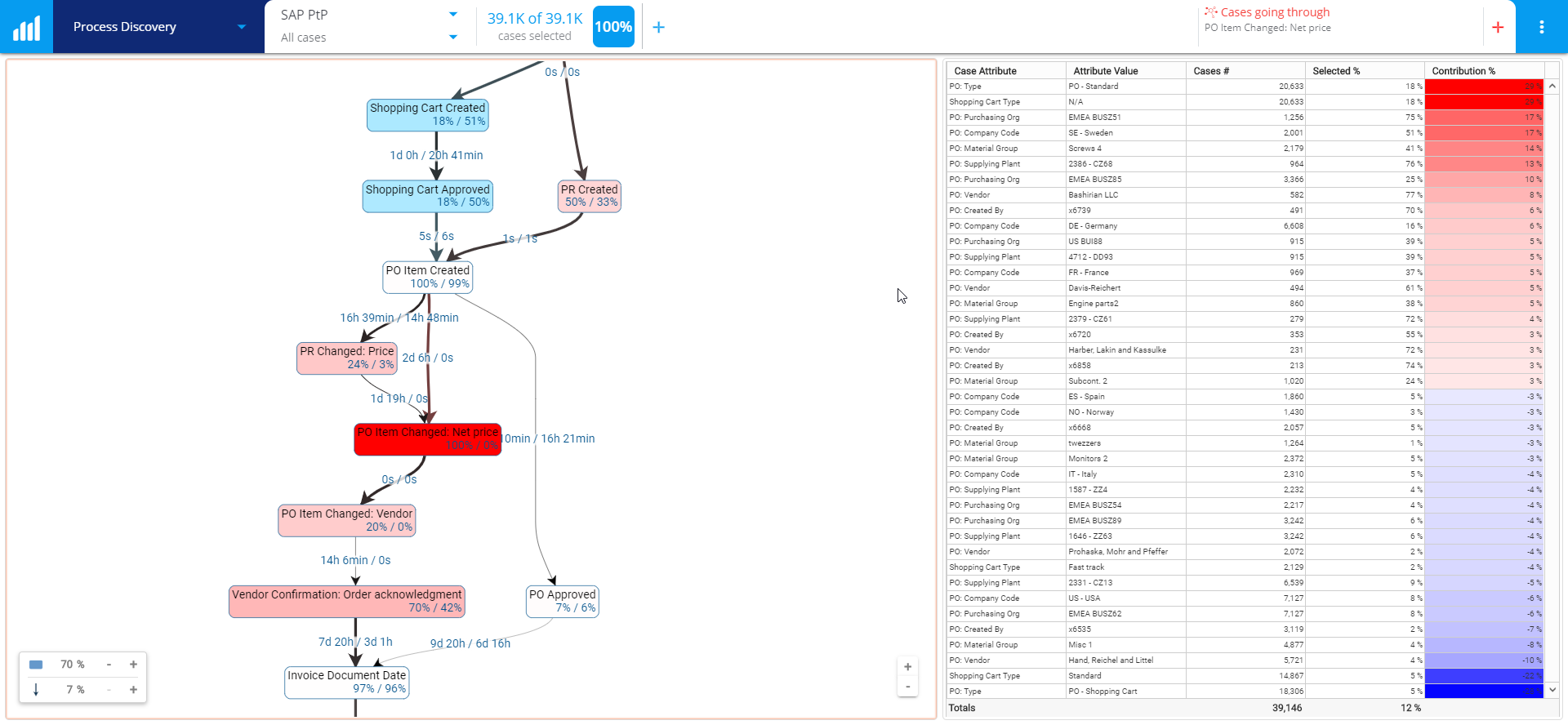 In the above example, you see root causes of "PO Item Changed: Net Price"
What kind of problems can you discover, then? You may find, for example, that employees in one geographical area have not understood how to use the ERP system properly, and this is causing a lot of problems with a large business impact. Maybe there are problems with a specific supplier or account manager? Or, perhaps your extensive process variations are causing issues for your RPA bots?
Tip: Ready-made solutions
With ready-made solutions for use cases like Robotic Process Automation, the process mining software also shows you how to improve. For example, the automation opportunity scout recommends which process you should automate next and provides a cost and time savings estimate.
3. "Our data is in two different systems. Can QPR ProcessAnalyzer connect to these systems and combine data from different sources?"
Yes, the QPR Connectors enable QPR's process mining software to connect to a variety of systems. Using these connectors, QPR ProcessAnalyzer systematically and automatically transfers data from source systems to the QPR ProcessAnalyzer server, enabling data quality validation and real-time analysis.
It is also possible to utilize data that's spread across disconnected systems and applications: if your organization is using several on-premise SAP ERP systems, one Salesforce cloud solution, a few custom SQL applications, and some excel files – don't worry, you can use the event data from all of them.
Connecting data from different sources is possible in the following ways (and this is something that our process mining experts are happy to demonstrate for you):
When the cases in two different datasets have the same ID. In this case, it is very straightforward.

When the systems use a different ID for the same case and this connection is known, data can be combined based on this logic. Of course, it is also possible that the processes are analyzed as separate entities based on data - not everything needs to be combined.
4. "What is required from us in order to use your process mining tool? We're not looking to invest in any integration of systems."
QPR has developed a framework for this purpose, consisting of the following steps: Data-Model-Insight-Value. This concept is used to describe not only the steps of taking process mining into use with QPR ProcessAnalyzer, but also to clarify the division of tasks and responsibilities.




Data to model: QPR checks where your organization's data comes from, and whether there is a need to make some arrangements(such as anonymization) and thereafter connects to it using the QPR Connectors. We will still go through the process mining model with you before the second phase, to make sure everything is correct.
Model to insight: After that, 'magic happens' - that is, the actual process analysis work begins. This is where you are more involved, and sometimes, this phase happens with the help of a partner. With QPR ProcessAnalyzer's extensive ready-made analyses and presets for various use cases, we've made the analysis part easy for you.
Insight to value: This is the part of the process mining journey that you are fully in charge of. In this phase, you make the changes, based on the insights from the previous phase, that lead to the actual value – whether this is system development, change management, six sigma, or Robotic Process Automation.
Lastly - do you have questions? Comment below and we'll answer! 😊
Now is a good time to take a look at Process Mining if your company hasn't already. The capabilities and usability of Process Mining software are improving rapidly, and the market is quickly becoming mature, although there's still much work to be done. If you think your company is ready to step it up with the future of as-is process modeling and process efficiency maximization, the fastest way to get things moving is to send our Process Mining team a direct message: