Are you planning for RPA deployment in your organization?
Are you looking for an RPA implementation roadmap?
How do you ensure the success of RPA deployment?
How do you identify the right processes for automation?
RPA Deployment Enabled by Process Mining
Robotic Process Automation (RPA) is about automating repeatable high-volume tasks. Compared to workflow automation, this approach aims to work on the front-end of software, removing the need for cumbersome integrations and scripting.
RPA can bring about substantial business benefits to a company, but it can also be very costly if implemented without sufficient business process knowledge. Insufficient understanding of the steps, substeps, and variations in your processes leads to loss of time and resources. Consequently, finding out about your business processes through traditional methods, such as workshops and process modeling, can also be lengthy and costly endeavors.
For gaining the needed information, process mining is the perfect tool for your RPA deployment efforts:
Gain an understanding of as-is process variations and deviations.
Choose the most beneficial subprocess for automation.
Scale up RPA and continue RPA deployment success.
Prove the RPA benefits by conducting a full as-is process analysis before and after the RPA deployment.
QPR's 4 Steps to RPA Deployment Success
1. Understand processes, deviations, and variations
2. Harmonize processes
3. RPA deployment
4. Process follow-up / process compliance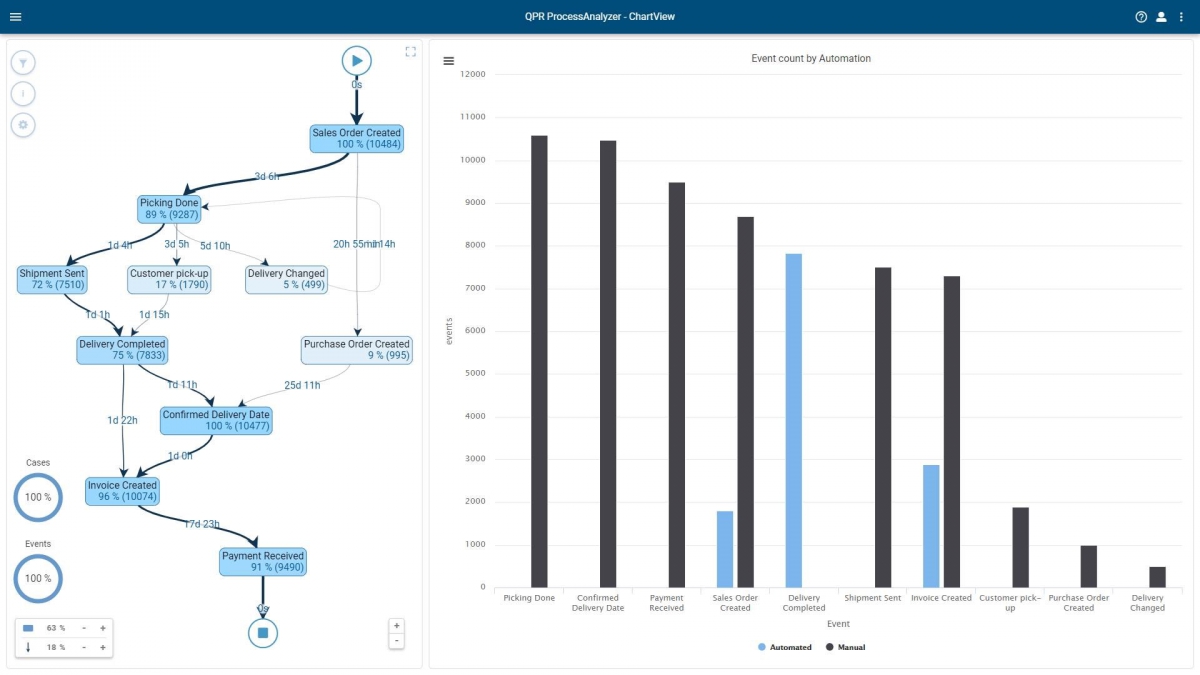 Monitor your organizations' automation progress with QPR ProcessAnalyzer's ChartView by creating a visualization of the events automated vs. manual.
Benefits of Using Process Mining to Support RPA Deployment
Significant cost savings, efficiency, and quality improvements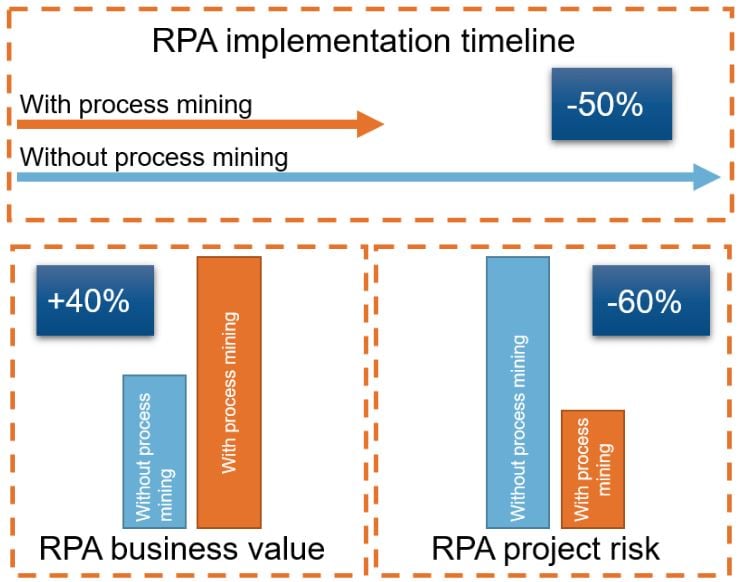 Adopting RPA and process automation in an organization can be an expensive investment, process mining helps to avoid unnecessary costs of automating unstreamlined processes and having to reprogram the robots. By using process mining to optimize the adoption of process automation and robotics, the RPA deployment process shortens by half, project risk is reduced by 60%, and business value is increased by 40%.
How Does Process Mining Support RPA Deployment?
RPA Deployment Roadmap
1. Initialization
Use process mining to identify automation opportunities and application areas. With process mining, you'll be able to tap into your system data and identify and understand your processes automatically. Extracting process data from your transactional systems gives you exact information about your operations. By analyzing this data, you'll rapidly build up your awareness of your processes and bottlenecks. These findings give you a roadmap for RPA deployment.
2. RPA implementation
Starting with the process mining tool QPR ProcessAnalyzer, you gain comprehensive knowledge about your processes and can see how they perform optimally. Using insights gained from QPR ProcessAnalyzer, you can understand process deviations and variations, and quickly pinpoint where your processes can benefit from RPA. Using process mining gives you great support for deploying RPA to your operations.
3. Scale up and monitor processes
After RPA deployment, you can continue tracking the performance of your operations using QPR ProcessAnalyzer and dashboards created in QPR UI. These dashboards give you information on how the process is performing and how you can improve upon it. These dashboards are also powerful communication tools for stakeholders on how the process is performing.
Combine QPR's long process management experience with its advanced, flagship product QPR ProcessAnalyzer, and make your RPA initiatives worth your investment!