The Ultimate Guide
Digital Twin of an Organization (DTO)
The growth of our industry is supported by three important trends
With digitalization,
the amount of data is growing faster than ever

, and its

utilization is challenging

.
Companies and organizations strive
to automate and make their processes more efficient

.
Building a successful business requires decision-making
based on data and facts

.
QPR DTO delivers business impact
QPR's Digital Twin of an Organization (DTO) is a powerful solution that revolutionizes the way businesses operate. It empowers organizations to make informed decisions, optimize processes, reduce risks, and enhance overall performance, ultimately leading to improved competitiveness and sustained business success.
Make smart data-driven decisions
Improve operational efficiency
Introduction to Digital Twin of an Organization (DTO)
Welcome to the future of organizational excellence! In today's rapidly evolving business landscape, staying ahead of the curve is no longer a luxury; it's a necessity. This is where the concept of a Digital Twin of an Organization (DTO) comes into play, and QPR Software is here to guide you on this transformative journey.
What is a Digital Twin of an Organization?
The Digital Twin of an Organization (DTO) is a virtual representation of the way an enterprise operates. It is created by collecting real-time data from operations.
In the context of businesses and organizations, a digital twin represents a virtual counterpart or replica of the entire entity, encompassing its structure, processes, data, and operations. This digital representation is created by integrating various digital technologies and data sources to provide a comprehensive and dynamic view of the organization's functioning.
The concept of a Digital Twin of an Organization is reshaping how businesses approach strategic decision-making processes. By leveraging real-time data, advanced analytics, and cutting-edge technology, QPR's DTO solution empowers you to create a dynamic, digital replica of your business operations, enabling you to gain unprecedented insights into your business processes, performance, and potential areas for improvement.
Why is it essential?
In today's fast-paced world, adapting and innovating is the key to success. Organizations need to be agile, responsive, and forward-thinking.
A Digital Twin of an Organization equips you with the software solutions to gain deep insights, enhance operational efficiency, and make informed strategic decisions by creating a dynamic, virtual replica of your business.
This cutting-edge software solution allows you to harness the power of data and simulation to transform the way you manage and optimize your organization.
Introducing QPR Digital Twin of an Organization (DTO) solution
Imagine having a virtual replica of your entire organization at your fingertips - a powerful suite of software solutions that provides real-time insights, fosters collaboration, and drives strategic decision-making.
At QPR, we are the pioneers in revolutionizing the way organizations harness the power of digital transformation. Our cutting-edge DTO solution empowers businesses to thrive in the digital age by providing a comprehensive and robust suite of components.
QPR stands alone as the sole vendor in the market offering a comprehensive suite of DTO software along with unparalleled service and support.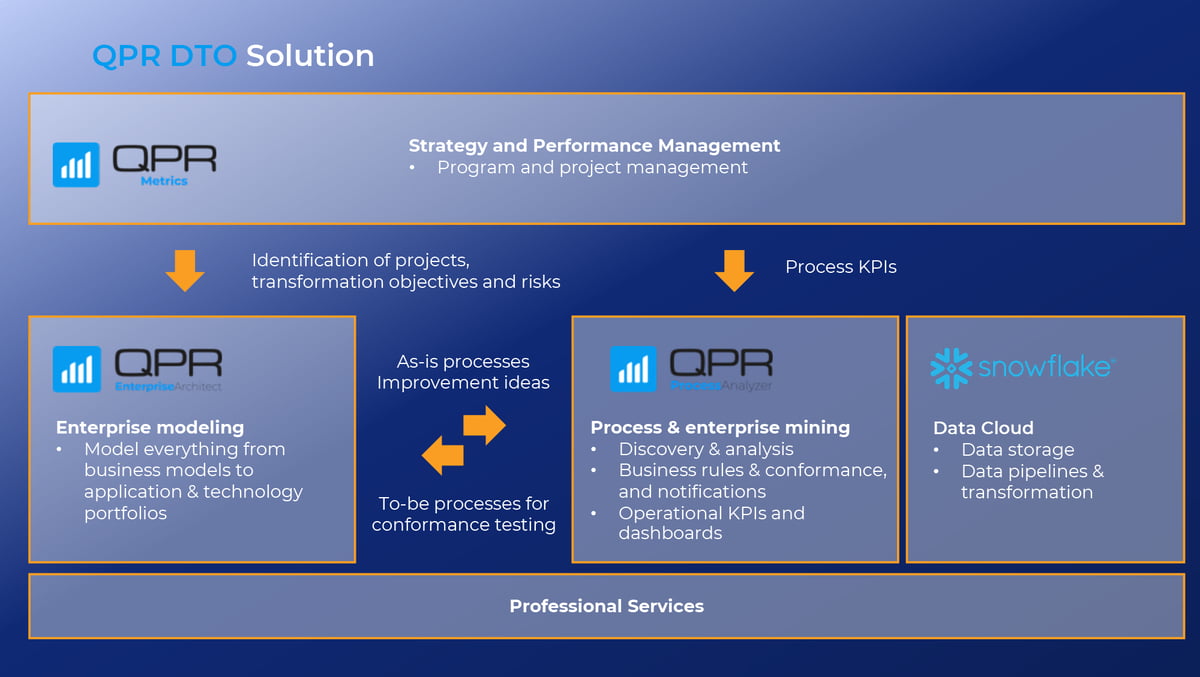 Explore the various suite of QPR DTO software, each designed to empower your organization with insights, efficiency, and strategic excellence:
DTO use cases
QPR DTO solution is a versatile and indispensable asset that can be applied across a wide array of organizational domains. Whether you're aiming to automate processes, embark on a digital transformation journey, ensure compliance, streamline auditing, enhance KPI reporting, drive process improvements, or optimize ERP development, this innovative solution provides the insights and tools needed to propel your organization toward operational excellence.
Business Transformation – Plan & lead the change
Discover fact-based as-is processes and compare them with the design
Reduce risk of failure with advanced scenario planning and simulations
Successfully manage transformation
Customer Experience – Improve customer satisfaction
Understand the customer journey
Monitor performance from customer perspective
Improve customer interfacing processes and interactions
Operational Excellence – Increase efficiency
Discover inefficiencies and waste in your operations

Identify the root causes of problems and fix them

Monitor operational performance
Cost Optimization – Save costs
Identify opportunities for cost optimization

Prioritize cost optimization initiatives

Validate changes before implementation with advanced scenario planning and simulations
Risk and Compliance – Ensure compliance
Discover process deviations, violations and fraud

Ensure continuous regulatory compliance

Instantly get notified about breaches
Supply Chain Optimization – Ensure efficiency
Get full transparency into the entire supply chain

Identify supply chain vulnerabilities

Enhance supply chain resilience, performance and sustainability
We are the only vendor in the market providing the following DTO components:
Process mining
Enterprise Modeling
Strategy and performance management
Consulting Services
Modular approach
Select one or more components for a holistic solution. By selecting one or more DTO components, you can build a holistic solution that evolves with your needs, integrates with your existing systems, and drives continuous improvement across your organization's processes and performance.
Consulting services covering all areas of DTO
QPR consulting services cover the full spectrum of DTO to help you achieve your goals efficiently and effectively.

Over three decades of experience
Over three decades of experience, a wealth of knowledge, a proven track record, a commitment to innovation, global reach, and a reputation for trust and reliability make us a compelling choice for organizations seeking a partner with a deep understanding of business process management.

DTO Webinar
A new game changer for businesses:
Digital Twin of an Organization (DTO)
Find out how Digital Twin of an Organization (DTO) can impact your operations, efficiency, and innovation.
💠 On-demand
💠 Duration: 30 minutes + 15 minute Q&A

Agenda:
Introduction: What is a Digital Twin of an Organization (DTO)
Benefits of using a DTO
How to create a DTO
Introduction of QPR's unique DTO suite
Live demo
Next steps: How to get started
Q&A (15 minutes)
Unlock the Future of Organizational Excellence today: Schedule your personalized
QPR Digital Twin of an Organization (DTO)

demo today!
After your personalized 30-minute online demo, you'll:
You'll be equipped with the knowledge and insights needed to evaluate how QPR Software's Digital Twin of an Organization can revolutionize your business processes and drive success
Explore the core components and the business value of the QPR DTO solution
See how incredibly fast you can implement and gain insights from QPR DTO
Your expert guide for the demo is one of QPR Software's DTO pros with a proven track record of driving results for hundreds of companies.
Book your 30-minute demo here: