In the Process Mining use cases series, five best practices for deploying process mining in large organizations were presented, namely BPM Maturity, Exceptions, Process Excellence, Use Cases and Center of Excellence.
These best practices are a result of over 25 years of experience in business process management, and more than 400 process mining projects with customers from all over the world.
1. Be aware of your Business Process Management (BPM) Maturity

It makes a big difference whether your orgnization is strictly function-oriented or if you already have at least some level of process orientation. In the function-oriented organizations, the business functions such as sales, marketing, delivery, finance and R&D are operating as functional silos. In process organizations, there are clear process owner responsibilities for long end-to-end processes.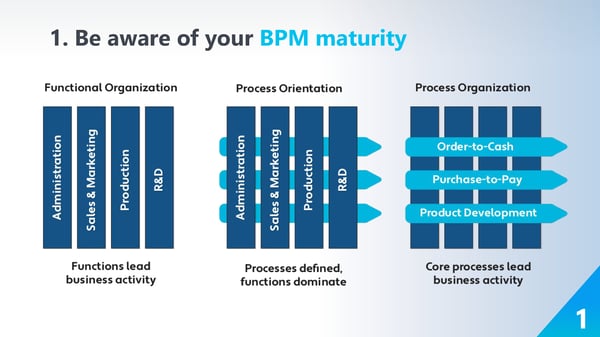 In functional organizations, the potential to improve business with Process Mining is extraordinarily high, as the processes are not clearly defined. The benefits of Process Mining here are two-fold: First, these organizations can use Process Mining to discover their long end-to-end processes and gain an in-depth understanding and 100% coverage of all processes. Second, Process Mining will drive the efficiency between the functional siloed units in the long end-to-end processes, and allow these kinds of organizations to accomplish monumental improvements by working better together. However, since the organization is based on functional siloes, the management support and executive sponsors are more difficult to find since the process ownership responsibilities are not clearly defined.
In contrast, in organizations with mature BPM, where process owners have been nominated and they have a thorough understanding of their processes, the application of process mining will take effect in a quick and smooth manner. Sometimes the scope of changes due to process mining will be less significant in these types of organizations than in functional organizations if the organization has made end-to-end process improvements already for decades, but it will nevertheless be valuable, impressive and easy to deploy process mining improvements into the operations.
2. Exceptions cause problems and require effort
We always remind our customers that exceptions are often the biggest problems in a process. Look at the picture below: often 80% of business is done according to the agreed processes and 20% contains exceptions. However, the 80% of business-as-designed only accounts for 20% of the total effort performed by the organization. This means that the 20% of cases containing exceptions account for 80% of workers' total effort due to rework, bottlenecks and long lead-times.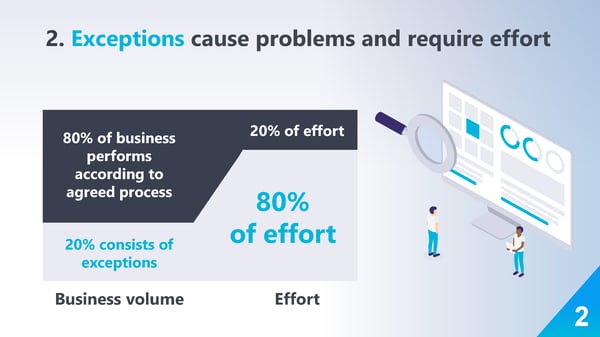 Process mining is the method to tackle the exceptions. With QPR's Process Mining software, owners get a holistic view of their processes, can easily identify these exceptions and their root causes, and may even fix the accidents before they happen. A reduction of exceptions by 10% can save work effort by 40%, which means that customer get much better service and employees can be more productive. In the long run, this reduction of exceptions will increase customer satisfaction, employee productivity, and process efficiency.
3. Three Steps to Process Excellence: Customer, Flow, Automation
With hands-on experience of working with customers from large organizations worldwide, QPR's experts in process excellence indicate the three most important types of KPIs: happy customer, happy flow, and happy automation.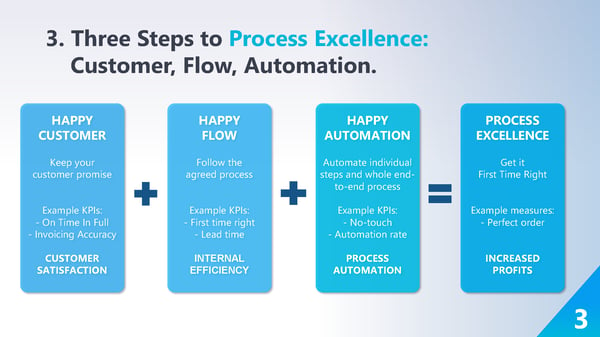 First of all, the happy customer KPIs mean keeping your promises with customers. For example, after customers make purchases with your organization, they should receive the order on time and in full. (We have a detailed blog post about On Time In Full principle here.) These KPIs aim to achieve high customer satisfaction.
Second of all, the happy flow KPIs assure that organizations follow the agreed process in order to accomplish internal efficiency. Examples of the happy flow are first time right and lead time KPIs.
Last but not least, the happy automation KPIs help your organization to monitor your process automation progress. The happy automation KPIs can applied for both individual steps and the whole end-to-end process. (Read more about QPR's solution for Robotic Process Automation here.)
You can achieve process excellence for your organization when all these three steps (happy customer, happy flow and happy automation) are reached for all individual cases. This framework of process excellence can be used to improve all of the processes in your business.
4. Apply to multiple Use Cases

Large orgnizations tend to apply Process Mining to specific places of their business, where the pain points are alarming or where people have the necessary and suitable skill sets for Process Mining. However, we strongly believe that once you have achieved transparency into all of your processes, this in-depth understanding can be applied in many other places in your organizations.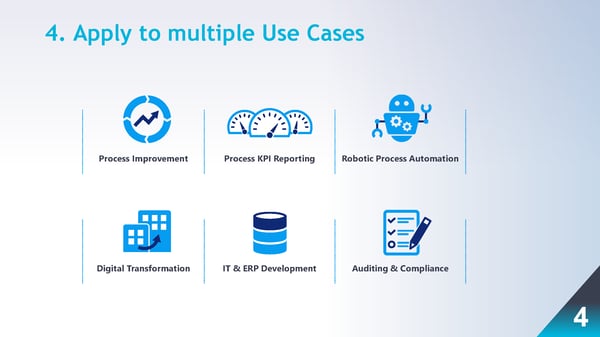 Check out these Process Mining solutions and can be applied to different parts of your business:
5. Build a Process Mining Center of Excellence

In order to fully utilize the methodology, we highly recommend organizations to build a center of excellence for Process Mining.

From our experience in real-life customer cases, Process Mining can be deployed on three levels.
Firstly, Process Mining can help process managers quickly gain insights from their data. Lambros Bessas, Senior IT Manager at Piraeus Bank shared his experience with QPR ProcessAnalyzer: "We gave the data to the system, and right away, in five minutes, we saw the bottlenecks of the process." In other words, from the first moments of using our Process Mining software, process owners are able to identify the problems in their processes and start fixing them.
Secondly, a more common scenario is when organizations use the Process Mining software for development projects. The goal of these projects is to achieve a successful outcome for ongoing initiatives in one part of the organization - for example, in internal auditing, a loan application process or a delivery process. In these projects, people are aware of the potential of Process Mining and how to use the tool.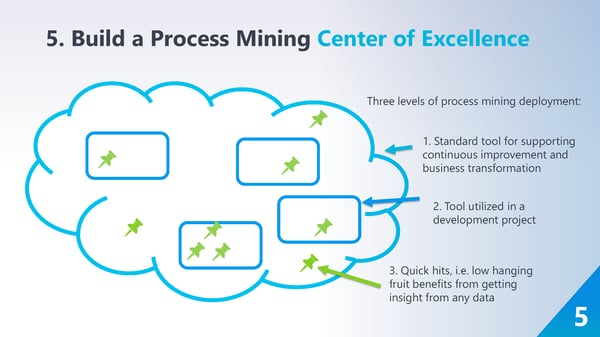 Finally, organizations should make Process Mining a standard tool for supporting their continuous improvement and business transformation. In order to achieve this goal, a center of excellence should be built among everyone in the organization. Process Mining is considered a relatively easy-to-use technology when you already have business models in your system. However, it can prove challenging when organizations need to create their own models, taking into account all the specific details, customization and information from their own systems, such as ERP and logistics.
Our advice is to first consider your organization's forte. For example, if your organization is mature in terms of BPM, then your Business Process Management team is a perfectly suitable team to build your center of excellence for Process Mining. If your IT team is active in developing processes, your center of excellence could be on the IT side. If your organization has a task force with suitable skill sets to own the Process Mining software, then it could be on your digital transformation unit.
Refer to our webinar recording for more tips and details about these solutions in real life customer cases.
***********
Those were the five process mining best practices - thanks for reading this far!
In the next section, I'll discuss three customer success stories with QPR ProcessAnalyzer - the leading Process Mining tool on the market - to show how these best practices work in: Increasing efficiency by 60%, cutting lead times by 85%, and coverage of enterprise-wide processes.
Customer Case 1: Metsä Board

Metsä Board is a a leading European producer of premium fresh fibre paperboards with headquarters in Espoo, Finland.
(Metsä Board interview highlight | 1 minute)
Being one of QPR ProcessAnalyzer's first customers, Metsä Board succeeded in doubling the number of conformant orders and raising their order line volume by 60% without changes in their headcount. Read Metsä Board's full success story here.
Customer Case 2: Piraeus Bank

Piraeus Bank is a Greek multinational financial services company with its headquarters in Athens, Greece.

(Piraeus Bank interview highlight | 20 seconds)
Learn how Piraeus Bank leveraged QPR ProcessAnalyzer to shorten their loan application process from 35 minutes to 5 minutes on average in their success story here.
Customer Case 3: Terumo Europe

Terumo Europe is a leading medical company with their EMEA headquarter in Belgium.
(Terumo Europe interview highlight | 90 seconds)
See how Terumo Europe successfully built a complete enterprise-wide X-ray of processes on their success story here.
It's a good time to take a look at Process Mining if your company hasn't already. The capabilities and usability of Process Mining software are improving rapidly, and the market is quickly becoming mature, although there's still much work to be done.
If you think your company is ready to step it up with the future of as-is process modeling and process efficiency maximization, the fastest way to get things moving is to: