How to achieve Process Compliance in your organization?
Process compliance means full conformance of the implemented processes to the designed process models. Organizations strive to plan their processes according to the agreed policies, taking into account the stakeholder and regulatory requirements, in order to reduce risk.

But in reality, process execution may not go according to plan. How can organizations gain transparency and understanding of the executed processes to minimize risk and stay compliant?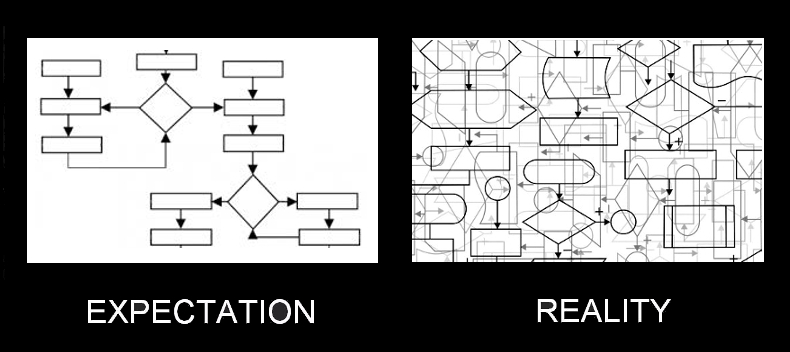 Process Compliance Empowered by Process Mining
The intensified focus on corporate governance, compliance, and reporting worldwide has increased accountability for organizations to meet compliance objectives. To take on the challenges, organizations need more powerful analysis tools to help them achieve process compliance.
This is where process mining can help to reduce risks and worries.
Process Discovery and Visualization
Process mining enables unbiased and fact-based process compliance checking to give you the full transparency of your processes. Process mining can discover and visualize your as-is processes by analyzing the data stored in your ERP and other source systems.
Conformance Checking
With process mining's conformance checking, your as-is process is then compared with your design model. Process mining then presents the results to you instantly, where you get to learn about the conforming and nonconforming cases, conformance trend, reasons for deviations, and top violating variations.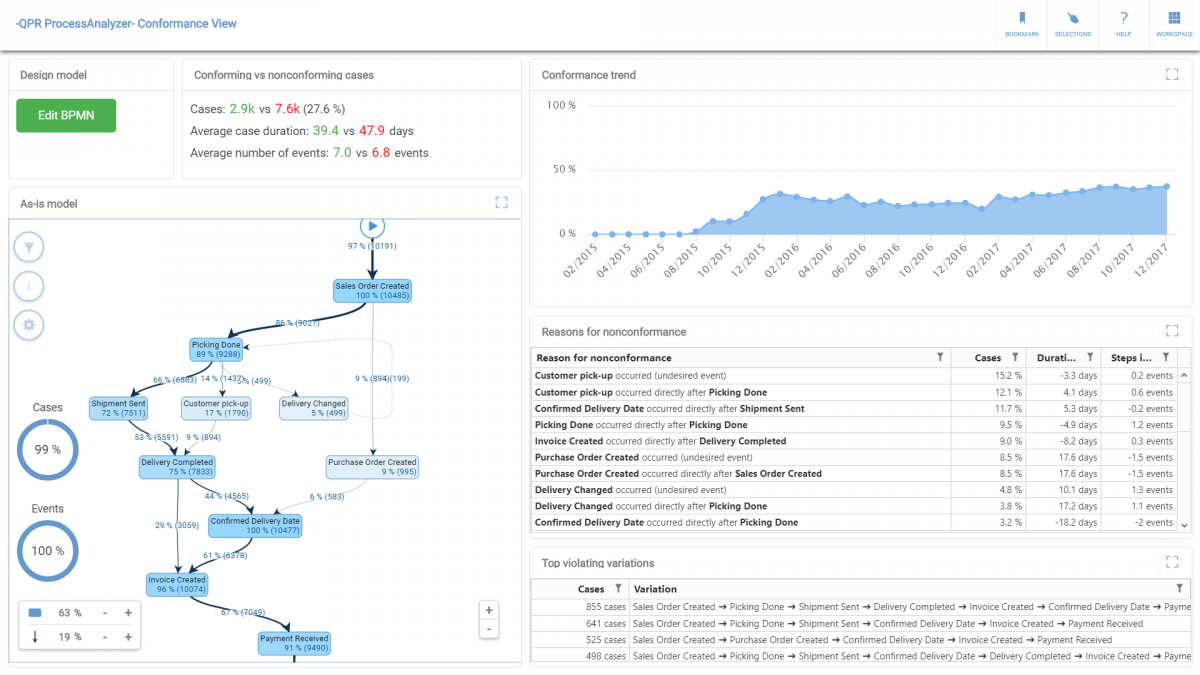 How does process mining add value to process compliance?
Introducing process mining to process compliance means improved reliability and efficiency of compliance checking.
Uncovering bottlenecks using AI-powered root cause analysis:
Detect compliance issues.

For example, in procurement, accounts payable, accounts receivable processes.

Highlight deviations from accounting standards.
Identify the Segregation of Duties (SoD) conflicts.

Such as in Order-to-Cash (O2C) or Purchase-to-Pay (P2P) areas.
Gaining business benefits:
Suppress exceptions and violations.

Increase process speed and release working capital.

Streamline processes and reduce waste.

Mitigate business risk by tackling non-conformance cases.

Proliferate best practices.

Reduce compliance costs with a faster and more accurate analysis.
With process mining, you are one step closer to achieving process compliance.