Discover the reality of your processes
Are you thinking about starting a process mining project? Read on to find out how process mining, previously referred to as automated business process discovery, fits into your company and current process analysis approach!
Why Process Mining?
Traditionally, a company's business processes are analyzed and modeled based on interviews and workshops with both customers and employees. While these methods may provide interesting insights, they take a long time, cost a lot of money, and rarely provide the full picture of what is happening right now - making it hard to know what to improve.
Process Mining takes an entirely different - and far more objective - approach, analyzing your business continuously by studying the data behind your operations.
| | |
| --- | --- |
| Traditional Methods | Process Mining |
| Subjective | Objective |
| Time-consuming | Instant |
| Resource-heavy | High ROI |
| Looking at one specific point in time | Continuous and predictive |
| Hard to visualize | Automatically visualized |
Use your operational data to drive better business results
Process Mining is about using your operational data to drive better business results. In Process Mining, you use smart software to continuously analyze and visualize the flow of your operations to pinpoint specific ways in which you can improve your business. Below, you can read about our approach with QPR ProcessAnalyzer: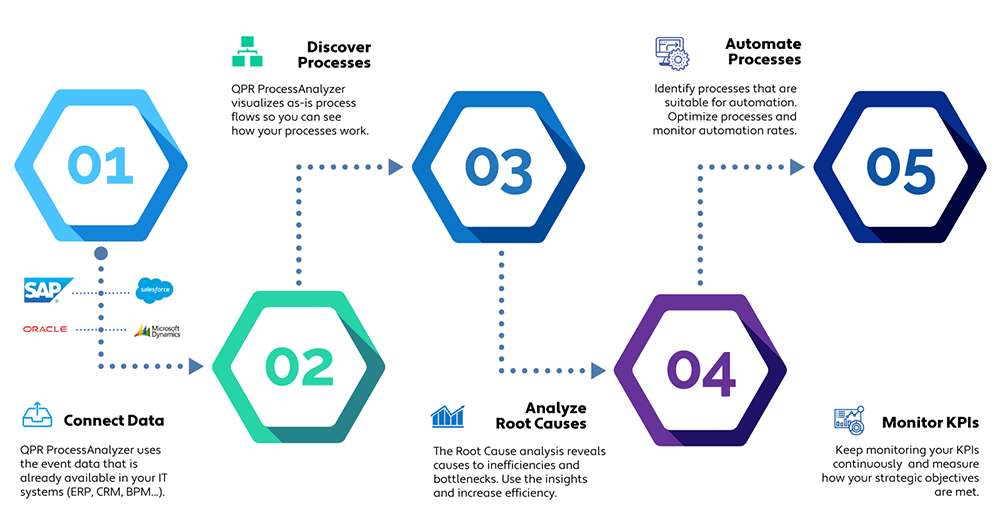 Process Mining Value Realization Model
Process mining is easier and more cost-effective than many people realize – with near instant results:
Make better and faster decisions
Measure and report performance
Increase the automation rate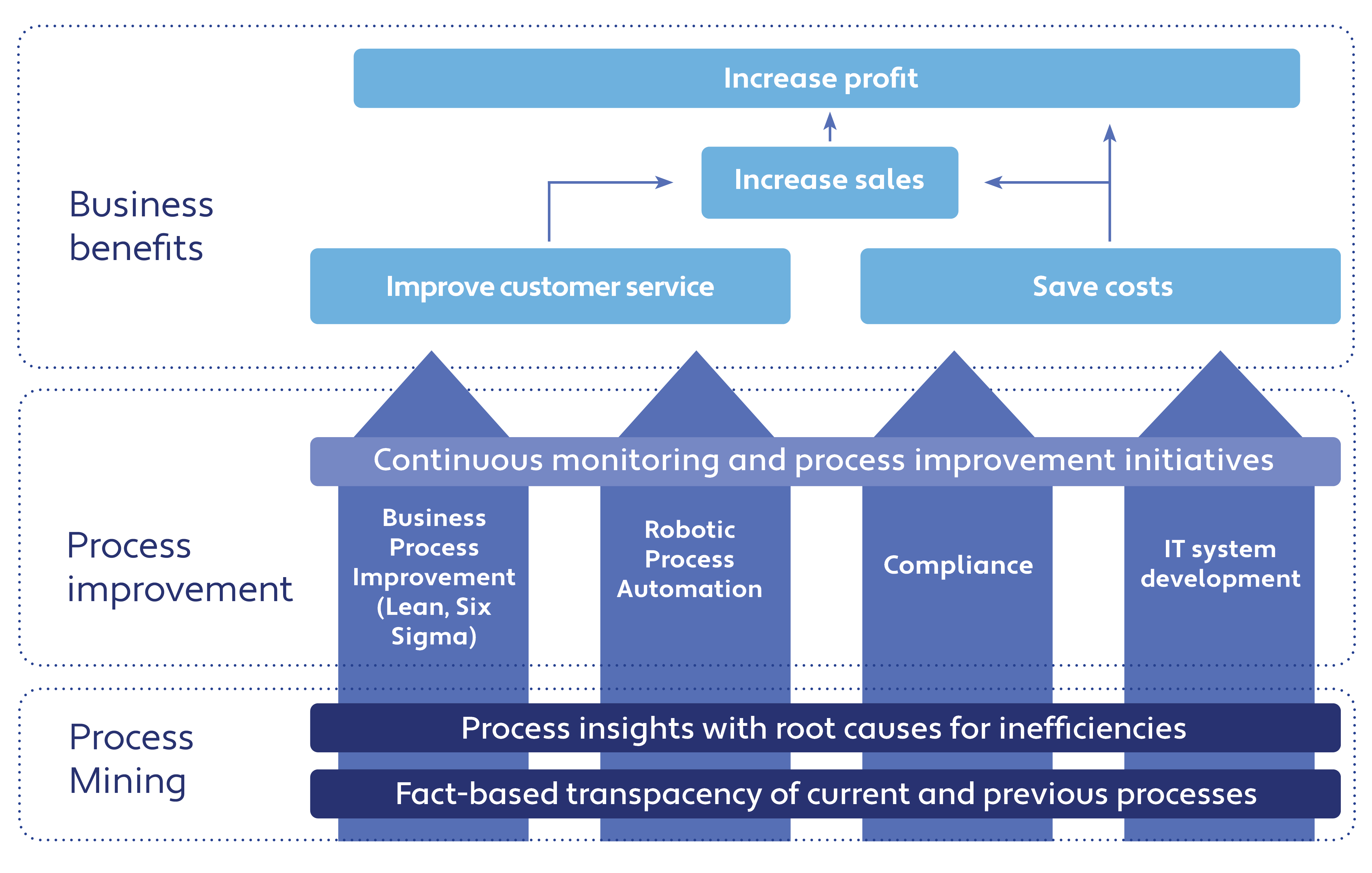 Process mining introduces fact-based transparency into your business operations, so that you can cut costs and improve efficiency, customer satisfaction, and profit.
Where Can Process Mining be Applied?
Process mining can be applied to, essentially, any process. Typical use cases include Robotic Process Automation (RPA), process KPI reporting, digital transformation, auditing and compliance, process improvement, and IT and ERP development.
Digital transformation
Gain a better understanding of your organization's business processes for more accurate business decision making. Process mining provides a fact-based understanding of your operations by transforming the data stored in your ERP and other source systems into user-friendly visualizations.
Process Compliance
Easily improve your process conformance rate to adhere to rules and regulations. Process mining can show your process variations and deviations. You can also compare your as-is process with the as-designed process with process mining's benchmarking to ensure the process compliance.
Process Improvement
Gain access to your end-to-end processes, so you can locate bottlenecks and prioritize your process improvement efforts to achieve a better ROI. This way, you will be able to drive digital transformation initiatives, such as Robotic Process Automation, without constantly running into problems.
---
How does Process Mining work?
The data required for process mining comes in the form of event logs that IT systems typically record at various points along your business process flow timeline. By quickly extracting and reading these event logs, process mining software builds an instant visual model of a given flow. These models allow you not only to identify any deviations from an optimal business process but also to understand the reason for the variation so that you can make the necessary adjustments.
Getting started with process mining is simpler than you would imagine. Required event data contains these three columns:
The case ID. This is a series of characters that identify different cases in the system, for example, sales order number, purchase order number or an order line identification number.
Event type. This explains the process step which is occurring, for example that the purchase order has been created.
A timestamp. This is the actual time when each process steps completed.
With this data, the process mining tool will automatically create business process flowchart diagrams, lead time analysis, and other out-of-the-box reports. Process mining can then be further expanded to develop root cause analysis by adding case level attributes like region, product group, customer group, payment term, pricing condition & user.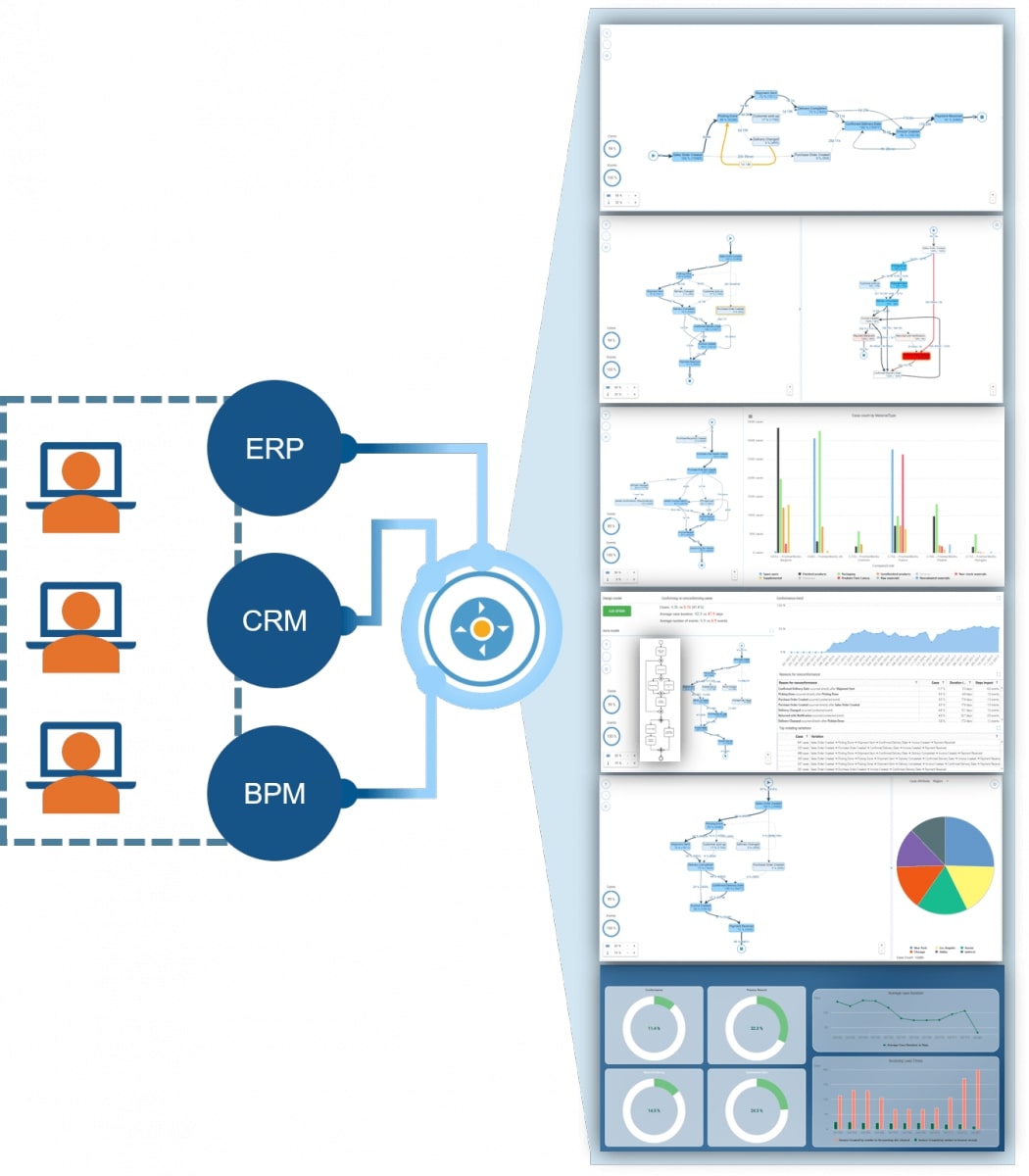 Start Your Organization's Process Mining with QPR ProcessAnalyzer
QPR ProcessAnalyzer has patented technology that offers the world's best in business process analysis and prediction capabilities.
QPR's process mining solution is quick to implement, easily connects to conventional enterprise systems, and is available as a cloud, server, or desktop application.
It combines familiar analysis tools with simple and flexible web and mobile dashboards, so that it is easy to visualize and report your findings to the rest of your team.
In the words of Stewart Wallace, Risk Analytics Director at EY UK: "QPR ProcessAnalyzer is the one that I always turn to for ease of use and fastest time to insight."