Catch compliance issues in your Accounts Payables before it's too late
Lassi Uusitalo | 5 min read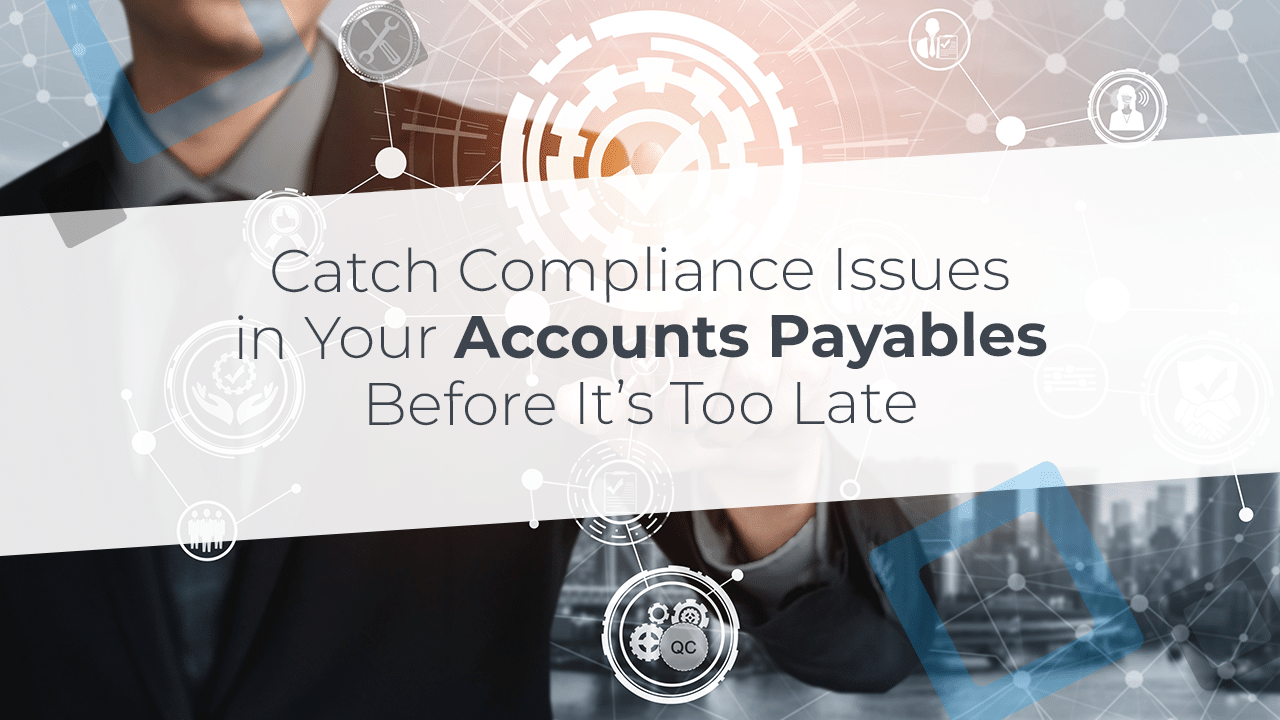 In an ideal world, bills are always paid just in time before their due dates. In many companies, it is standard practice to hold on to as much capital as possible at any given time by waiting until the last moment to pay your dues to suppliers.

Some questions to think about for someone managing the Accounts Payable process: As the volume of invoices to be paid grows exponentially, how do we maintain control of the invoice payment flow? How can we detect non-compliant payments and act on them before they become a problem? What's the worst thing that can happen when an invoice is paid late?

If these questions resonate with you, keep on reading! In this blog, I will walk you through why understanding your real-life Accounts Payables process is crucial in tackling late payments in your organization. I will also share how the data-driven Process Mining methodology (read: what is process mining) can help you not only catch common compliance violations but also prevent future ones.


Why having control over your process compliance is essential
The obvious benefits of strong process compliance control include having smooth operations, minimal disruptions and time spent on retroactively investigating undesired exceptions, and having a clear overview and predictability on how much money you're spending on what and when it is spent – this helps with budgeting and forecasting.
On the other hand, if you do not have control of your process compliance and lose oversight on where some of your invoices have gone, you may have a risk of missing your invoice due dates on a regular basis, not being able to close your books correctly by the end of the term and even potential fraud in the system – all instances which take a lot of time to investigate afterward.
Now, there are several sources of process compliance issues: Your employees are not following the set guidelines; underlying process bottlenecks are hard to spot; there are manual steps involved in transferring information between IT systems… among many others.


Supplier relationships and government regulations
It is one thing to have a negative impact on your supplier happiness when missing out on your payments – the late fees are there for a reason – but in some industries, the problem has become so dire that governments have decided to step in with heavy sanctions for negligence to pay your dues on time.
In 2009 France introduced laws to punish companies that pay their suppliers late on a regular basis. Some famous examples are the French government sanctioning EDF 1.8 million euros and sanctioning football club PSG 700.000 euros for the repeated failure of meeting their invoice due dates. Since 2021 the United Kingdom has introduced similar measures targeting late payments. Now that the COVID-19 situation has shaken the economy across the world, we can expect similar government measures to pop up in other countries as well.


Detection and prevention
Of course, no process is perfect, and we always try our best to do better when we can. Most of us have some insights on what seems to be the problem, and the main source of the problem depends on who you ask. To understand which issues are most important to address, there's a need to have a transparent and holistic understanding and agreement on how your processes really work.
Before diving into details, make sure you know all the what, the why, and the how of process mining in this comprehensive guide.
Process Mining is an excellent methodology for the following:
Sounds too good to be true? Let me break down all of these bullet points into more details:
1. Gaining transparency on your real-life processes based on your operational data
In a nutshell, Process Mining consists of the following steps: automatically extracting data from your ERP systems (e.g., SAP, Oracle, Coupa), transforming the transactional event log data into process models, and automatically visualizing your current processes.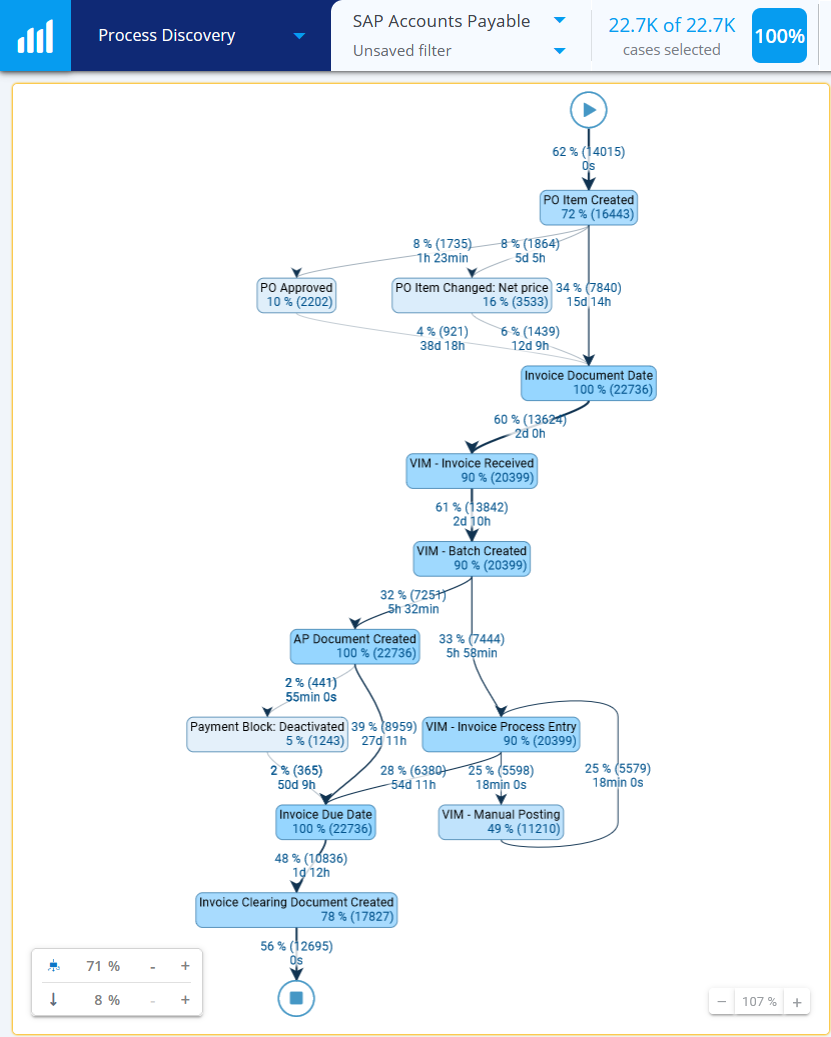 Among other things, you can use this interactive flowchart in combination with out-of-the-box analytics to gain insights on where your invoices are coming from, what's the most typical end-to-end life cycle from receiving an invoice to clearing it, and most importantly, where bottlenecks and manual rework (e.g., Payment blocks) in your processes tend to arise.
With the power of simple filtering, you can highlight where and how certain activities impact your KPI performance the most (e.g., Late or duplicate payments). Share your newly gained insights and observations with your team to dispel any hunches and gut feelings on what is happening and what should be done – let the data show you where the greatest ROI for corrective action is.
2. Finding the root causes of compliance issues
Below is an example of analysis based on Cases in QPR process mining software, where there has been a late payment, and how the payment terms affect the likelihood of a payment being made on time.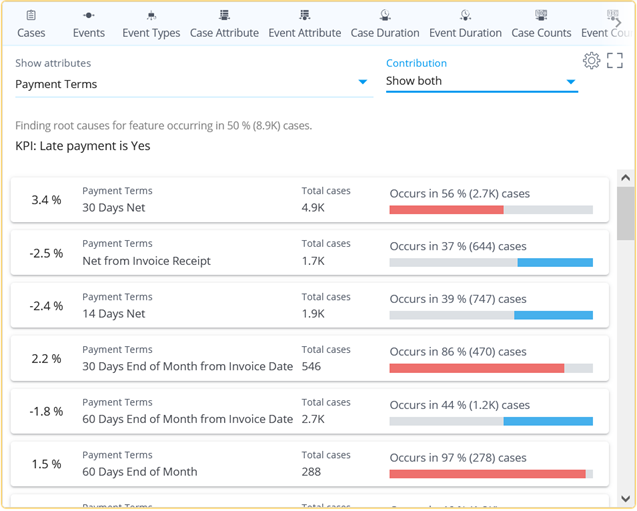 From this quick analysis, we can conclude that the payment terms marked in red (30 days net, 30 days end of the month from the invoice date, and 60 days end of the month) have a significantly higher frequency of late payments (the overall average being 50%) than the payment terms marked in blue. Why are payments with these payment terms having issues with being on time? This will make a great conversation starter with your Accounts Payables experts.
3. Monitoring your end-to-end compliance performance in real-time
With the process conformance analysis capabilities in QPR process mining software, you can monitor how, where, and when your Accounts Payables processes are not being followed at any given instance. Use this intel to further investigate which improvements need to be made to address the most common issues – from Purchase Order (PO) creation to clearing the final invoice and anything in between.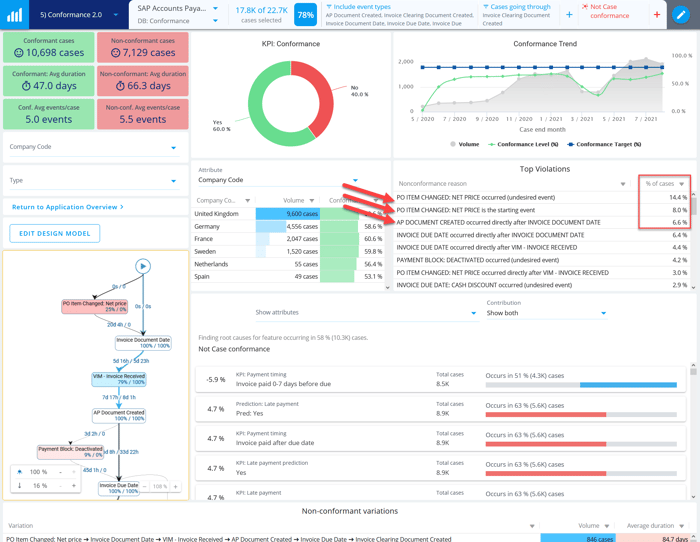 For instance, in the analysis above, we can see from the Top Violations table that in 14.4% of cases, there is at least one net price change to the PO. Not only that, more than half of these cases (8% of all cases) start with a net price change before anything else is registered in the system. Now, this does not seem right: Are there this many people not following the standard protocols, or do we have some issues with data quality?
The beauty of conformance checking with process mining is that you can shed light on different types of process issues from undesired events (e.g. payment blocks, PO changes) to outright not following the standard operating procedure (e.g., skipping approvals, failing to perform 3-way matching, missing due dates).
Use these insights to identify the low-hanging fruits for process improvement and make the case to your team for addressing the most critical issues affecting your process compliance.

4. Creating your custom analysis for any given KPI
Take advantage of 60+ ready-made analyses in our process mining software, which you can use for quick insights on any KPI. With flexible dashboarding and intuitive UI, it is possible to measure and monitor any part of your end-to-end process.
Some of our off-the-shelf KPI reporting tools include PO Penetration rate dashboard, early and late payments dashboards, several automation opportunity dashboards, lead time dashboards (e.g., Invoice received to invoice paid), among many others.
We process mining experts at QPR are more than happy to support you in your process mining journey, train you and your team on the secrets of the process mining methodology, and help you unlock the potential of the transactional data already sitting in your databases.
Take control of your Accounts Payables process compliance by first understanding the full picture of what is really happening in your processes based on your data – then act based on your insights.
I'll end this post with a quote from the world-famous data scientist W. Edwards Deming: "Without data, you're just another person with an opinion." Get started with data-driven decision-making with the help of process mining already today!
Are you interested to learn more? Check out our Resource Hub or Contact Us.

Written by
Lassi Uusitalo
Business Development Specialist passionate about process excellence, process mining and story telling. Always looking for new angles to process understanding and tackling the most complex business challenges of the day.