Process Mining for the Order-to-Cash Process
Jaakko Knuutinen | 5 min read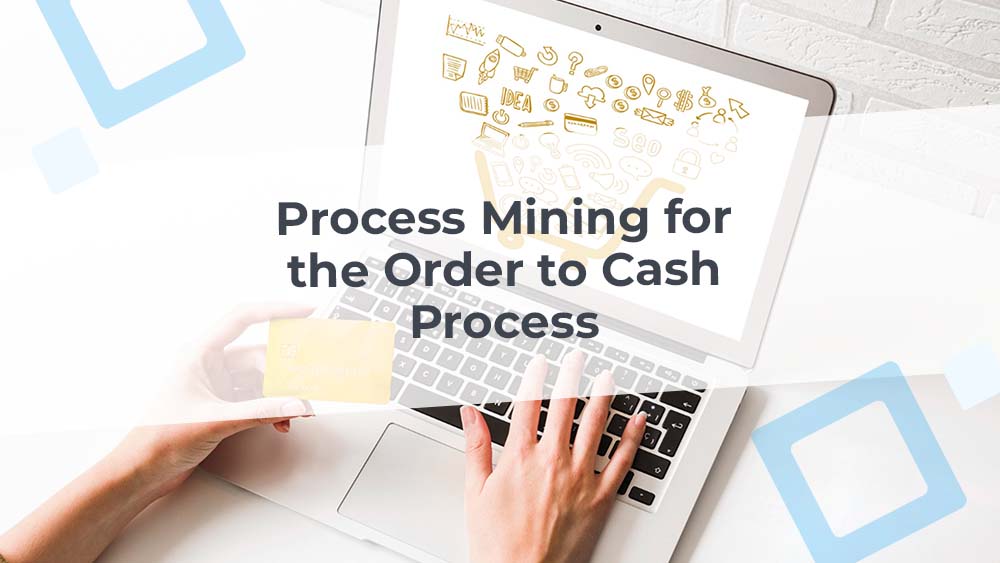 As the Order-to-Cash process is all about how organizations receive their cash, the volume of transactions is (ideally) very high in this process. A high volume of transactions makes the process very prone to errors and inefficiencies.
However, this also makes the Order-to-Cash process an ideal target for process mining (read: what is process mining), as it brings transparency to the whole process. Moreover, it helps you identify root causes for problems (e.g. order changes) and look for ripe automation opportunities.
In this article, you will see what kinds of benefits process mining can bring to your Order-to-Cash process. In addition, I will share three practical tips on how to use QPR's process mining software, QPR ProcessAnalyzer, to help you improve your Order-to-Cash process.
Steps in the Order-to-Cash process
The Order-to-Cash process, also known as OtC or O2C, refers to a top-level business process that covers all activities between the customer order and order payment. The Order-to-Cash process operates very closely with customers, turning orders into cash. This makes the Order-to-Cash process one of the most vital core end-to-end processes in organizations.
The Order-to-Cash process generally includes the following steps:
Purchase Order created - a customer has created an order with one or multiple items


Order Fulfillment - a Sales Order is prepared for shipment or a service appointment is scheduled


Order Shipment - an order is shipped to the customer or a service is completed


Invoice Creation - an invoice for the order is created and sent to the customer (if not already paid during order creation)


Invoice Clearing - the invoice has been paid by the customer and registered to the General Ledger

These steps may vary based on the business model of the organization. Organizations may execute their businesses by Make-to-Stock, Make-to-Order, or some service business models.
Out of these three models, Make-to-Stock is the most straightforward: the goods sold are produced and restocked in the warehouse, ready for picking and shipping according to the sales orders. In the Make-to-Order model, the sold goods are produced or purchased specifically to each order. Lastly, in the service business, a project is kicked off after the customer order has been received and actions to fulfill customer needs are taken.
As the above explanation suggests, in reality, the Order-to-Cash process flow is not as simple. In reality, the end-to-end process contains additional steps, rework, changes, and errors that cause additional costs and prolong lead times.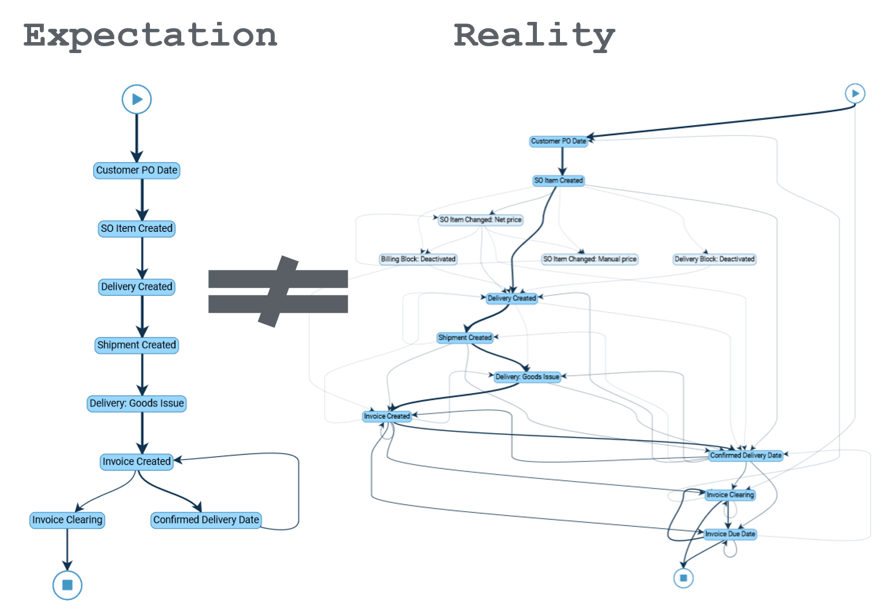 How does Process Mining work for Order-to-Cash?
When the Order-to-Cash process is executed, events like "Purchase Order Created" and "Invoice Created" are traced by your information systems (e.g. CRM, ERP, or invoicing systems) database. These records include timestamps that indicate when the event took place. This means that all the executed steps in the Order-to-Cash process are saved to information systems.
When these recorded events are combined with Process Mining, we can create a process flowchart that shows how the process is executed in reality instead of relying on assumptions. To make this possible, Process Mining software needs to extract the data from the databases.
QPR's Process Mining software, QPR ProcessAnalyzer, draws data from your information systems with built-in connectors available to dozens of different information systems. In addition to visualizing the process flow, we are able to identify inefficiencies such as bottlenecks, rework, order changes, and rule violations in the process.
Three practical examples for improving your OtC process with QPR ProcessAnalyzer

Optimizing your Order-to-Cash process with QPR ProcessAnalyzer can be done in these three steps:
Discover your as-is processes

Use Root Cause Analysis to understand why issues happen

Continuously monitor and improve your processes by utilizing interactive KPI applications




1. Discover and get an overview (benchmark) of your organization's as-is processes

As already mentioned above, Process Mining automatically creates process flowcharts based on the recorded events in your information systems. From these flowcharts, you are able to see how your OtC process is performing in a data-driven way. It is very easy to spot undesired behavior such as certain steps being skipped, or steps that happen more than once. You are also able to see which process steps take most of the time in your Order-to-Cash process.
Process Discovery tools such as duration analysis or variation analysis are super effective to find out what are the main issues, such as late payments, are in your OtC process. With the help of QPR ProcessAnalyzer, it is easy to see where these issues are occurring, how many variations the process has, and where to begin the investigation for future process improvement initiatives.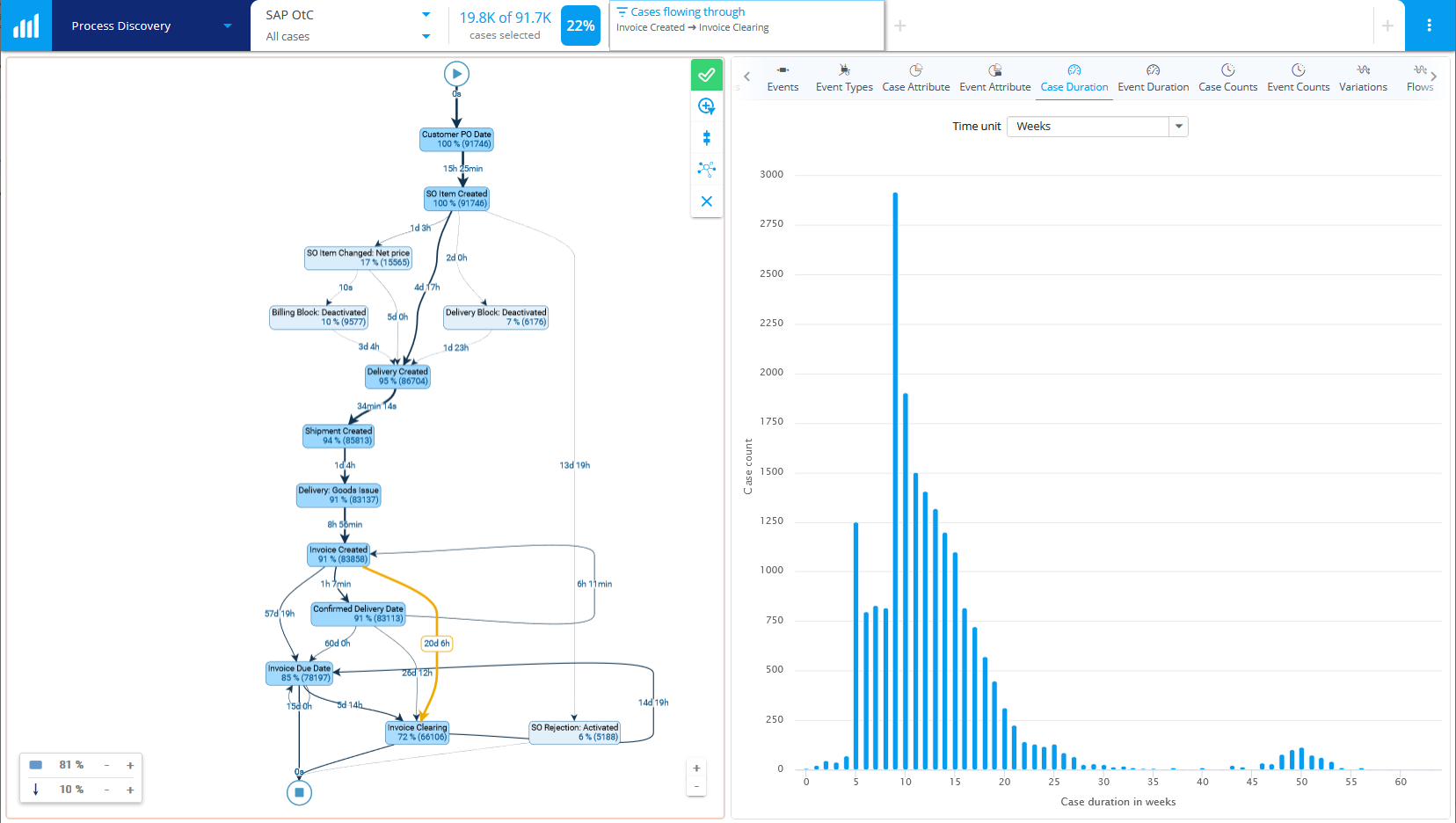 2. Understanding the root causes of the issues in your Order-to-Cash process
After gaining an overview of your process performance with the Process Discovery tools, QPR ProcessAnalyzer allows you to dive deeper into the root causes of the identified process inefficiencies. The Root Cause analysis allows you to see which aspects of your process contribute to the identified issues. The different root causes are ranked based on their business volume which helps you to identify which root causes are the most influential.
In addition to finding the root causes of your problems, Root Cause analysis can also be used to find "role models" to learn from. These role models are those people or aspects in the process that have a tendency to outperform others. Therefore, by studying how they manage to do better than others, you can find opportunities for improvement.
After identifying root causes and best performers, the improvement initiatives can be planned and carried out more effectively than ever before!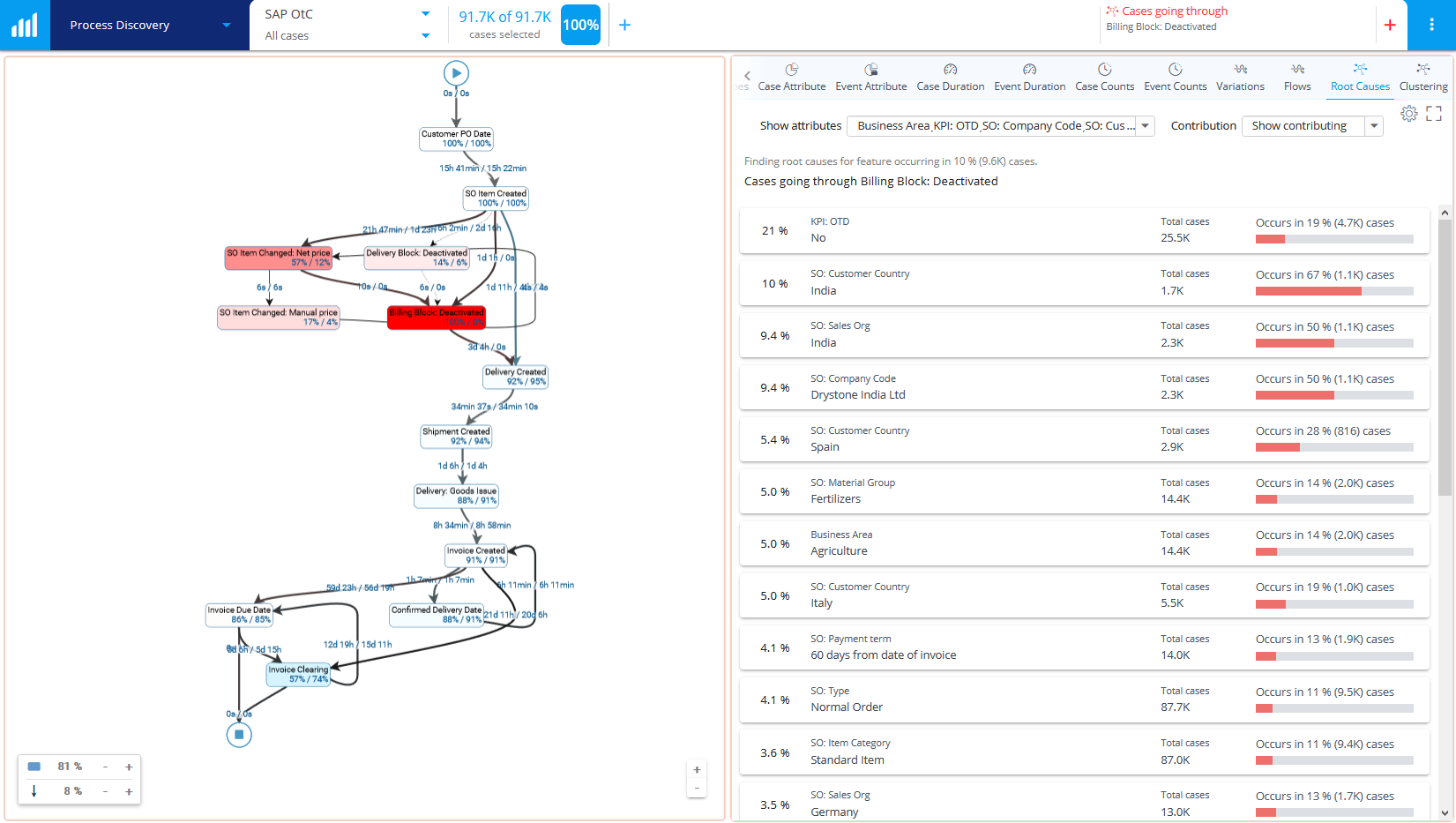 3. Continuously monitor and improve your Order-to-Cash process with ready-made applications
It is vital for any process improvement project to monitor the effects of the improvement. Performance monitoring is essential to ensure that the taken initiatives have been successful and to look for new improvement opportunities.
To make process performance monitoring less of an effort, QPR ProcessAnalyzer has a pre-built Order-to-Cash application that includes dashboards to track your most important KPIs, such as:
On-timeliness
SLA Compliance
Rate of Order Changes
Automation Utilization
Lead times between different process steps
With these dashboards, you can instantly jump between different KPIs to gain invaluable insight into the performance of your processes. Please have a look below for some examples!


Overview of the Order-to-Cash process: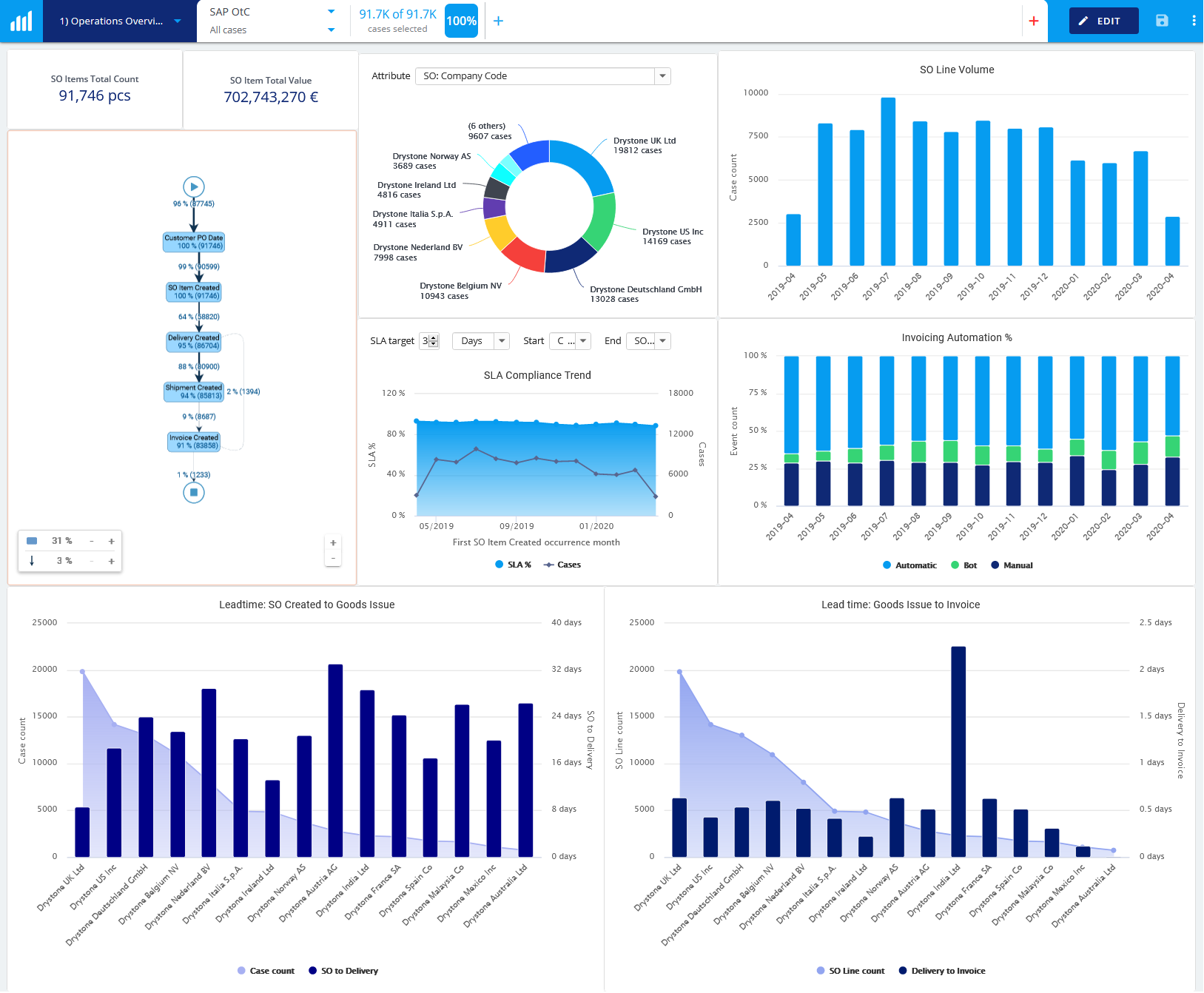 The Operations Overview dashboard is designed to give you a quick overview of your most important KPIs of the Order-to-Cash process. From this dashboard, you are able to see the total volume of your process based on different locations and timeline. You are also able to have a quick look at the most essential KPIs such as SLA Compliance, Lead times, and Automation Rates.
In addition to having an overview of your OtC process, it is important to be able to study the process outcomes more in-depth. QPR ProcessAnalyzer's OtC Application comes with multiple ready-made dashboards for various KPIs that are designed to specifically help you with studying the details of your process.


An in-depth look at the Delivery On-timeliness: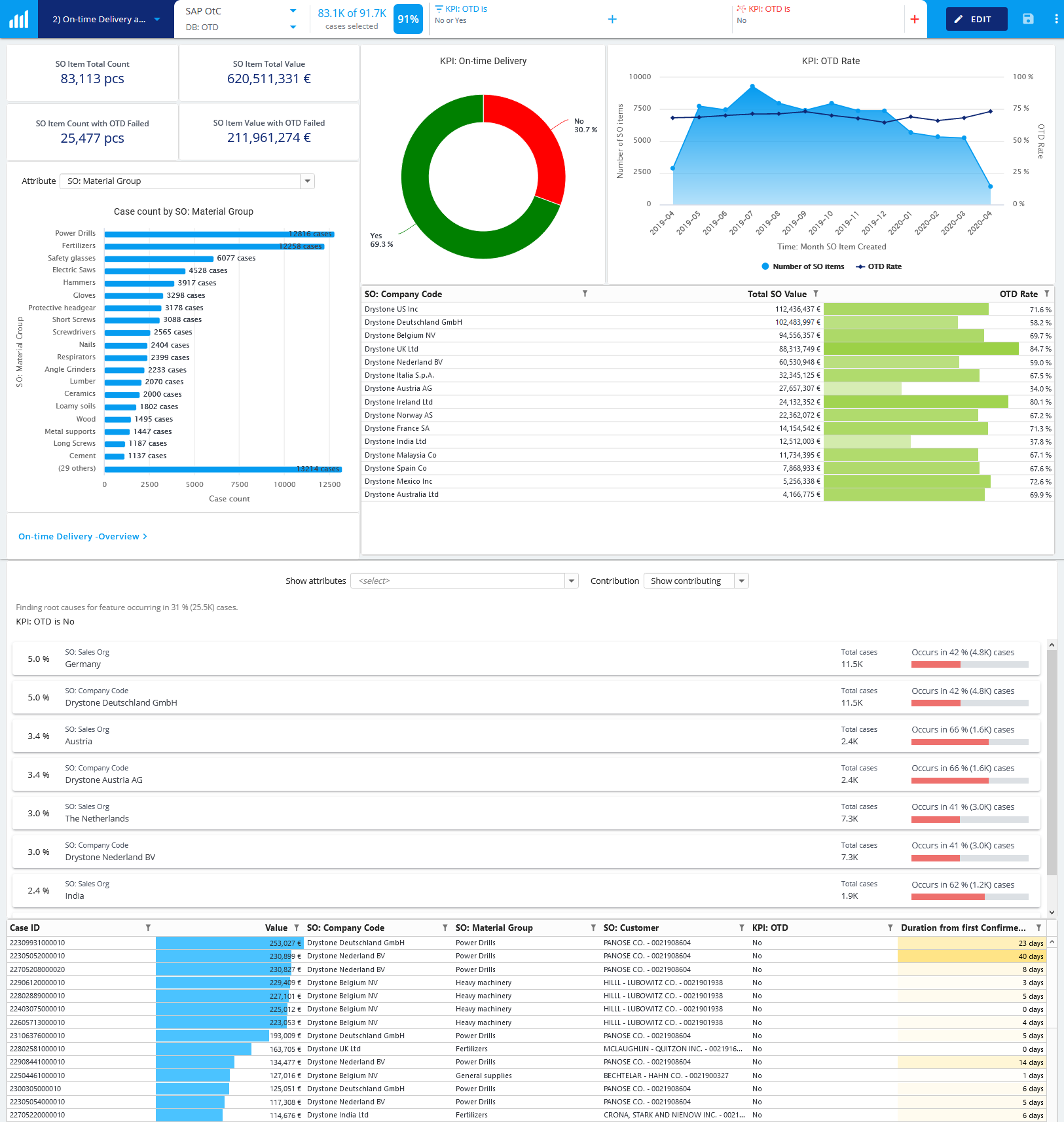 Deep dive into Lead time analysis: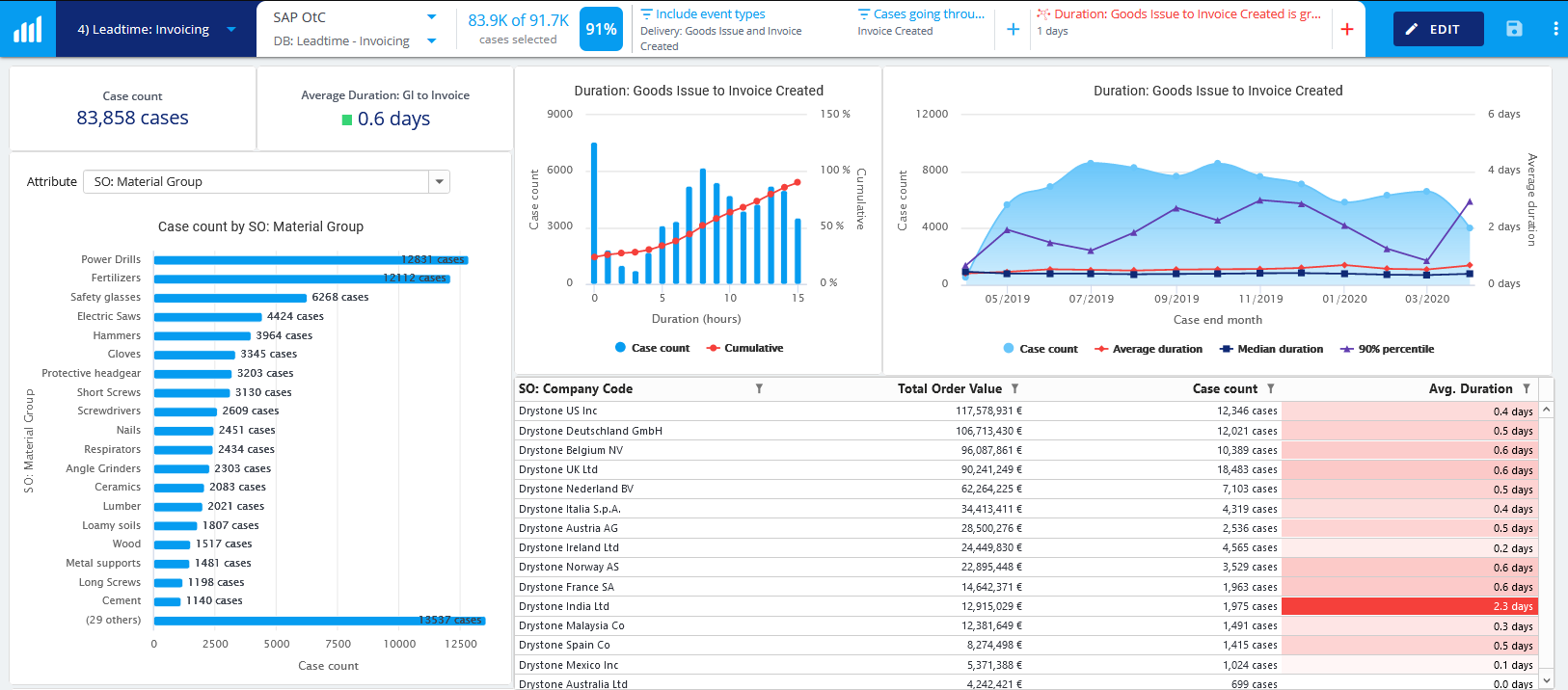 The two dashboards above give you all the insights you need to monitor your On-timeliness and Lead times. With these dashboards, you are able to benchmark your process internally to see where things are going well and which places have room for improvement. These KPI-focused dashboards also allow you to drill down your analysis all the way to the case level.
Customer spotlight: Solvay
Learn how our work with Solvay led to a 20% increase in customer service efficiency, a crystal-clear Order to Cash process, and better value for stakeholders — read more.
To round it up: What benefits can Process Mining bring to your Order-to-Cash process?
With the help of process mining you will be able to see exactly:
How long does it take for an order to turn into cash
How many of your orders experience changes during the process
How well does your organization utilize automation
With QPR ProcessAnalyzer you can rely on real data when analyzing your Order-to-Cash process. When you begin to understand the strengths and weaknesses of your process, process mining helps you to focus your improvement initiatives on those areas that will produce the most value for you. With these insights, you are well prepared to take on the required changes to your Order-to-Cash process!
Webinar Recording (59 minutes)
Download Webinar Presentation Slides (9 pages)
Written by
Jaakko Knuutinen
Jaakko works as a Business Development Specialist helping people solve complex business problems with process mining. His passion is to purify businesses of muda to ultimately drive customer value and make life easier.