Process Mining for Process KPI Reporting

Key performance indicators (KPIs) are arguably the most effective tools for managers to understand how their organization operates. KPIs help measure the level of success or failure of your business. They can be assigned to different levels of business operations: task-based, process-based, or organizational level.
To have a clear vision for your organization and make decisions based on facts and data, your management team needs to have a system of smart, practical, and realistic KPIs. However, we've seen many businesses struggle with their KPI-related tasks: perhaps it's taking too long to establish such a KPI measurement and reporting system, or people fail to understand the root causes of their problems.
In this blog post, I will explain how you can use process mining to establish your process KPI system more efficiently, with much less effort than traditional ways of building process KPIs.
Watch: Process Mining for Process KPI Reporting webinar
Read: What is Process Mining?
1. Background: KPI-driven PDCA cycle and process mining KPIs
2. Build KPIs faster with less effort
3. Understand the root causes of your problems
4. Prediction for open cases that are likely to fail the KPIs
5. QPR ProcessAnalyzer for Process KPI Reporting
1. KPI-driven PDCA cycle and process mining KPIs

In my last blog post (Process Mining for Process Improvement), I emphasized the benefits of using the PDCA Deming cycle in change implementation. This model can also be used to enforce a KPI-driven improvement cycle: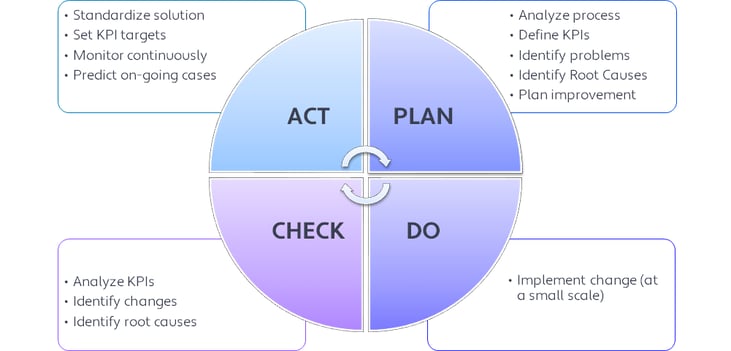 In the first step, you analyze your processes, identify problems and their root causes, and then define relevant KPIs based on your findings.
Next, you implement a small-scale change in your process. After this change, you review its effects on your initial problems and their root causes so that you can evaluate the relevancy and effectiveness of your pre-defined KPIs.
Ultimately, you're able to standardize your solution on a bigger scale and set up a reliable KPI system. It's crucial to monitor your processes continuously so that you can react to future problems promptly.
From the process mining perspective, there are three sets of KPIs that play the most significant role in the success of your operational process: Happy Customer, Happy Flow and Happy Automation. Altogether, they bring about the Process Excellence in your organization.

Check out the earlier blog post (Best Practices for Deploying Process Mining in Large Organizations) for more details about these three sets of KPIs.
2. Build KPIs faster with less effort
With traditional Business Intelligence, KPIs are built manually by taking into consideration various factors, such as the related data, the intended outcome, the alternative measures, and even the opinions of stakeholders. After you finish building this first KPI with the traditional methods, you then take the original data, and move on to creating the second KPI, then the third one, and so on. Building each of these KPIs will be a project of its own.
The amount of work needed to finalize a single KPI this way can take something between one day and 100 days, depending on the scale and complexity of that process.
From a process mining perspective, our experts first build the process mining model together with you. This is the starting point of any process mining project - it can't happen without a process mining model. Once this step is finished, you right away have access to more than 1000 standard KPIs based on the data from your system.
Additionally, with our process mining software, QPR ProcessAnalyzer, you can define the custom attributes you want your KPIs to have and then include them in QPR ProcessAnalyzer to build a custom KPI. Consequently, you spend much less time and effort compared to the traditional business intelligence approach.
3. Understand the root causes of your problems
After you successfully build a KPI with the traditional business intelligence approach, you can, in theory, set up a manual root cause analysis (RCA) for this KPI. However, this will require a vast amount of effort and access to many different types of extra data that correlate with this particular KPI.
After you set up your process mining model in the process mining approach, you already have access to more than 1000 standard KPIs. This means while you create the process mining model, the software calculates and gives you a considerable amount of extra information from your raw data. For example, when you look at one KPI from these auto-generated KPIs, you now have 999 other KPIs as your potential root causes: you can see which other KPIs correlate with it.
Similarly, if you review your custom KPIs with process mining, you already have more than 1000 other standard KPIs as sources of information for your root cause analysis. From this point, you can go through these potential root causes one by one or start by understanding this KPI's cause and effect. Process mining allows you to drill down these possible root causes to understand what is happening in your processes.
4.
Prediction for open cases that are likely to fail the KPIs
Again, if you build your KPIs manually in a traditional business intelligence approach, you will need much more time to make the predictive capabilities for one KPI. The reason is you need even more information from your operation and the help of a data scientist to do this manually.

On the other hand, process mining gives you access to data from all the cases in your business process, each of which involves certain activities and has different case attributes. All of these data can be used for machine learning-based predictions on a case level. You won't need a data scientist to build these prediction reports if you use QPR ProcessAnalyzer. By running this prediction feature, you command the software to take into account all the old cases in your system. You only need to configure the tool to check what attributes and activities are correlating in a meaningful way to increase the accuracy of the predictions.
5. QPR ProcessAnalyzer for Process KPI Reporting
Here are some KPI Reporting features highlighted with screenshots. Clicking the pictures gives easy access to the corresponding parts of the webinar recording.
Process KPIs included in the flowchart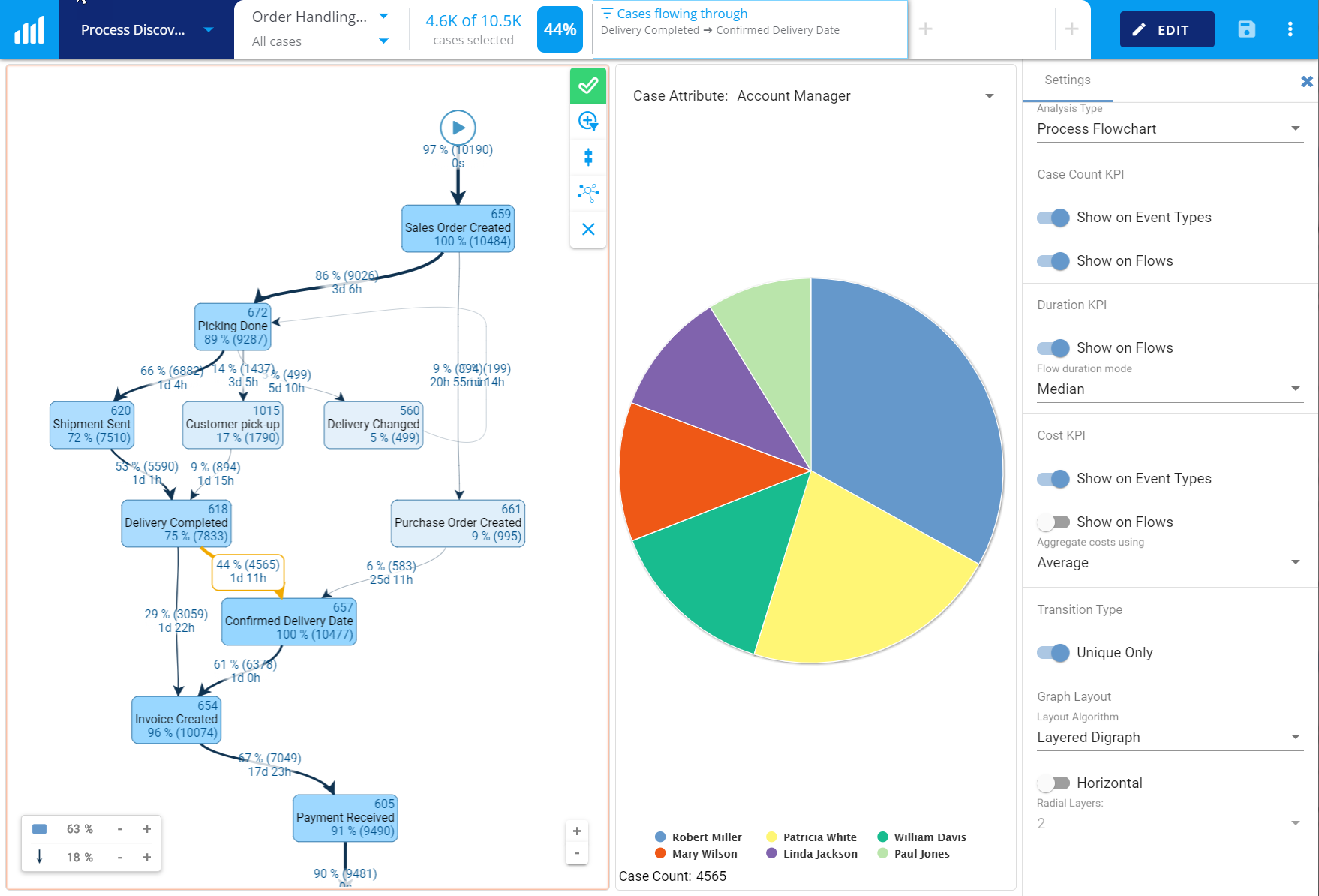 Process KPI: Long Duration shown with Root Causes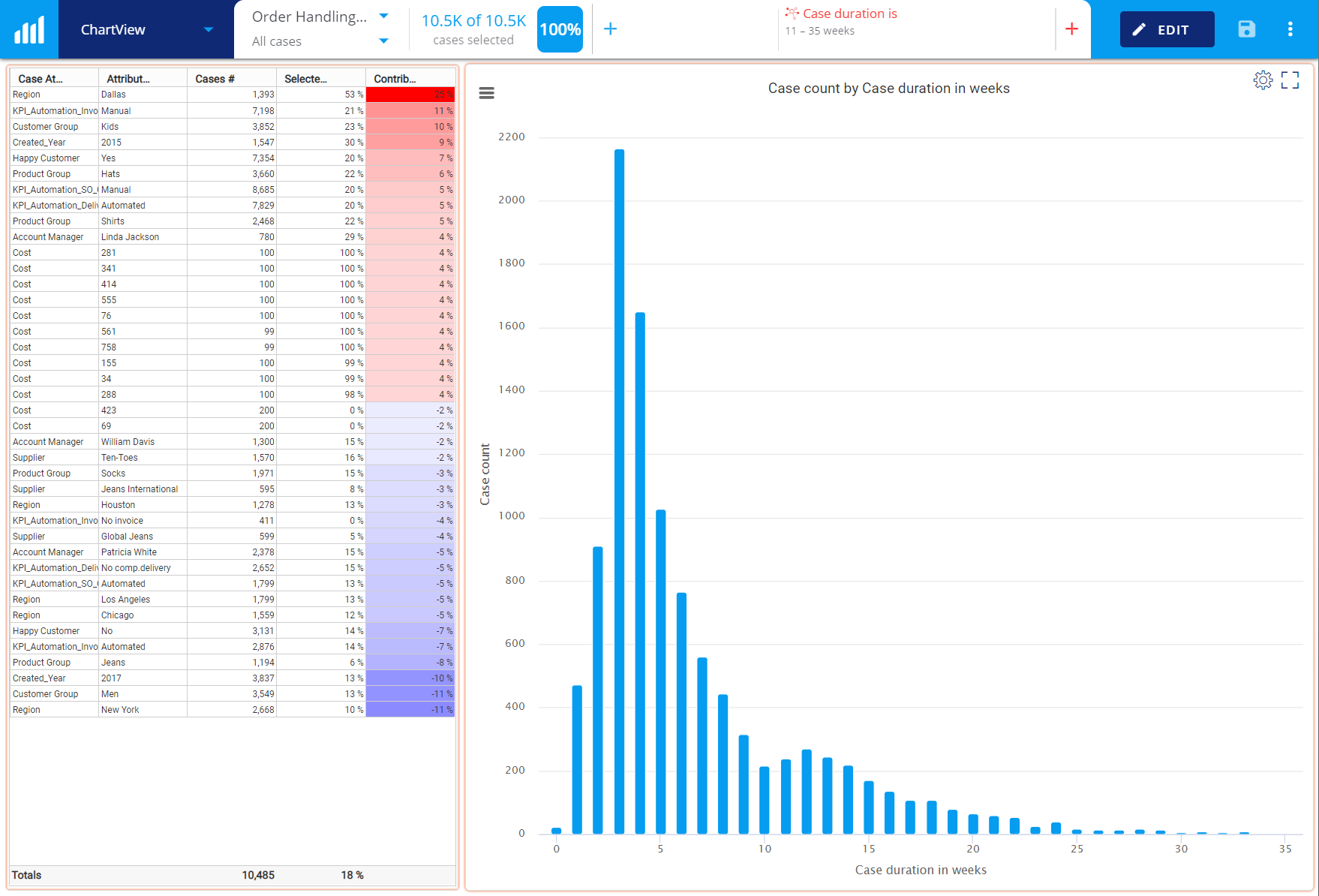 Process KPI: OTIF - On Time In Full, Delivery fails ie. Confirmed delivery date is before shipment sent. Shown with Root Causes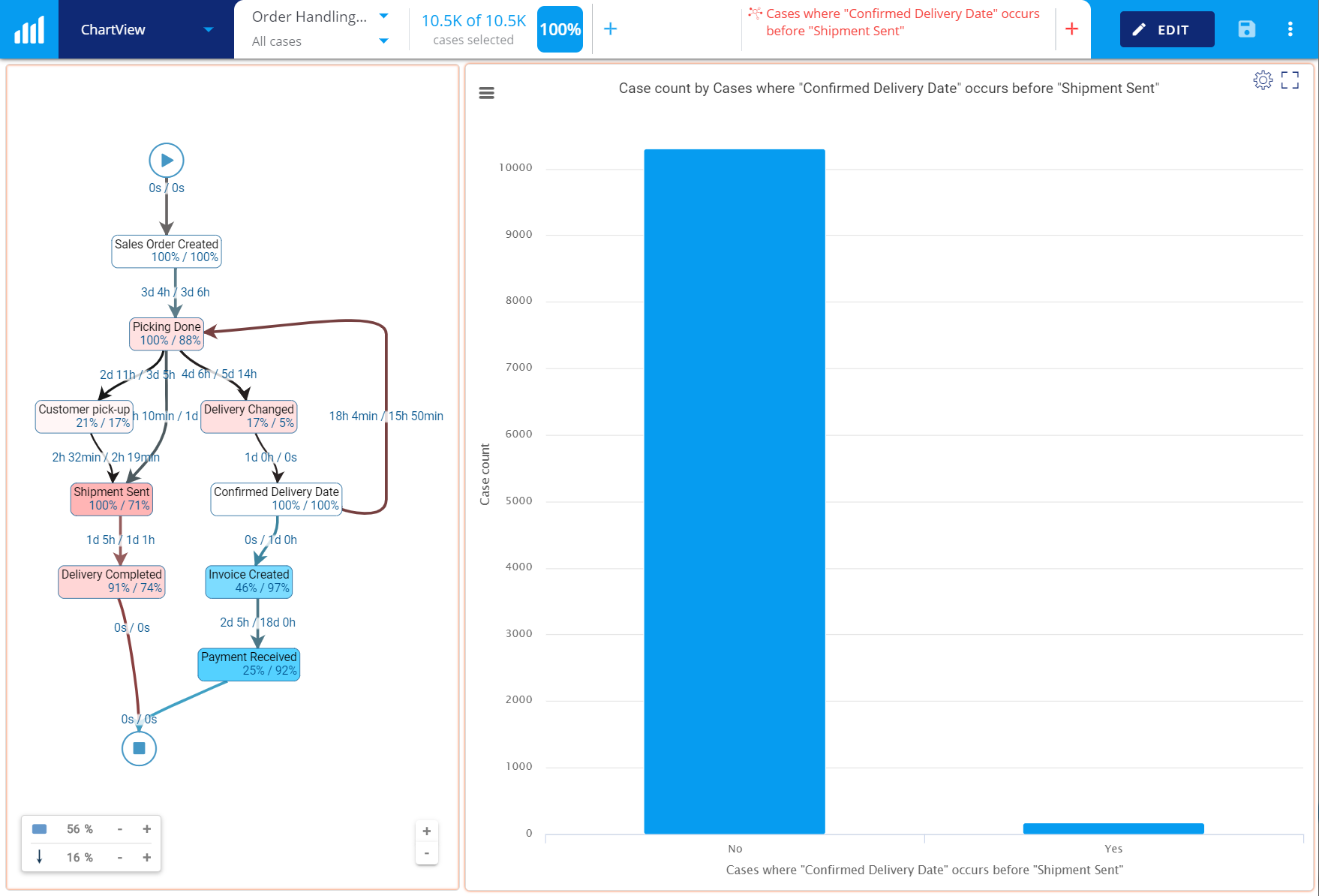 Process KPI: Happy Customer, shown with Root Causes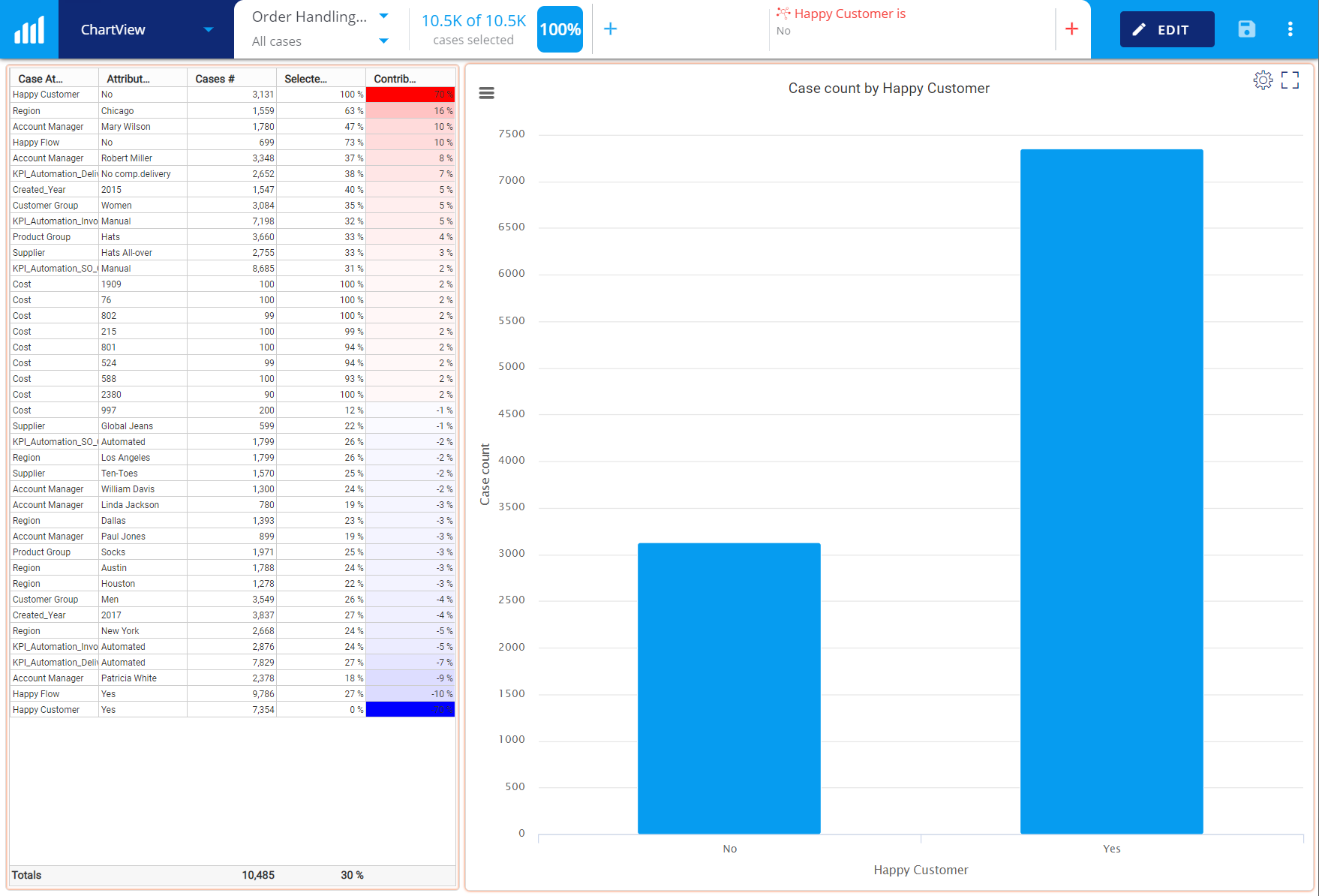 Process KPI: Operations Dashboard
Webinar Recording
Process Mining for Process KPI Reporting (45 mins)
Download the Presentation Sides (in PDF)
It's a good time to take a look at Process Mining if your company hasn't already. The capabilities and usability of Process Mining software are improving rapidly, and the market is quickly becoming mature, although there's still much work to be done. If you think your company is ready to step it up with the future of as-is process modeling and process efficiency maximization, the fastest way to get things moving is to:
Written by

Yen Do
Marketing manager in Process Mining at QPR Software.