Successful SAP S/4HANA migration powered by process mining
Jaakko Knuutinen | 2 min read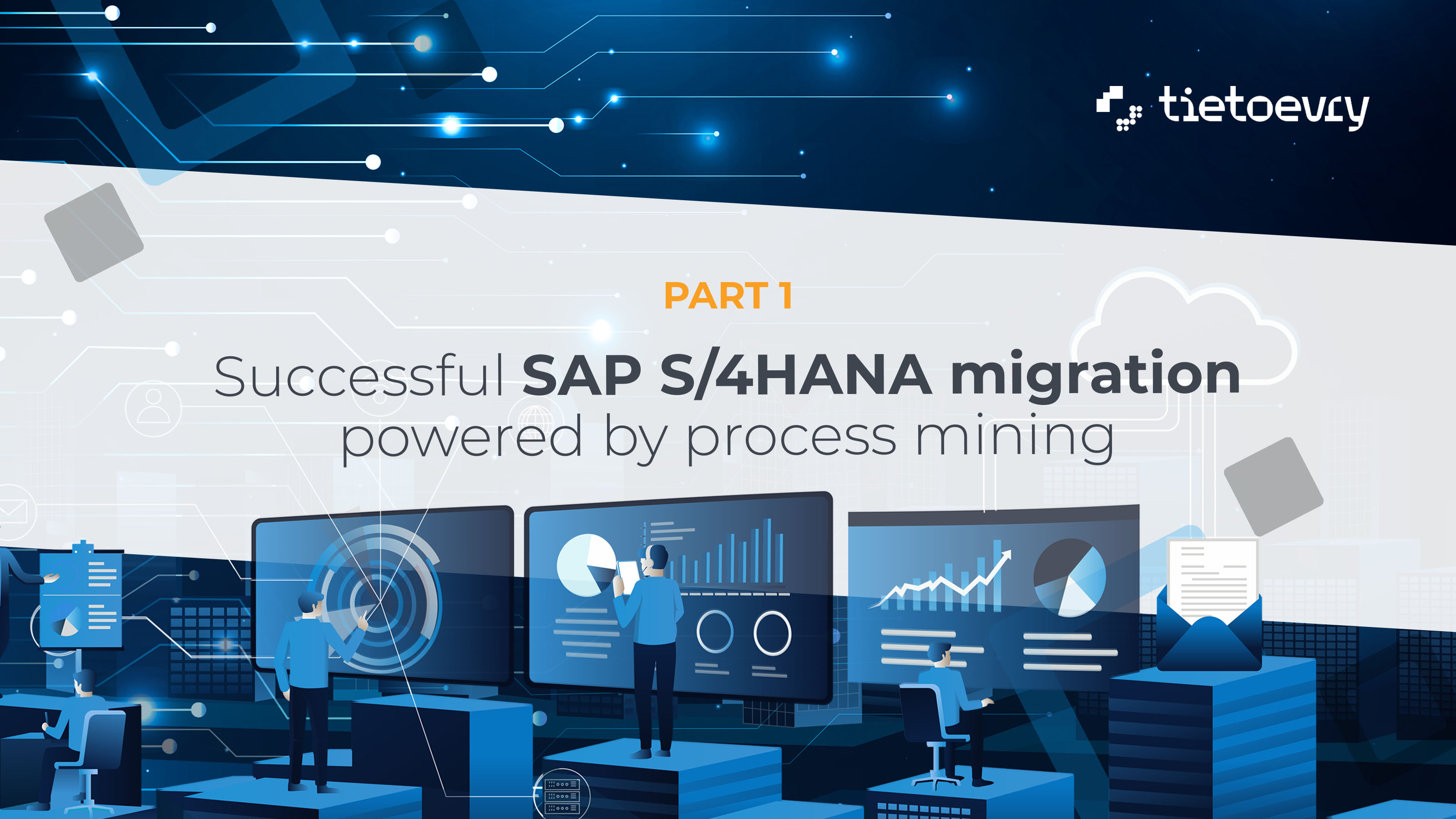 Companies running their business using SAP ECC Business Suite 6.0 are forced to renew their ERP system as the SAP ECC generation is approaching its end of life. SAP has announced that it will stop supporting older product versions in 2030. All SAP customers have thus been advised to migrate their system to the new SAP S/4HANA generation by the end of 2027.
The migration process is not simple. Navigating through SAP S/4HANA transformation is a challenging task that requires the right knowledge, understanding, and resources. Numerous reports have confirmed the severity of the challenge: IT transformation projects often experience both delays and budget overruns. These setbacks are caused by the large number of changes that must be implemented with regard to systems and business practices alike.
While you need to manage the risks of the project, it is important to view the migration as a chance to grasp the prevalent opportunity to improve your organization's business performance. ERP migration is a rigorous project, but it is also an opportunity to reduce the existing complexity of your IT systems and utilize the business possibilities granted by a modern ERP platform such as SAP S/4HANA.
Notably, changes to the ERP system are likely to require changes to the linked business processes. Making sure that these changes are carried out with business performance in mind is crucial for a successful transformation that increases business process value and avoids process pitfalls along the way.
Common transformation pitfalls
SAP S/4HANA transformation projects, as with other large IT projects, are often reported to be delayed and going over budget. Budget overruns and project delays are often caused by some of the following aspects:
Poor fact-based process insights

A lack of harmonization across units

Performance gaps in business processes

U

nknown process variations

Inefficient change management

Communication challenges
All the above are linked to a lack of process understanding.
Companies often attempt to tackle these challenges by spending countless hours mapping out how processes are supposed to be executed. Yet, this method ignores the fact that processes rarely follow planned procedures. Without an understanding of what really happens in your processes, your SAP S/4HANA transformation project is bound to turn into a costly headache. Understanding the real as-is processes is crucial in order to be able to transform them, manage the changes, and make sure that everything runs smoothly.
Shaping a solution
We partnered with Tietoevry to combine our leading technology and expertise in process mining with their extensive knowledge and insights into SAP S/4 HANA transformations to remove the headache. The result? SAP S/4HANA Vectorial.
SAP S/4HANA Vectorial uses QPR Software's powerful process mining technology to instantly provide a holistic view of processes by displaying and demonstrating the hundreds or thousands of different process variations based on the customer's own data rather than subjective viewpoints.
The solution is developed by a group of experts from QPR Software and Tietoevry, consisting of SAP architects, business analysts, process mining experts, and data engineers. It is designed to help SAP consultants in their work by providing transparency of customers' existing as-is business processes and automatically comparing them against SAP's S/4HANA best practice processes.
Read more about the latest technology and its features in the second part of this blog Introducing SAP S/4HANA Vectorial, and watch our on-demand webinar where discuss SAP best practices and how our partnership can secure a successful SAP S/4HANA migration for you:
Watch our on-demand webinar 'Are SAP best practices the best way to run your business?' here!
Written by
Jaakko Knuutinen
Jaakko works as a Business Development Specialist helping people solve complex business problems with process mining. His passion is to purify businesses of muda to ultimately drive customer value and make life easier.