Introducing SAP S/4HANA Vectorial
Jaakko Knuutinen | 5 min read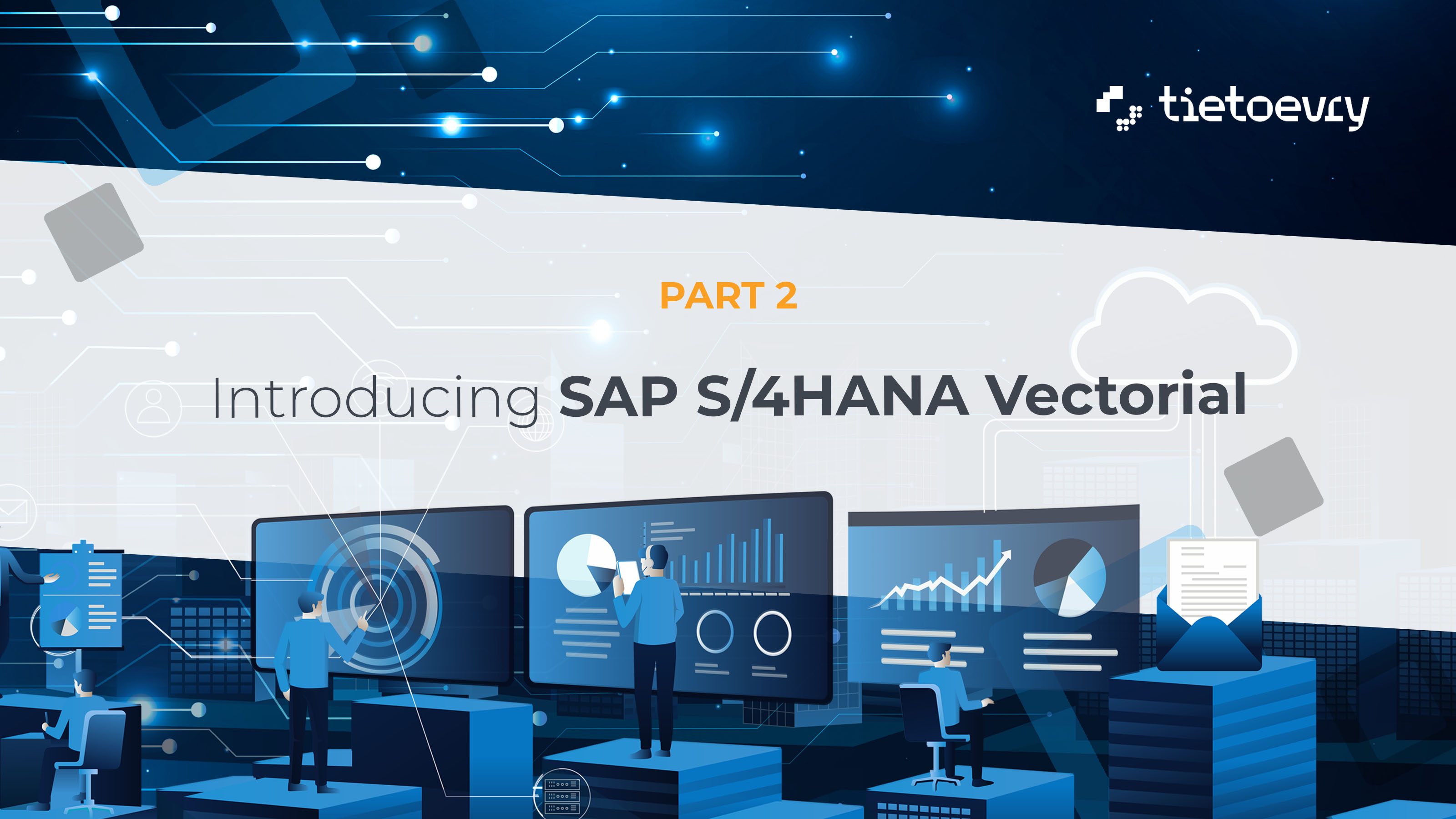 In our previous blog post about SAP S/4HANA migration, we discussed different challenges encountered in many IT transformation projects and how most of them are related to a lack of process understanding. To help customers tackle these challenges, QPR Software and Tietoevry are proud to present the release of SAP S/4HANA Vectorial!
SAP S/4HANA Vectorial is a process mining solution designed as a tool for SAP and business analysts to use during S/4HANA transformation projects. It provides them with a fast and effective way of analyzing the current as-is processes and easily estimating the magnitude of necessary changes during S/4HANA migration.
By developing SAP S/4HANA Vectorial, QPR and Tietoevry have combined modern technology with SAP transformation experience of top experts to create a solution that gives organizations much-needed support in their S/4HANA transformation journey.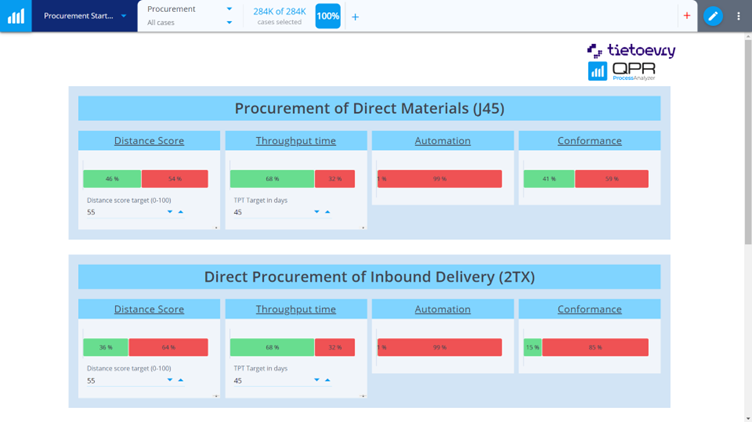 Image 1. Overview of SAP S/4HANA Vectorial in procurement processes.
How SAP S/4HANA Vectorial works
SAP S/4HANA Vectorial uses the transactional data in your systems to automatically visualize how your processes are being executed. It then provides a comparison of the execution of these processes against SAP's best practice process models for S/4HANA and instantly lets you know to what degree the process follows these best practices.
However, SAP S/4HANA Vectorial doesn't only focus on mimicking the SAP best practice processes. Instead, it has a strong focus on how to deliver business performance improvements along with the S/4HANA transformation program. Therefore, in SAP S/4HANA Vectorial, business performance metrics are also a key part of analyzing how close to SAP best practices one should aim to be.
SAP S/4HANA Vectorial can be used for any process found from SAP's process documentation. To illustrate a single process use case, this blog post uses examples from the Procurement of Direct Materials (J45) process.
How you benefit from SAP S/4HANA Vectorial
1.
Comparing process execution against SAP best practices
Before starting your S/4HANA migration project, it is a good idea to compare the S/4HANA best practices against your current process execution. Running the comparison helps you to understand the magnitude of the required changes when migrating to S/4HANA from your current ERP system.
This understanding helps you to plan and design the transformation with a realistic timeline and reduces the risk of nasty surprises during the project.
The SAP S/4HANA best practice processes are mapped as process models in SAP S/4HANA Vectorial, which allows for an automatic comparison of your real process execution against the models.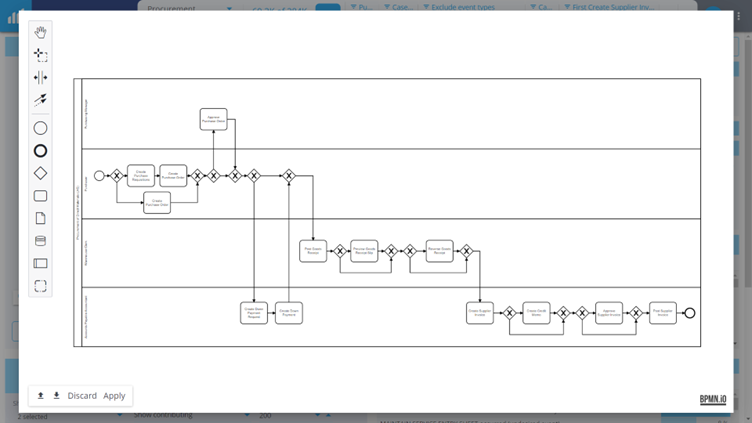 Image 2. Procurement of Direct Materials (J45) process model in SAP S/4HANA Vectorial.
Analyzing how well your processes follow the SAP best practices provides you with valuable process insight that supports you on your S/4HANA transformation journey.
You can instantly get answers to questions such as:
Which process variations follow the best practice models?

Are there performance gaps between different variations?

What causes the process to violate the SAP best practice?

Are there differences in process execution across the organization?

Does something unexpected happen in the process?
SAP S/4HANA Vectorial provides answers to these questions using different types of analyses. These analyses include:
Instant overview of process variations that are executed in accordance with SAP best practices
List of reasons of why the best practices were not followed

Analysis of performance gaps

A variation comparison to detect unexpected behavior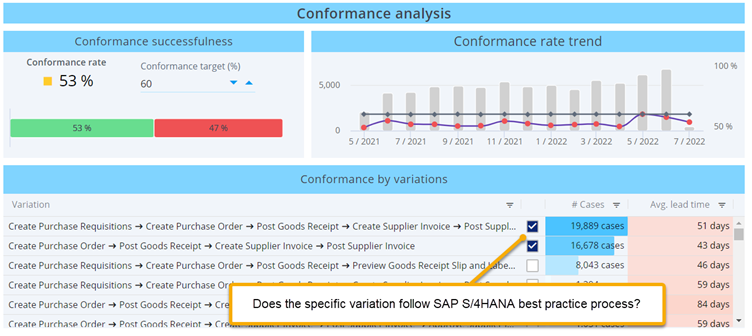 Image 3. Automatic identification of process variations that follow or break S/4HANA best practice models.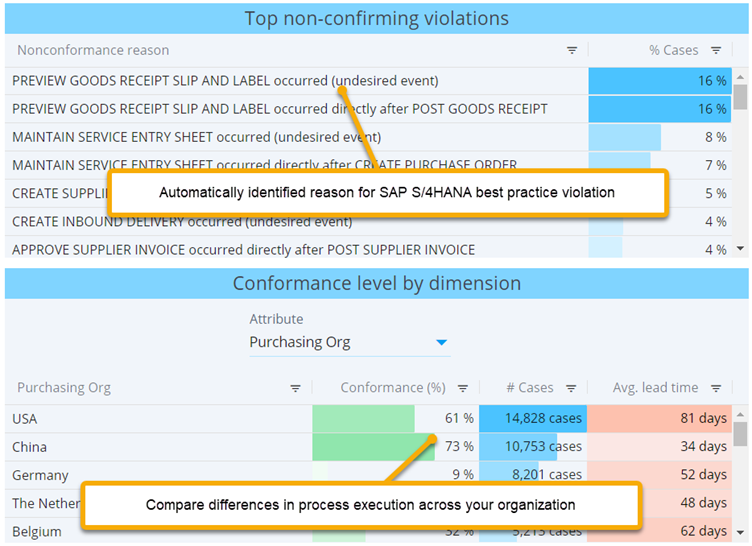 Image 4. Clear and straightforward causes of best practice violations along with benchmarking across the organization.
2. Utilize the Design Distance Score -concept for instant process insights
QPR and Tietoevry have combined their expertise to create a new concept called the Design Distance Score. The concept takes the comparison between real process execution and best practice process models to another level.
The Design Distance Score is an algorithm that checks if the flow to and from a certain process step follows SAP best practices and scores the activity accordingly.
This allows analysts to instantly see why certain process variations do not follow the SAP best practice model. A lot of time is saved as workshops and interviews are no longer necessary to pinpoint the problematic process steps. Instead, the project team can quickly deep-dive into the problem area and focus their brainstorming time on efforts to fix the prevalent issue.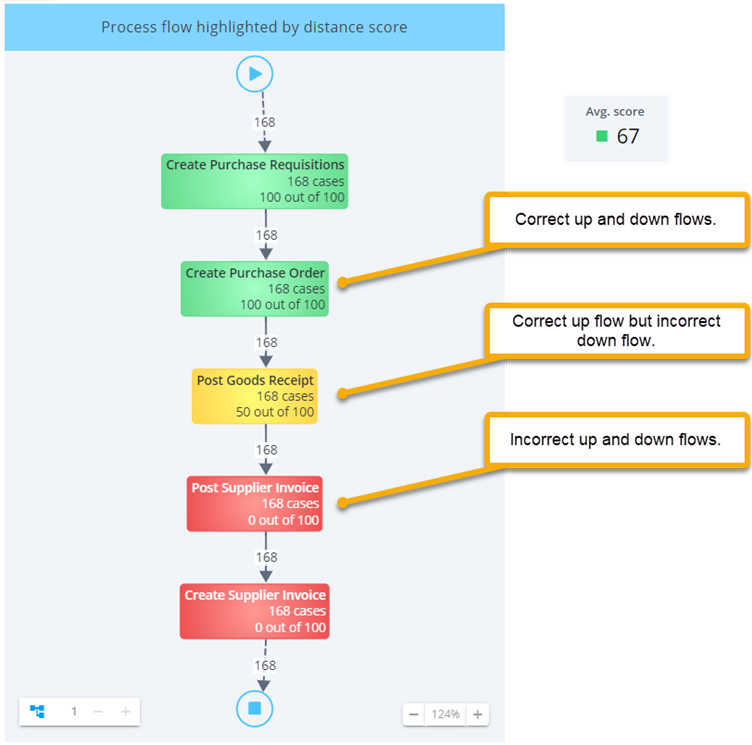 Image 5. Process flowchart with color-coded design distance score.
To demonstrate the Design Distance Score, the example above showcases a real-life variation of the procurement of direct materials process with a score of 67 (out of 100). The variation has process steps that are highlighted in different colors based on how well they follow the SAP best practice.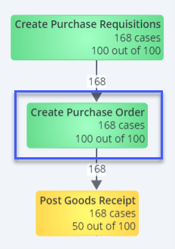 The steps highlighted in green follow the best practice perfectly. Let's have a look at the "Create Purchase Order" –step to view a perfect match.
"Create Purchase Order" receives a score of 100 as up and down flows alike match the SAP best practice. In other words, the perfect Design Distance Score is formed based on two parts: the up flow coming from "Create Purchase Requisitions" and the down flow going to "Post Goods Receipt".
The same logic is applied to all the activities in each process variation. In the screenshot above, we can, besides green steps, see examples of process steps that only partly follow the best practice (Post Goods Receipt in yellow) and those that do not follow the best practice at all (Post Supplier Invoice and Create Supplier Invoice, both in red).
The Design Distance Score can be used as a KPI to follow the progress you make during your transformation project and to monitor the performance after go-live to ensure the designed process is followed.
It also provides exceptional knowledge for planning your S/4HANA transformation as you can understand how far off you currently are from the S/4HANA best practices and whether following the best practices is even a realistic target to set.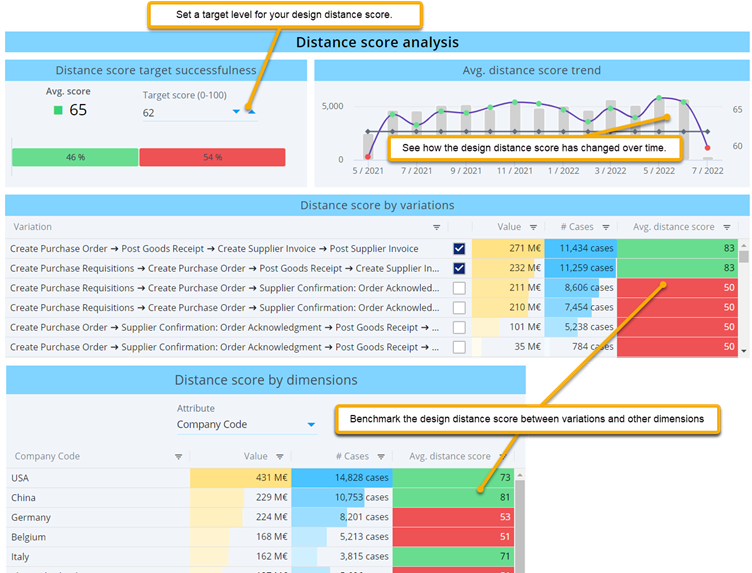 Image 6. Design distance score analysis in SAP S/4HANA Vectorial. Set targets, monitor the trend for changes, and benchmark results across your organization.
3.
Design your future business processes to maximize performance instead of blindly following best practices
While S/4HANA transformation can be seen as merely a mandatory requirement from SAP, it should also be seen as a great opportunity to utilize the business possibilities of the modern ERP platform and improve operational performance at the same time.
To move S/4HANA transformation from the bucket of mandatory tasks into the opportunity bucket for improving business performance, SAP S/4HANA Vectorial was created. It is designed with a strong focus on analyzing the operational performance of processes instead of blindly accepting that SAP's best practices are the only way to go.
Yes, you heard correctly! Whilst the solution provides a measure of how well your processes match SAP's own best practices, the solution also questions the degree to which your processes should follow them. In fact, from a performance point of view, it might be better for you to make some deviations from the best practices!
SAP S/4HANA Vectorial helps you to maximize business performance by:
Analyzing process variations with the best performance

Checking whether variations match SAP's best practices or not

Highlighting variations that fulfill the KPI targets for your organization

Finding the sweet spot between performance and best practices

Image 7. Set the target level for your performance and witness how SAP S/4HANA Vectorial instantly runs an analysis on how well the target is fulfilled.

Image 8. SAP S/4HANA Vectorial automatically analyses which variations fulfill the performance targets allowing you to compare performance between variations.

Using SAP S/4HANA Vectorial when you are planning, designing, executing, and monitoring your S/4HANA transformation helps you to run a successful transformation project that is within budget, on time, and delivers improved business performance.
To find your sweet spot between best practices and business performance, watch our on-demand webinar to see how QPR and Tietoevry can help you with SAP S/4HANA Vectorial:
Watch our webinar 'Are SAP best practices the best way to run your business?' here!
Written by
Jaakko Knuutinen
Jaakko works as a Business Development Specialist helping people solve complex business problems with process mining. His passion is to purify businesses of muda to ultimately drive customer value and make life easier.