How to achieve the highest ROI for your Robotic Process Automation (RPA) project? This is a recurring, integral question for many organizations that are struggling to fully exploit the capabilities of RPA.
In our most recent webinar in the Process Mining use cases series, Teemu Lehto, Vice President of Process Mining at QPR, presented the most common pitfalls in Robotic Process Automation (RPA) implementation and the best practices to successfully achieve high ROI in RPA projects.

See the webinar recording and download the presentation slides here.
As QPR Software has over 25 years of experience and more than 400 process mining projects with customers from all over the world, these common pitfalls and best practices are discovered from our real-life customer cases. In this blog post, you can find the answers to these following questions:

1. What is RPA?
2. What are the common pitfalls in RPA implementation?
3. What is the difference of over-ambitious and task-based approach?
4. How to identify RPA opportunities?
5. How can you utilize Process Mining in your RPA project?
1. What is RPA?

According to Gartner (2019), RPA is a productivity tool that allows users to set up one or more scripts (which is also known as "bots") to mimic selected tasks within a business or IT process. RPA often uses a combination of UI interaction and descriptor technologies over several software applications to: manipulate data, trigger responses, execute transactions, and transport data among different applications.
Interestingly, based on the nature of this productivity tool, instead of being called robotic 'process' automation, it should be robotic 'task' automation, because you put the computer to perform individual small tasks that were before done by human. Nonetheless, these bots ultimately help to make the processes more efficient.
However, it's at times challenging to find the right process that is suitable for RPA. This is where Process Mining steps in. The goal of Process Mining is to discover, monitor and improve actual processes (in contrast to designed processes), by data obtained from the event logs in your organization's system. In other words, Process Mining can capture your end-to-end processes, whether they have been done by humans or bots.
The benefits of Process Mining in RPA projects are twofold. One, it identifies the process inefficiencies. Two, it discovers, monitors and configures tasks that can be automated by bots. "By using these two approaches, you can orchestrate your whole process improvement and get high ROI in your RPA projects", says Teemu.
2. Common RPA pitfalls related to choosing a "wrong process"
Although RPA has been considered a silver lining for many organizations' digital transformation initiatives, there are reports from leading consulting firms such as EY or PwC saying half of the RPA projects fail in getting the desired ROI. The reasons for these failures may vary from implementation team to technology -related problems. From our experience of working with large organizations worldwide, most RPA failures stem from choosing the "wrong process" to automate.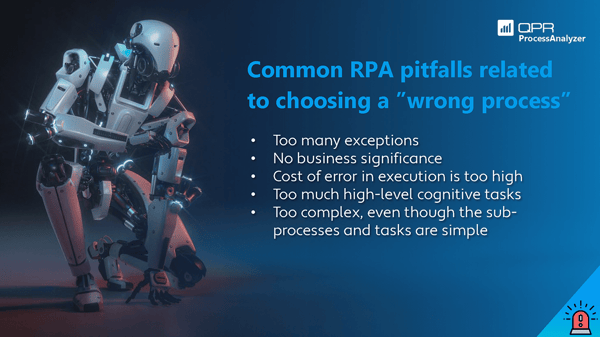 When your processes have too many exceptions. As written in our last blog post (Best Practices for Process Mining in Large Organizations), it may take approximately 80% of your organization's efforts to solve the exception-cases that account for only 20% of your business volume. From the RPA implementation perspectives, if you put a robot into a process without knowing how many exceptions exist in this process, your RPA project's likely to fail.
Process Mining allows you to see how many cases of exceptions you have in your processes and the root causes for these exceptions. You can use Process Mining to decrease the number of exceptions, as well as successfully pinpoint the parts where you can automate easily.
When you have processes with no business significance. It's common sense not to invest in a process of little business significance. However, it's possible that these processes have influence over other important processes. Again, an in-depth understanding of your end-to-end process is highly essential before RPA implementation.
When cost of error in execution is too high or the processes are too complex. For some particular tasks, it's simpler not to have bots implemented although it would mean having a human to double-check each task. With Process Mining, you can easily identify these tasks in your end-to-end process through a holistic view of the process.
When there are too many high-level cognitive tasks. In these situations, our Process Mining software, QPR ProcessAnalyzer, definitely proves powerful with its machine learning features such as Clustering Analysis and Predictions.
3. Over-ambitious vs. task-based approach

One important thing that you should keep in mind is your approach to RPA. There are basically two ways you can implement RPA in your organization: Automate your whole end-to-end process, or automate individual tasks in your process.

Some processes may take up to tens of months to complete and consist of hundreds of different tasks. It's never a good idea to try to automate a whole end-to-end process like this, because that's not what RPA is designed for. As mentioned above, RPA is a productivity tool to execute individual small tasks that were previously done by human. Automating your whole process is an over-ambitious approach that will cost you tons of money, time and effort, and can also negate your ROI.

The best way to implement RPA in your organization is to divide your processes into tasks, and automate some of these tasks, to improve your whole process. But how do you find these tasks? If your answer is Process Mining, you're right.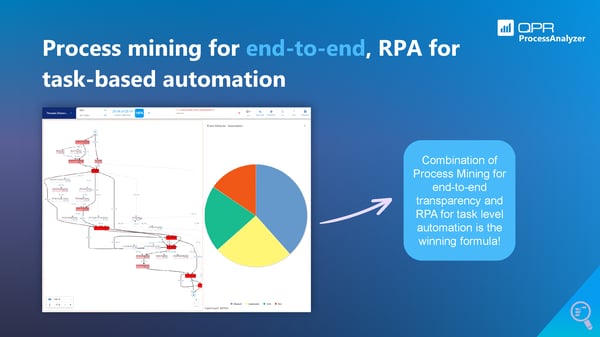 4. How to identify RPA opportunities?
When you use Process Mining to have the visibility into your whole end-to-end process, you can easily identify these three kinds of issues that are perfect for RPA: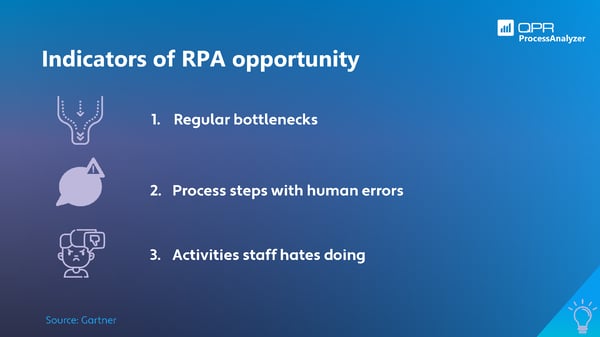 Your regular bottlenecks - those places that are jamming the whole processes.

Tasks in which your employees usually make mistakes - manual work proves much less efficient than automated. The Process Mining algorithms make it easy to find the root causes of these mistakes.


Tasks that are disliked by employees because they are too dull or too physically demanding.
5. How to utilize Process Mining in your RPA project?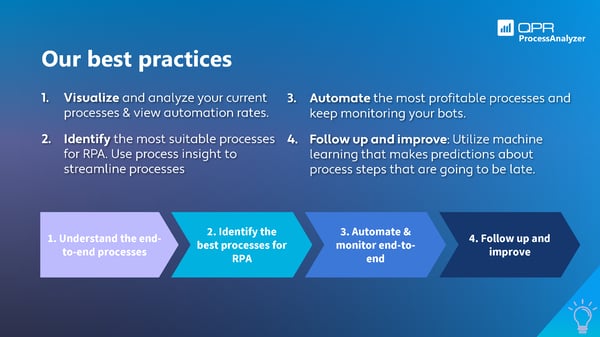 From our experience of helping our customers with their RPA projects, there are four primary steps to utilize Process Mining in RPA implementation:
1. Visualize and analyze your current processes.
2. Identify the most suitable process for RPA.
3. Automate the most profitable processes and keep moniroting your bots.
4. Follow up and improve by using machine learning in our Process Mining tool to make predictions about process steps that are going to have problems.
In order to help you kickstart a successful RPA implementation using Process Mining, QPR Software offers you a free, exclusive 11-page guide: "Four steps of RPA Implementation Using Process Mining":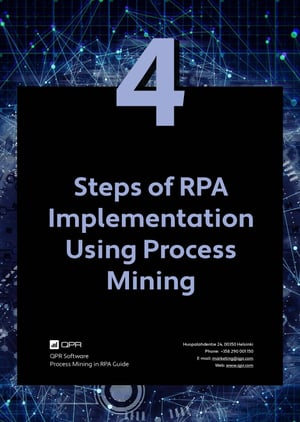 6. QPR ProcessAnalyzer - RPA Automation Opportunity Scout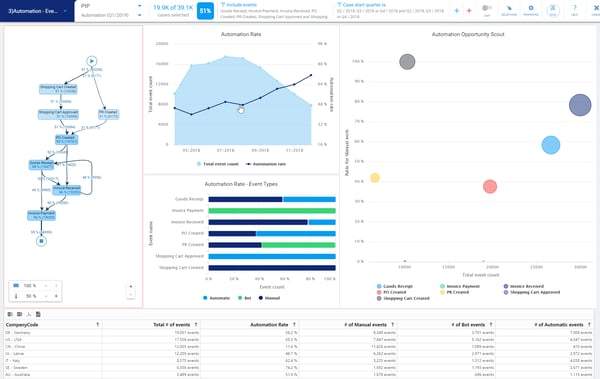 With QPR's process mining software, you manage the full end-to-end process and spot the automation opportunities easily. The automation opportunity scout above shows your activities ordered by automation rate and total event count, highlighting the biggest opportunities with the biggest circles. The automation rate is also easily viewed in the trend graphs. The underlying company code data can be used to further direct the analysis into any particular set of company codes for determining the best scope for RPA product.
7. QPR ProcessAnalyzer - Case Duration in relation to # of manual activities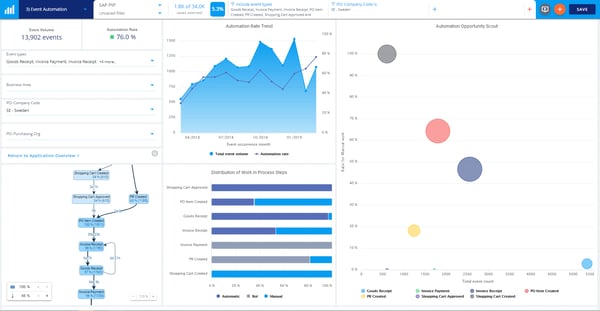 As the picture above illustrates, sometimes the touchless rate can be very low (like 0.2%), so a good objective could be to automate those tasks that have the biggest effect in the end-to-end process lead times. QPR ProcessAnalyzer's RPA solution has a ready-made dashboard for this, including: duration analysis, number of manual activities analysis, and "touchless order rate" KPIs. Data can be further analysed by any available case attribute, for example the Vendor selection in a purchase-to-pay process.
Webinar Recording
Process Mining for RPA (37 mins)
Download Process Mining for RPA Presentation Slides (in PDF)
It's a good time to take a look at Process Mining if your company hasn't already. The capabilities and usability of Process Mining software are improving rapidly, and the market is quickly becoming mature, although there's still much work to be done.
If you think your company is ready to step it up with the future of as-is process modeling and process efficiency maximization, the fastest way to get things moving is follow these steps: