What is the Purchase-to-Pay Process?
The Purchase-to-Pay process is also known as P2P, procure-to-pay, or req-to-check. It refers to business processes that cover requisitioning, purchasing, confirming, receiving, paying for, and accounting for goods and services. The transactional volume is often high, and each step within the processes is a potential source of errors. This makes P2P a good target for process mining, which brings visibility to the entire end-to-end P2P process and identifies root causes for problems.
An example of a Purchase-to-Pay process includes process steps such as purchase order item created, vendor invoice creation, goods receipt, invoice receipt, and accounting doc cleared. Here's what a typical Purchase-to-Pay process looks like when it is visualized in a process flow chart: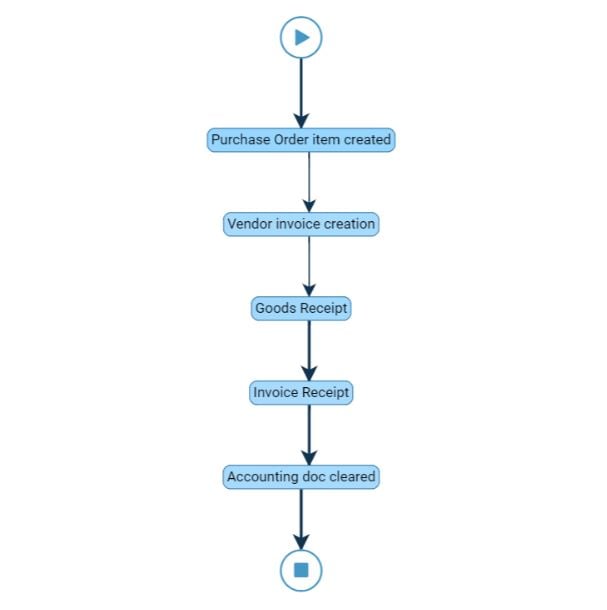 Purchase-to-Pay & Process Mining
Would you like to have better procurement, lower buying prices, and higher internal efficiency? Process mining can help you improve your P2P process performance and achieve the following business benefits.
Better Procurement
Shorter P2P lead times
Improved first time right rate
Lower Buying Prices
Better discount due to shorter payment periods.
Less maverick buying, improved use of frame agreements.
Higher Internal Efficiency
Fewer POs without purchase requisitions.
Fewer post-PO changes.
Shorter lead times from invoice received to invoice posted.
Increased automatic processing of purchases.
More on-time deliveries.
Better managed vendor base.
Through process mining, not only can you visualize the end-to-end Purchase-to-Pay process in process flow charts, but you can also effectively find the business segments with the biggest improvement potential. You'll be able to tell which dimensions, such as vendor, purchasing organization, currency, or PO type, affect the P2P process the most, whether for good or bad.
Purchase-to-Pay Application by QPR ProcessAnalyzer
In this application mindset, we have created an all-in-one solution that fits all Purchase-to-Pay analysis needs and the best part is: you don't have to be a data scientist. The application contains the advanced general features of QPR ProcessAnalyzer, but also comes preloaded with customized, process domain -specific, analysis dashboards for analyzing specific phenomena in the purchase-to-pay sphere.
With QPR ProcessAnalyzer, you are instantly able to get the insight of your as-is process with a robust suite of analysis tools. Lead times, flows, event amounts and other key insights can be instantly gathered from the process mining data loaded into QPR ProcessAnalyzer using the graphical analysis tools offered. These findings can be furthered with our ChartView -feature. This allows for using the process data to calculate and create chart presentations according to the customizable settings offered in the analysis tool. Compare case attributes, divide them by time, add event attributes to the presentation. All of this can be achieved with ChartView.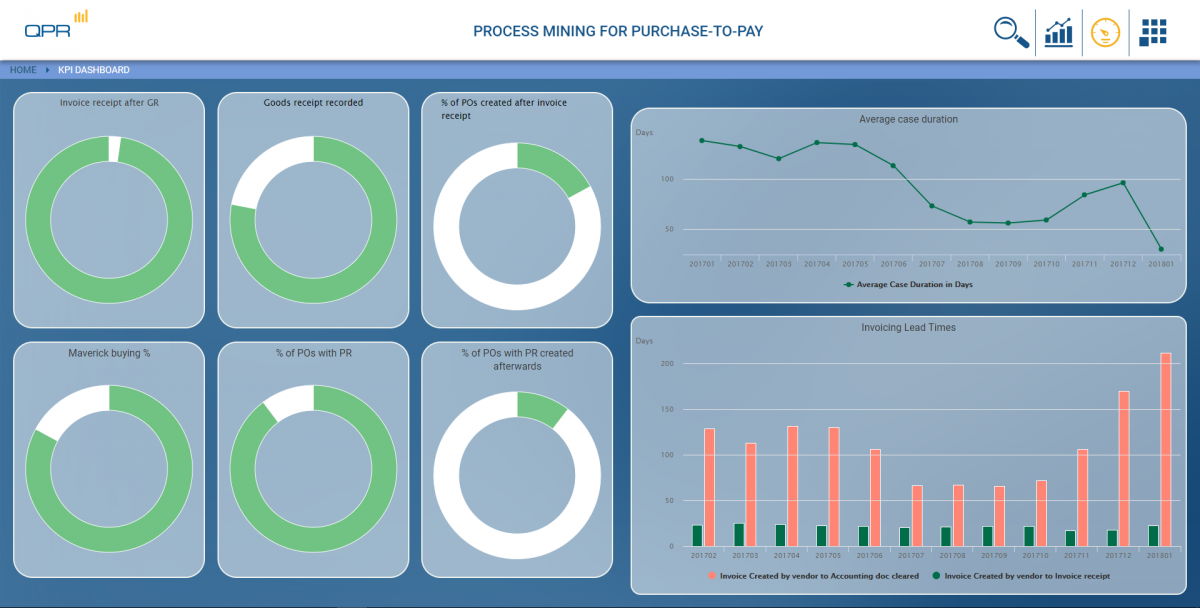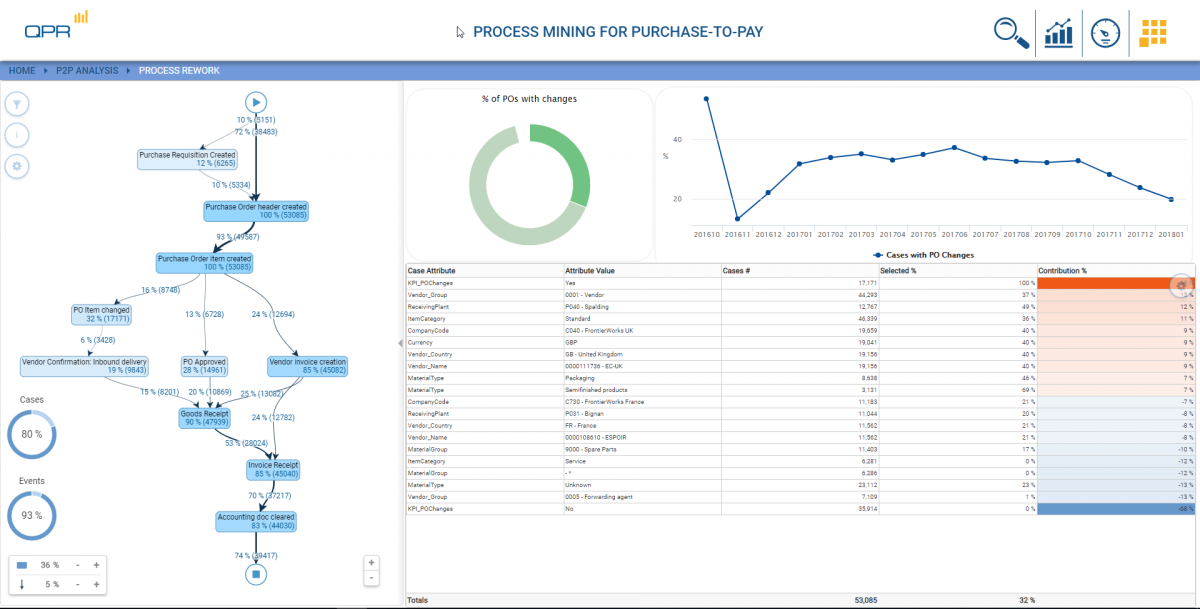 If you'd like to know why your incoming invoices are not always connected to purchase orders, why your organization's three-way matching doesn't work the way it should, or what exactly leads to slow processing of invoices that excludes you from getting significant cash discounts, download the brochure below to get started with putting your processes in order.