Process Mining for the Purchase-to-Pay Process
Lassi Uusitalo | 4 min read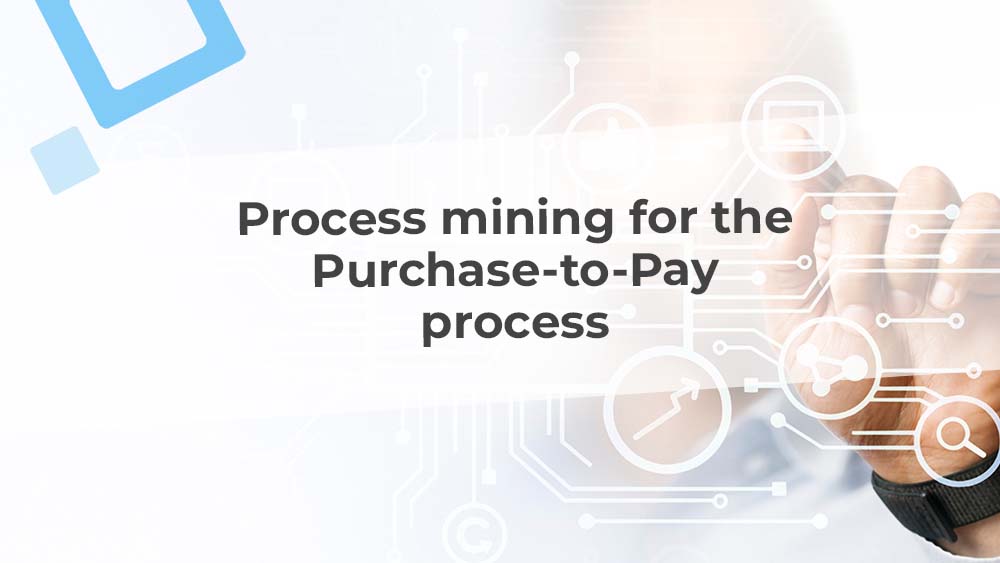 The Purchase-to-Pay process - also known as PtP, procure-to-pay, or req-to-check - refers to business processes that cover requisitioning, purchasing, confirming, receiving, paying for, and accounting for goods and services.
As the transactional volume is extremely high and often quite complex in Purchase-to-Pay (with many different approvals, procedures, requests, and suppliers), each step within the process is a potential source of errors. This makes Purchase-to-Pay a great target for process mining, which brings visibility to the entire end-to-end process and identifies root causes for problems (such as maverick buying) as well as automation opportunities.
In this article, you'll see how process mining helps to optimize the purchase-to-pay process with process mining and get 3 practical tips for how this is done with our process mining software, QPR ProcessAnalyzer.
Read: What is Process Mining?
Steps included in the Purchase-to-Pay process
Purchase-to-Pay process steps generally include:
Purchase Requisition (PR) created – a request to make a purchase and get the necessary approvals in your procurement system has been created.
Purchase Order (PO) created – A purchase order with line items for the goods being procured has been created.
Goods Receipt – The goods arrived in your physical storage and were logged in your (warehouse management) system.
Invoice Receipt – The vendor sent you an invoice for the goods.
Invoice Approved – Your handling team verified the quality of the goods and released the invoice to accounts payable.
Invoice Posted / Payment – The invoice has been paid.
However, in reality, the process is not as straightforward. The complete end-to-end process contains a variety of steps that are not always handled in the right order or at the right time - and all these process changes, errors, and rework prolong lead times and increase expenses.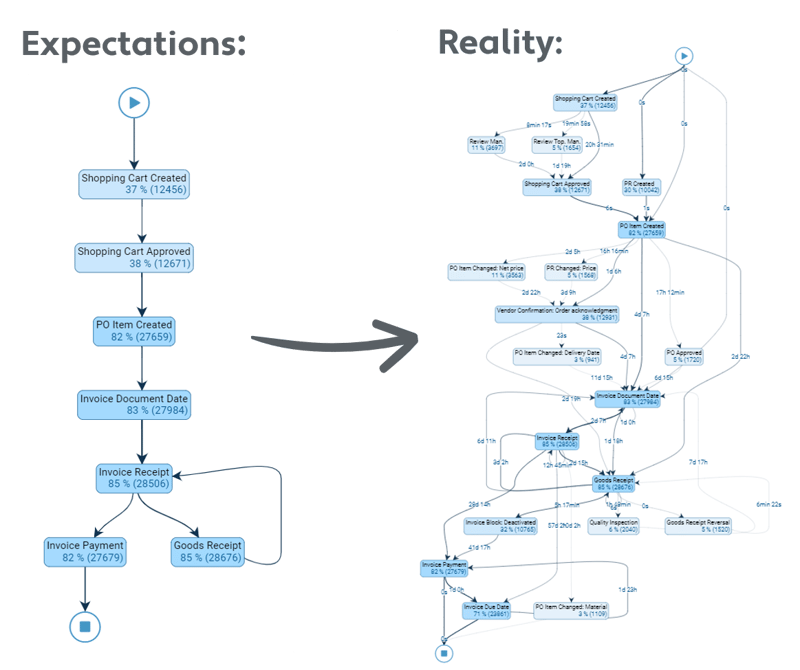 How it all works: Process Mining for Purchase-to-Pay
A number of different events, such as "purchase order created" or "invoice approved", are recorded into your procurement, ERP, or invoicing system database with timestamps. From the starting point of the process to "Goods Receipt" and all the way until "Invoice Payment" (and beyond), a record exists of when such an event took place in the purchase-to-pay process.
Already with this data, we can create the process mining model that uses these events (and more) to show you how your procurement process happens in reality. QPR ProcessAnalyzer - QPR's Process Mining software - draws data directly from your information systems (such as ERP, procurement, or invoicing systems) with built-in connectors. It then visualizes and identifies symptoms of inefficient processes, such as bottlenecks, rework, Maverick Buying, and conformance violations.


Video: How to spot Maverick Buying in less than one minute
Three practical ways for optimizing your PtP process
Take these three steps to optimize your purchase-to-pay process with QPR ProcessAnalyzer:
Discover your as-is processes: check long process durations and benchmark internally
Use Root Cause analysis to understand where and why issues (such as long lead times) are happening
Monitor and improve continuously by utilizing built-in KPIs for Maverick Buying, Robotic Process Automation, and more.

1. Discover and benchmark as-is process steps in different parts of your organization
Process Mining provides computer-generated process flowcharts, which are created based on traces you can find from your data management systems (e.g. SAP). Based on these flowcharts, you will instantly spot how much undesired behavior is happening in your PtP process, where certain process steps are being skipped and in which cases certain process steps are taking longer than expected.
Combined with Process Discovery tools, such as duration analysis and case attribute profiling, you can identify the main issues in your processes (such as long lead times), where they are happening, and how to start further investigations for compliance checking and process improvement.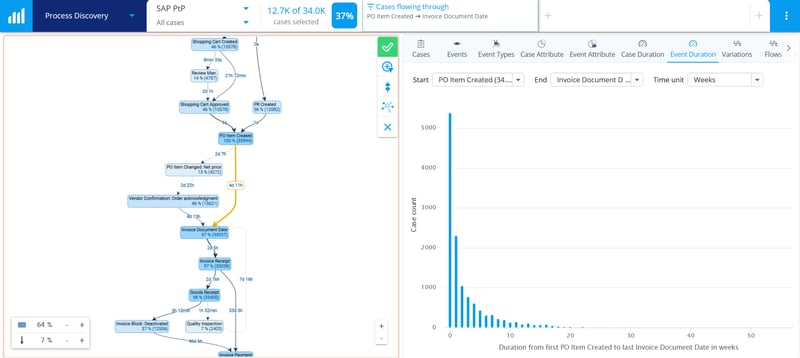 2. Understand where and why issues are happening in your Purchase-to-Pay processes
With Root Cause analysis, you see which cases have a higher tendency for order changes or rework (repeated process steps), which chains of events lead to problems later in the process, and other sources of increased lead times in your Purchase-to-Pay process. The root causes in the process are also ranked according to their contribution to business outcomes, which gives you an idea about what you should focus on to increase efficiency and decrease costs.
However, there are more ways in which you can use the powerful Root Cause analysis. You can also identify so-called "role models" with it, i.e. see where the investigated issues are less frequent, to enable internal benchmarking for the rest of the organization.
Once you have analyzed the root causes, you are well equipped for a plan of action for further investigations and process improvement initiatives. You can then start using multiple ways of further visualizing your data through ad-hoc analysis and long-term process monitoring via Dashboards.


"QPR ProcessAnalyzer allows us to follow up on worldwide execution of processes from the headquarter office. With Root Cause Analysis, we found out why certain tasks are often done incorrectly. These insights substantiate our decisions to automate said tasks and implement a four-eye principle." Sander Van Lombeek, Team Lead of Commercial Credits at KBC Group
3. Improve continuously with ready-made applications for a variety of PtP use cases
One notable benefit that process mining offers over traditional BI reports is its' ease of use - the fact that you won't need a data scientist to interpret data or findings from the data, as AI-based advanced analyses and customizable dashboards have been built for you.
On top of this, QPR's pre-built Purchase-to-Pay dashboards makes process mining easier and faster than ever before, as everything is set up for you. This means that once you open a dashboard, you will for instance instantly see where and when Maverick buying is happening, its business impact as well as its root causes.
Currently, the QPR PtP Application includes dashboards for, among other things:
Operational Overview
Maverick Buying
Order Item Changes
Process Cycle analysis
Robotic Process Automation
The Dashboards have been created in collaboration with process experts both internally and externally to ensure that they give the most insightful information to the most topical questions for Purchase-to-Pay professionals. They can be used for continuously monitoring your operations, digging deeper into your KPIs (such as Touchless Order Rates, Automation Rate Trends, Process step cycle times, or PO item change rates), and highlighting sources for cost savings or opportunities for automation. Click here to jump to the part of the webinar where I present a few of these dashboards.
Interested to hear more about what you can do with any of these new dashboards? Comment below and I'll be sure to respond!

To sum it up: What are the benefits of using Process Mining for the Purchase-to-Pay process?
Through process mining, it is possible to know precisely how your procurement system is used:
How long it takes for a procurement request to become an actual order
How long it takes to process the orders
How much your organization is complying with the designed Purchase-to-Pay process model - and how to improve
When you can pinpoint the development areas in your process, you can focus your improvement efforts on where they will produce the most value. With this objective in sight, you will have the confidence to make changes, e.g.:
Expediting a round of approvals in their purchase request process

Automating specific steps, such as invoice approval
Implementing a four-eye principle to increase fraud detection
Know exactly how, why, and where your procurement is performing better than ever, and where you still need to improve on your way to optimize your purchasing process.
Explore how QPR ProcessAnalyzer supports your Purchase-to-Pay process optimization in a customized demo with a QPR expert.
Webinar slides: PtP with Process Mining
Check out the Purchase-to-Pay webinar presentation.
Written by
Lassi Uusitalo
Business Development Specialist passionate about process excellence, process mining and story telling. Always looking for new angles to process understanding and tackling the most complex business challenges of the day.