Over time, we've blogged a lot about process mining and analysis for the Order-to-Cash process. While it's good to understand how you're selling, it's also important to understand how exactly you are buying. This week's blog post focuses on the Purchase-to-Pay process. In other words, to see if you're shopping the right way through process mining with QPR ProcessAnalyzer.

In the Purchase-to-Pay (P2P) process, you're most likely to be interested in getting what you pay for correctly. Your suppliers will also be more inclined to do business with you when you're a preferred customer to them, meaning that you make your orders accurately and pay them on time. When you put both of these perspectives together, you're on an excellent way to forming partnerships with your best suppliers. Or if you want to fix smaller things to start with, you would want to verify that your process is compliant with your designs and already save a lot of money by addressing the non-compliance.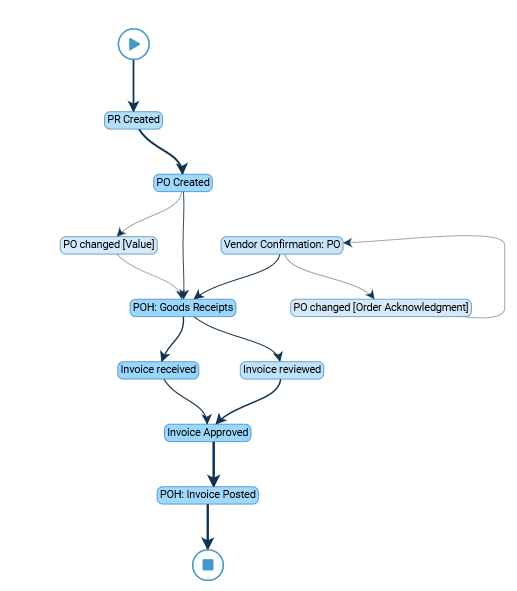 Our sample of Purchase-to-Pay process steps include:
Purchase Requisition (PR) created – a request to make a purchase and get the necessary approvals made in your procurement system was created.
Purchase Order created (PO) – A purchase order with line items for the goods being procured was created.
Purchase Order Header (POH) Goods Receipt – The goods arrived in your physical storage and were logged in your (warehouse management) system.
Invoice Received – The vendor sent you an invoice for the goods.
Invoice Approved – Your handling team verified the quality of the goods and released the invoice to accounts payable.
Invoice Posted / Payment – The invoice has been paid.
The complete end-to-end process, of course, contains several more steps. Let's discuss next what these steps could be, and where they can be found in a system.
QPR Process Mining for P2P
So, what exactly can QPR ProcessAnalyzer dig out from the Purchase-to-Pay process? First of all, your system records a number of different events into your procurement/ ERP/ invoicing system database using timestamps. From Purchase Requisition creation to Goods Receipt and all the way until Invoice Payment (and beyond), there is ideally a record of when such an event took place.
Already with this data, we can create a process model of how the procurement goes in the big picture. Here's also where we find that the core process has additional steps at times. You might have some orders canceled, deliveries late or damaged in transport, or goods placed in incorrect storage bins to name a few. On the other hand, process mining will also tell you where your process is already working great, so you'll have a unit to use for benchmarking with others!
Secondly, when we add case attributes (such as Vendor, Purchasing organization, Payment terms, Cash discount dates, Transport conditions) to the model, we can find out where in our organizations things are happening, which vendors follow which kinds of process variations most frequently. That's where we can also bring a lot of power to the analysis, and to create meaningful KPIs to get the picture in to even more focus.
With QPR ProcessAnalyzer, we can extract data from several different source systems, whether they're specialized in procurement, ERP, invoicing, or even purely master data.
What are the benefits of process mining for the Purchase-to-Pay process?
Through process mining, it's possible to know precisely how your procurement system is used: how long it takes for a procurement request to become an actual order, how long it takes to process the orders, and most importantly, are you paying your orders promptly.
When you can pinpoint the development areas in your process, you can focus your improvement effort where it will produce the most value. Whether it's expediting a round of approvals in your purchase request process or calculating how much money you can save by paying your invoices before cash discounts expire.
Even with process mining, you only get what you measure. Through frequently repeated process mining, it's possible to monitor the P2P process and to easily observe any anomalies or even regional changes in your purchasing business.
Have your monthly updated process KPIs, such as:
The number of changes to purchase order.
The number of returns to vendor.
Total saving potential when all cash discounts are received.
In addition to your basics and you'll know exactly how, why, and where your procurement is going better than ever, or where you still need to improve on your way to optimize your purchasing.
To learn more about applying process mining to your P2P process, check out our webinar below.