Latest product updates: Snowflake, flowchart presets, new certification courses, and much more
Saara Bergman | 4 min read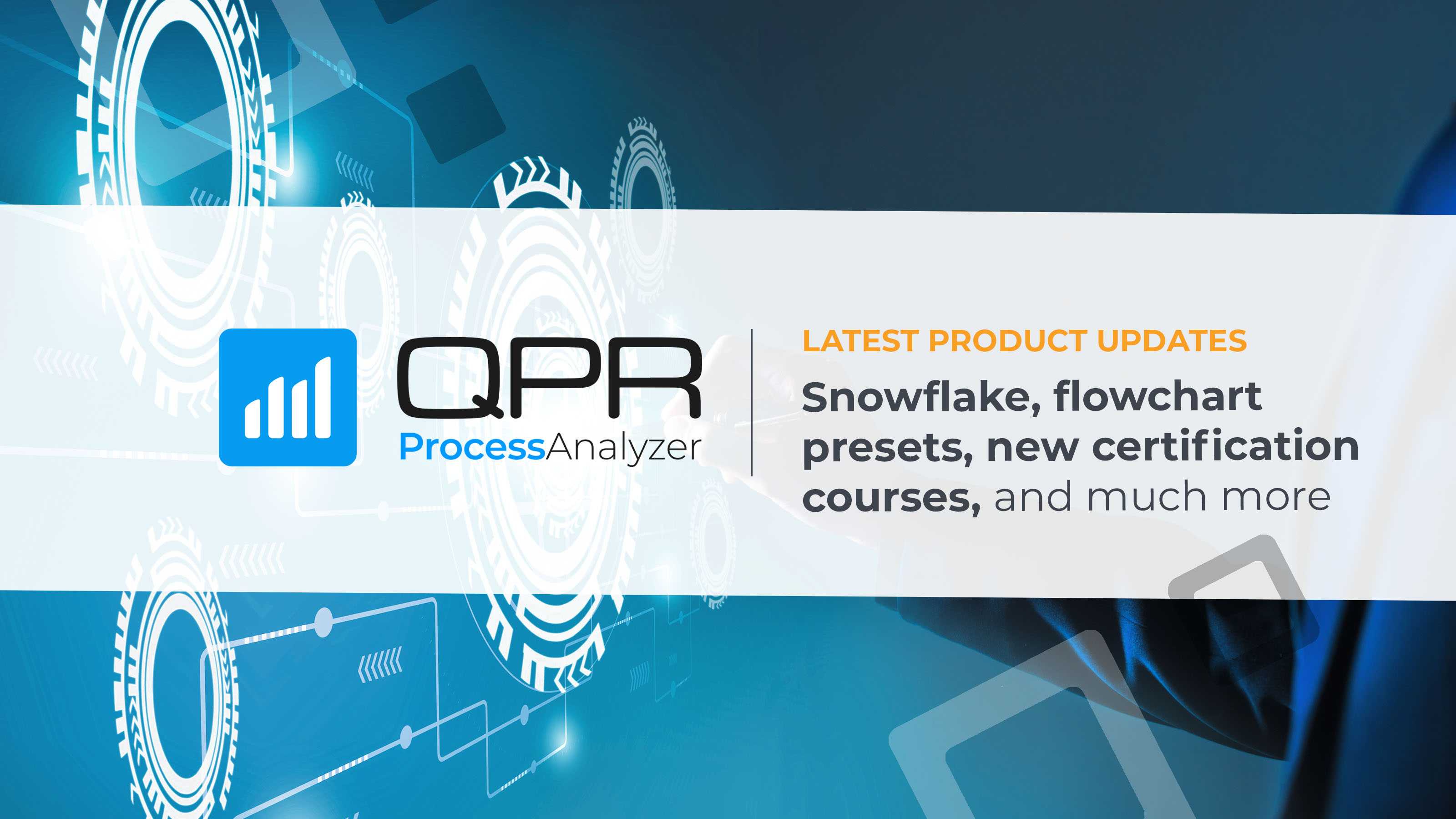 With the latest releases of the process mining innovator QPR ProcessAnalyzer, users of all sorts – from business users discovering their processes and finding opportunities for cost savings to technical model creators and dashboard builders – will find even more intuitive and efficient ways to do process mining.
Read on to find out more about the latest product updates:

Unparalleled scalability and performance: Billions of data rows analyzed in the blink of an eye
We recently launched the most significant innovation within the process mining industry in years: the next-generation QPR ProcessAnalyzer powered by Snowflake. With the new version, even the largest companies with complex business processes and billions of data rows can analyze their event data in the blink of an eye (literally!).

Why scalability and performance matter
End-to-end business processes consist of long chains of events that easily generate hundreds of millions of lines of event data, i.e., the data that process mining software uses for its analysis.
While process mining is the most useful with large data sets, the process mining market was faced with a dilemma: process mining became slow, or even undoable when data sets grew too large. Most process mining vendors have "tackled" this challenge by splitting data into smaller pieces, which leads to a loss of insight and increased security risks. We decided to make this dilemma our R&D priority.
Introducing the new era of process mining
This innovation is truly unique – QPR ProcessAnalyzer is the first and only process mining software to run natively on the Snowflake data cloud. Besides unparalleled performance and scalability, the next-gen QPR ProcessAnalyzer powered by Snowflake also offers exceptional security, modern data governance, and a single source of truth.
The reactions from customers who have seen the new version have been overwhelmingly positive. If you'd like to see how you can analyze millions of rows of event data with process mining and get instant results, don't hesitate to book a demo or sign up for a 30-minute live online webinar: Process Mining powered by Snowflake.


"We are very excited to partner with QPR Software. We can offer our customers a completely unique opportunity to leverage market-leading technology for process mining on Snowflake's platform. Deploying the service is easy and fast. As process mining takes place in Snowflake's Data Cloud, where the organization's data already resides, or where the data can be loaded on behalf of the customer, data security also remains at a very high level,"

- Pascal Ferro, Snowflake program EMEA lead
Additional information:
A new set of process mining certification courses
We're happy to introduce a brand-new selection of process mining certification courses for customers and partners. There are three kinds of certificates available:
Value Creation Specialist

Process Analysis Specialist

Data Visualization Specialist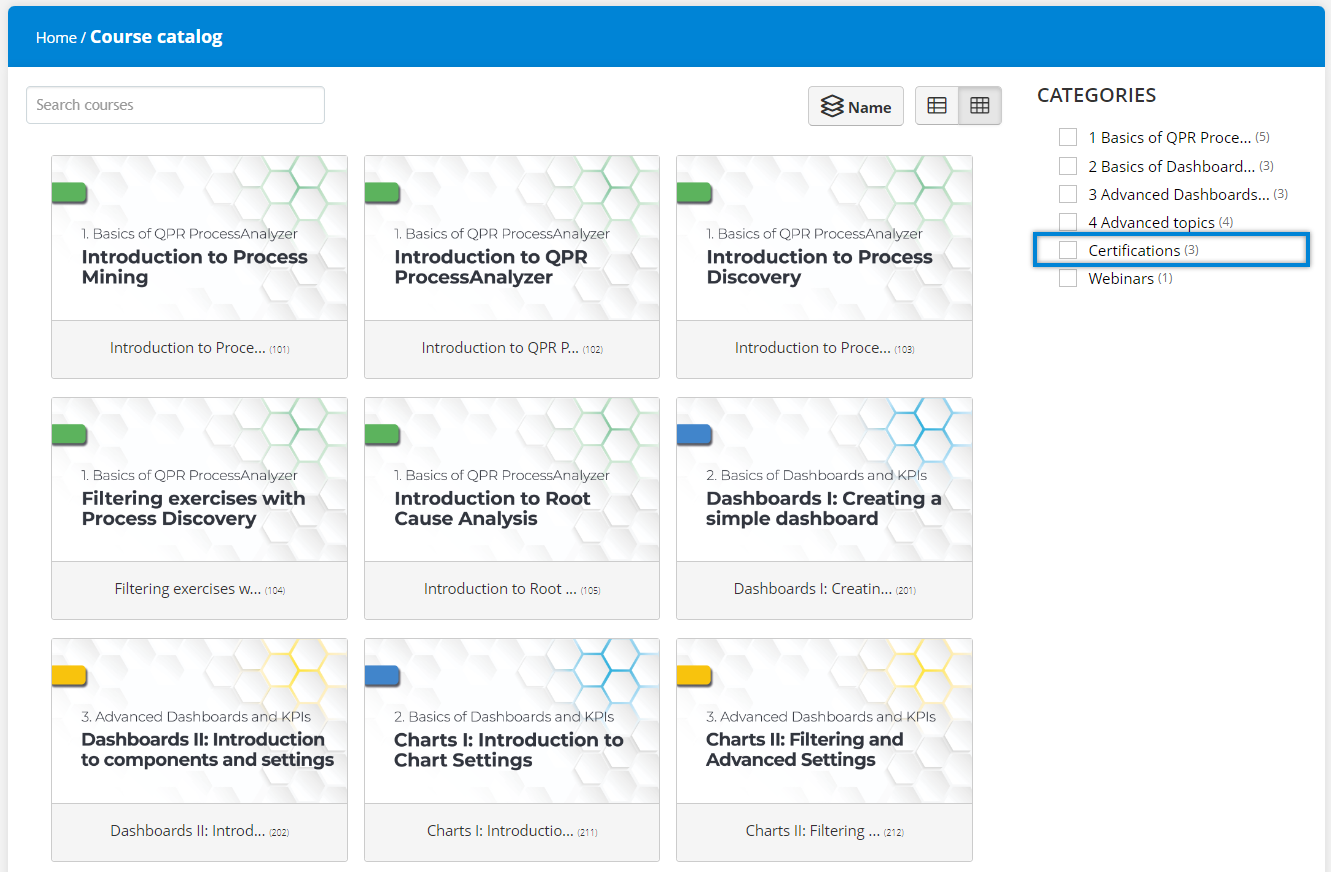 By completing the certifications, you demonstrate that you have gained knowledge and skills in applying process mining methodology and know-how to improve your business processes.
Want to get certified? Challenge yourself and complete the certification - and easily share your process mining diploma with your network.
Improved flowcharts and filtering options
New flowchart presets
It's never been easier to look for opportunities for improvement directly in any process flowchart.

With the new presets for the flowchart, you can easily select if you want to look for e.g., bottlenecks, automation rates

,

or rework in the process flowchart.
Improved UX in the Process Discovery view
Before, when you created a new analysis in Process Discovery, your view was reset if you exited the view. Now, chart and flowchart settings are stored in the Process Discovery view for the entire session.





Intuitive chart filtering for dashboard creators
When creating a detailed analysis, you often need to use chart-specific filters. Now, it's possible to select if you want these filters to be included as dashboard-level filters or not.



Improved user & project management
Easier user management
Stay up to date with the new user management reports: see license types, user rights, groups, and projects easily.

In the workspace, the scripting and model permission restrictions are now better reflected in the user interface.
Easier project management
Now it's easier to have more structured projects: dashboards, models, data tables, and scripts can from now on only be created as part of project folders.

With the new release, old dashboards, models, data tables, and scripts have been migrated to new projects

.
Updates for technical & developer roles:
Error messages are now shown in the script log

When an error occurs in a script run on the client-side, the error message is now shown in the script log of QPR ProcessAnalyzer
Automatically refreshed Models and Scripts -tab

Easily see the status of your models and scripts in QPR ProcessAnalyzer
New expression language improvement
Faster SAP data load

A limitation has been removed from the SAP connector to allow multiple SAP extractions simultaneously
Improved Salesforce connector

The Salesforce connector has been changed to use the Salesforce REST API
Better processing due to improvements in distributed computing

All data table columns are made available in the dataframe processing method
Automatically generated DatabaseId

When empty, DatabaseId is generated automatically in PA_CONFIGURATION table during startup
Easier server installation

The WCF API has been removed from QPR ProcessAnalyzer 2022.2. Before updating, all customized integrations and other solutions that use the WCF API need to be converted to use

Web API

. Note: If the QPR ProcessAnalyzer Excel client is still in use, it will no longer work.

Due to the WCF removal,

installing

the QPR ProcessAnalyzer Server is now easier, as there is only one web.config file (i.e., no separate web.config files for http and https)
Security improvements

Possibility to set SAML service provider signing certificate

Support for encrypted SAML 2.0 assertions

SAML 2.0 authentication library has been changed
Snowflake-related

new features:
New big data chart that performs calculations in Snowflake

New big data flowchart that performs calculations in Snowflake

Snowflake-stored data tables and models can be managed in the 

Workspace
SQL expression language improvements for Snowflake:




Calculate string length

Trim strings

Add duration to date

Substring of a string

Remove columns

Support for IN operator

Round and TruncateDate functions

Possibility to overwrite existing SqlDataFrame columns

SQLDataFrame IN function support for null values
Additional updates
Besides all the above-mentioned new features, there are a number of bug fixes and other improvements in each new release: updates have been made to frontend components and translations, more statistical calculations for charts are available now, Russian language has been removed from the UI, and much more.
Full release notes for each release and further instructions for more technical or developer roles can be found in the QPR Wiki database.
If you have any questions, suggestions, or feedback: don't hesitate to comment below or send us an email at marketing(at)qpr.com, we are always happy to help!
Written by

Saara Bergman
Content Marketing Manager