What is the Order-to-Cash Process?
The Order-to-Cash (OtC) process covers the whole process cycle of handling customer orders. The OtC starts from customer orders to the point where the organization receives payment from customers.
The OtC process covers different units, such as warehousing, delivery, invoicing, and account management. The Order-to-Cash process occurs in many different organizations and is a key business process in many enterprise information systems. A typical Order-to-Cash process includes five major process steps, such as sales order created, picking done, confirmed delivery date, invoice created, and payment received. The typical Order-to-Cash process is visualized in a process flow chart below: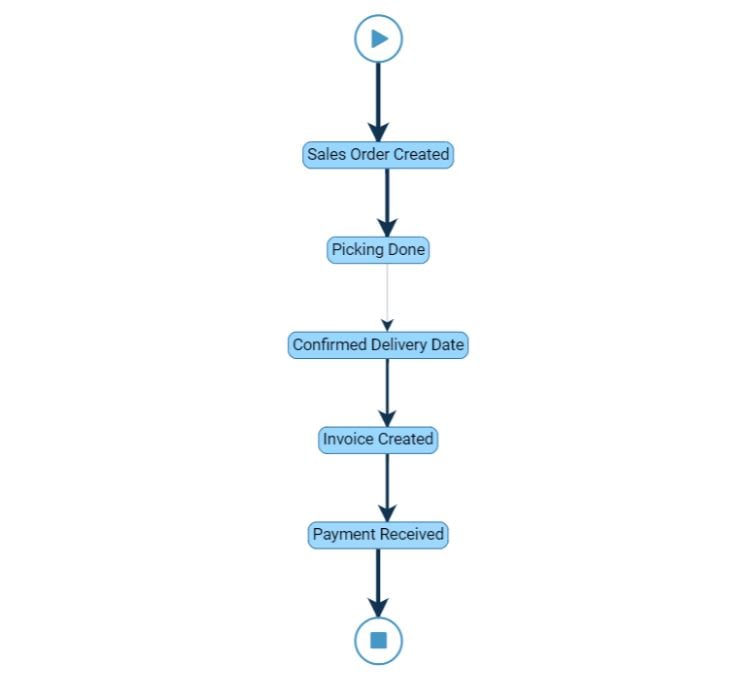 Top Order-to-Cash Process Challenges
The Order-to-Cash process is usually a high-volume process, and thus, it is possible to have different variations in the process. Variations can consist of unwanted changes adding to the lead times. Delays can cause unnecessary losses, making it harder for organizations to perform competitively in the market.
In addition to late delivery affecting process efficiency and customer satisfaction, other typical OtC process issues faced by our customers include:
Visualize as-is OtC process in flow charts and dashboards.
Identify improvement areas and bottlenecks in OtC process.
Improve Order-to-Cash metrics and KPIs, such as process lead times and cash flow.
Increase Order-to-Cash compliance rate.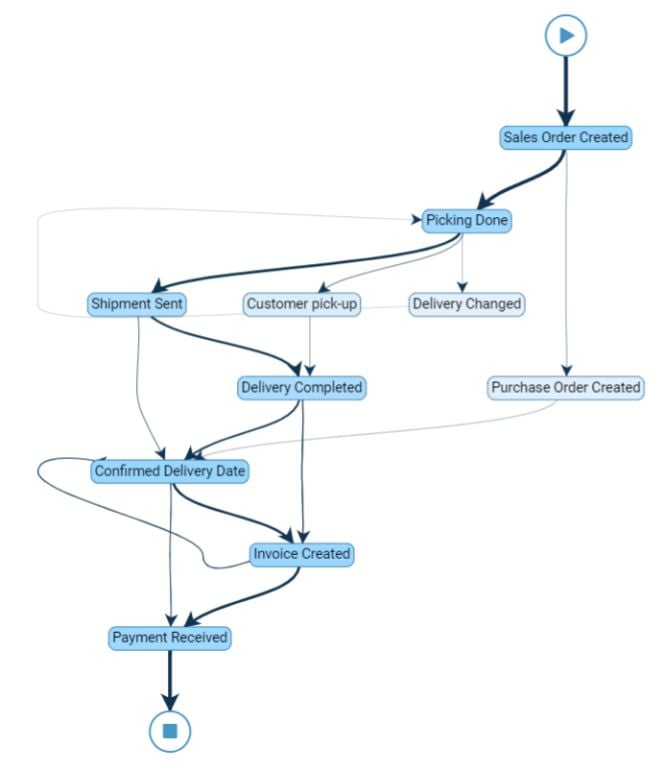 Quick Wins with Process Mining for Order-to-Cash
The OtC process produces a lot of data that is useful for process improvement and transformation. The reasons for the excessive data can be, for example, various sales-and delivery models, multiple production/warehousing policies, differences in sales teams, diverse customer requirements & individual employees participating in the process.
Finding improvement points is critical for process optimization, and this is where process mining can help, especially with Order-to-Cash analytics.
QPR ProcessAnalyzer transforms the data produced by information systems into process knowledge. This process knowledge is available in the form of Order-to-Cash process flow charts, pie charts, and other forms of presentation. The process data can combine with further information, giving way for in-depth and end-to-end process analysis. QPR ProcessAnalyzer provides you improvement points for optimizing your OtC process and helping you to meet the metrics.
Some KPIs and use cases where our clients have used QPR ProcessAnalyzer on:
Increase the on-time delivery.
Locate key regions where payment is on time.
Benchmark and monitor the amount of returned goods.
Identify root causes for order changes. Check lead times between process steps.
This data-driven Order-to-Cash process analytics empowers you to focus on the bottlenecks, where you can drive the most process improvement and efficiency. Improving your business processes has never been easier!
QPR's Order-to-Cash Dashboards for Analytics & Monitoring
QPR also offers tools for monitoring your processes. Using your process data, you can create dashboards to communicate your process performance information to key stakeholders. These dashboards are customizable to contain all the up-to-date information of your OtC process. Real-time monitoring is available as the data loading happens in intervals of your choosing. Dashboards are accessible via QPR UI, which is a web-based tool that is usable across a variety of devices.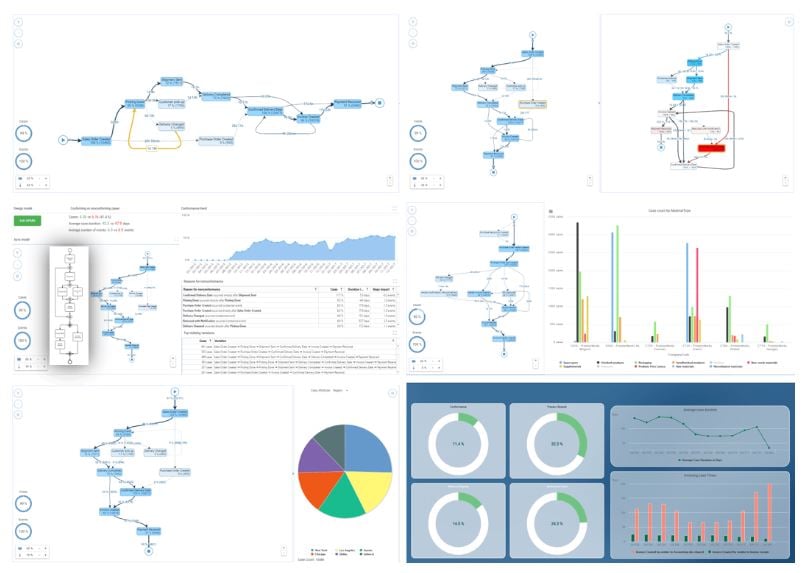 Take control of your Order-to-Cash process by combining QPR's years of process management experience with its advanced, flagship process mining product QPR ProcessAnalyzer.