Latest product updates: New process flowchart, QPR TaskRecorder, and support for data lakes
Olli Komulainen | 3 min read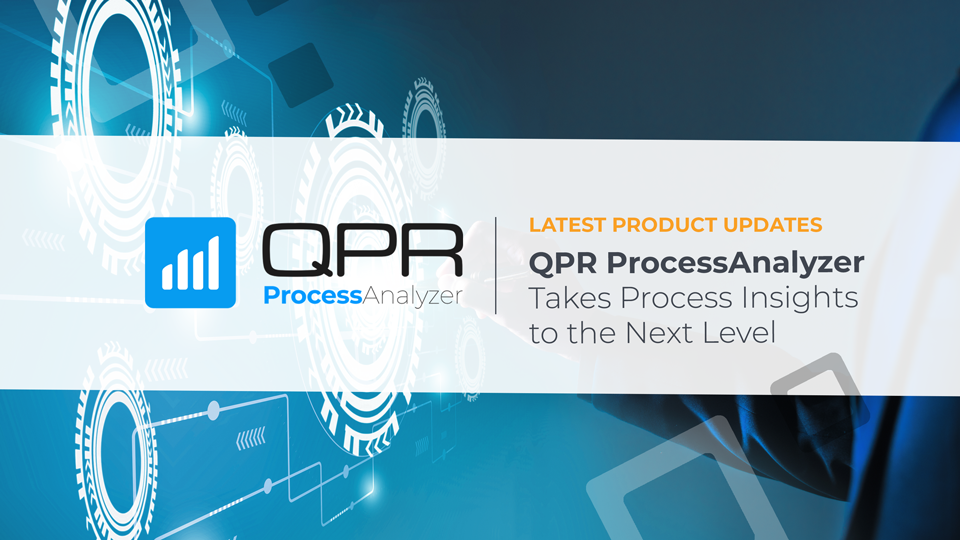 The latest product updates in QPR ProcessAnalyzer include:
Renewal of the flowchart visualization

Launch of the brand new QPR TaskRecorder

Several outstanding performance improvements

Unified workspace and Application Catalog

A support function for data lakes: Snowflake, RedShift, and Databricks


New Process Flowchart
In Process Mining, the single most crucial asset is the flowchart.
The flowchart connects your organization's functions (business lines, IT, shared services, architects, and process improvement people) and ensures everyone is on the same page – by presenting how the processes are executed in reality.

With the new updates, the flowchart is the most

flexible

and

comprehensive

process mining flowchart in the market

You now can configure KPIs through the

KPI wizard

, an application where you can set any KPIs from pre-built selections - without the need to code

The new flowchart component has all the same

customization

possibilities as any other charts in QPR ProcessAnalyzer

Variation-based insights and unique event type filtering



Below, you'll see a few examples of the QPR Flowchart being used to drive different use cases (such as analyzing bottlenecks, identifying rework, or revealing automation).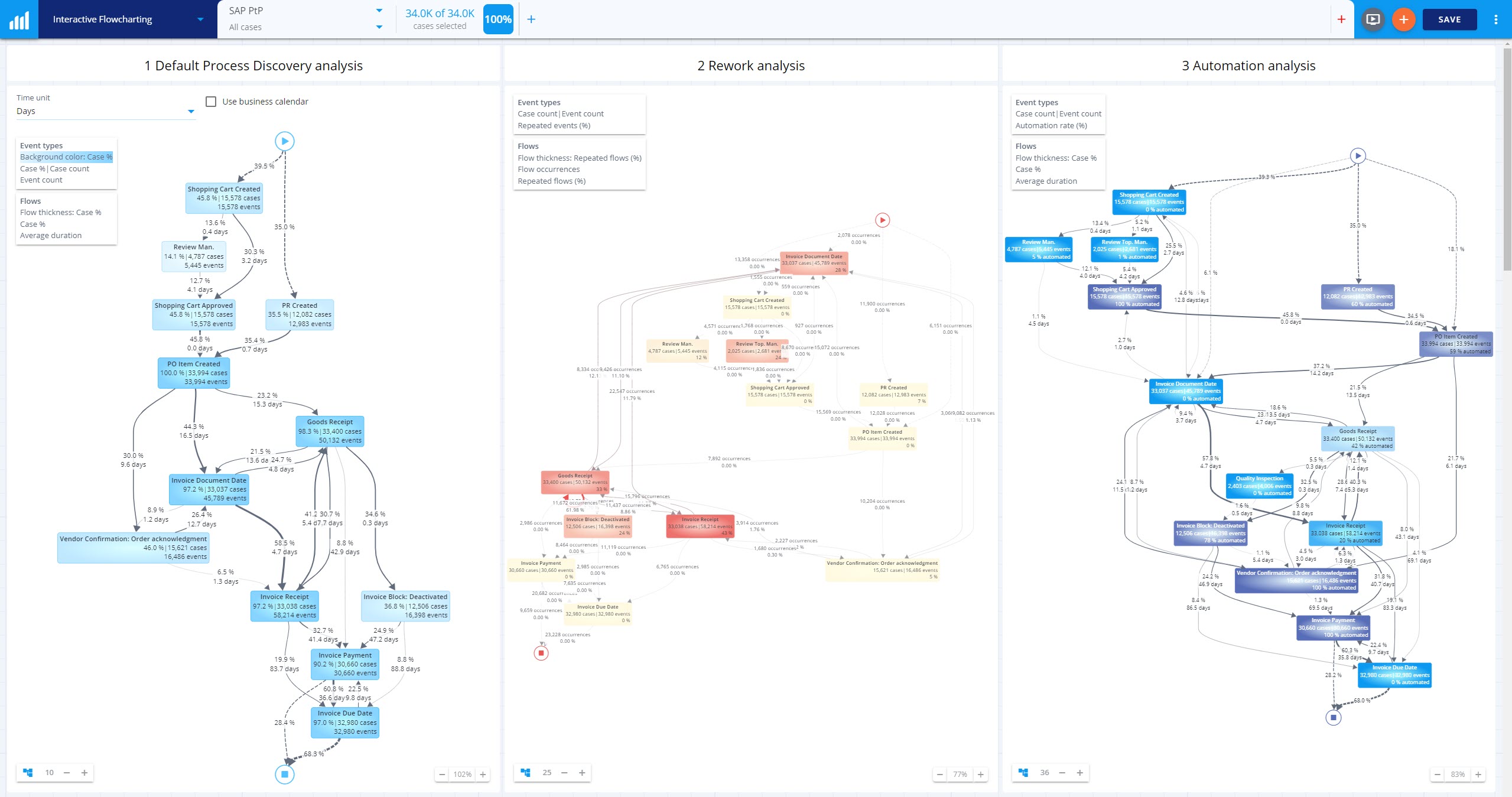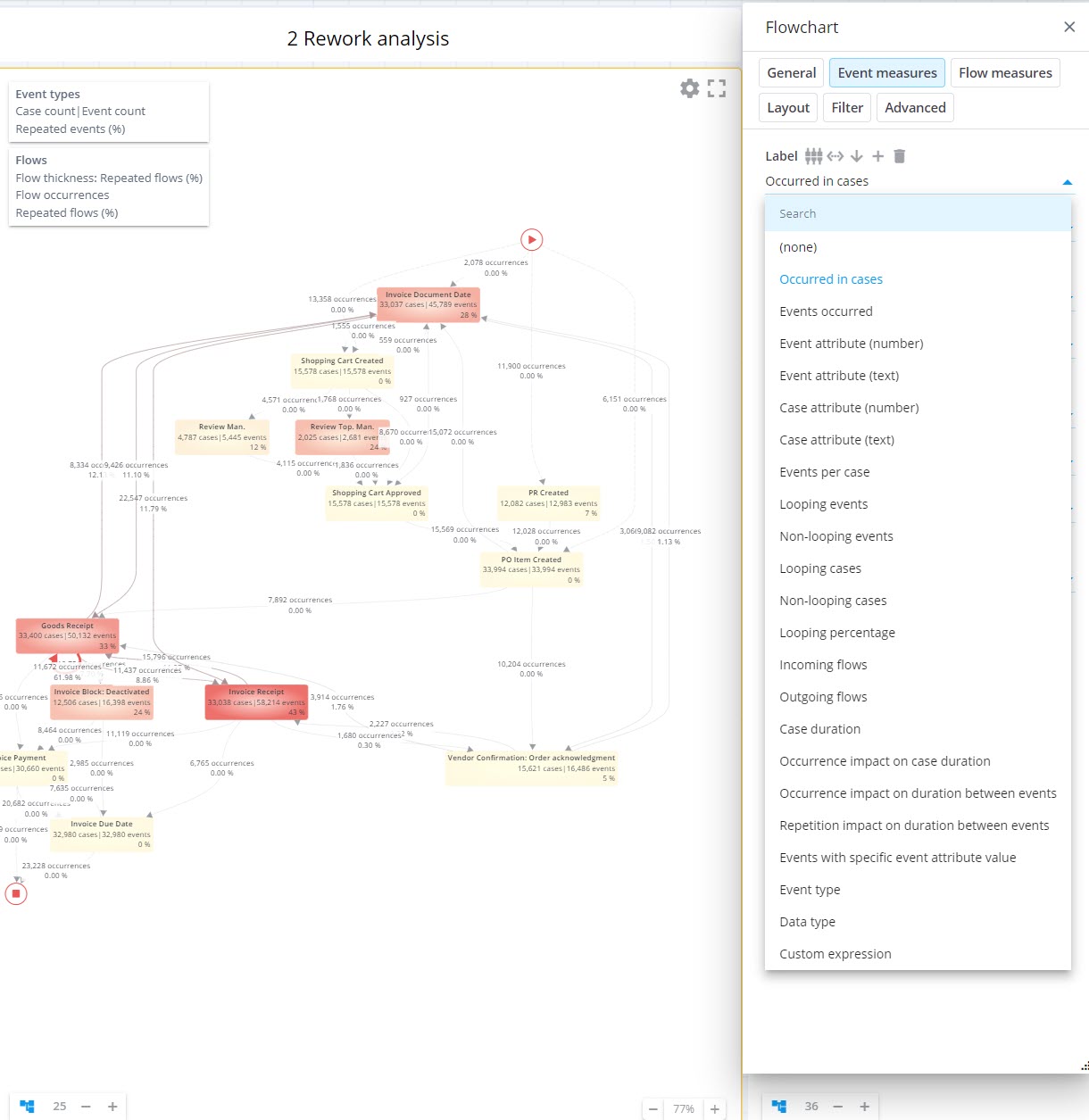 QPR TaskRecorder
In the latest release, we've introduced a new task recording functionality, QPR TaskRecorder, which enables you to discover processes on the most granular task level. With QPR TaskRecorder, you can harness the full power of process mining together with any RPA, automation, low-code, or workflow -platform.
QPR deploys task mining as a new capability to QPR ProcessAnalyzer, which will be offered later in 2022 as a standard product capability.
QPR TaskRecorder records user transactions in the chosen applications, allows users to add annotations, and finally feeds the information to the QPR ProcessAnalyzer core. QPR Task recorder enables you to identify the gaps between process steps and discover processes with no existing log data.
Option to choose the recorded applications

100%

of the selected tasks are captured

Except for sensitive

fields, e.g. passwords

Easy toggling on/off

Add annotations

and

custom comments

to the recording feed

CSV output file

which can be uploaded to QPR ProcessAnalyzer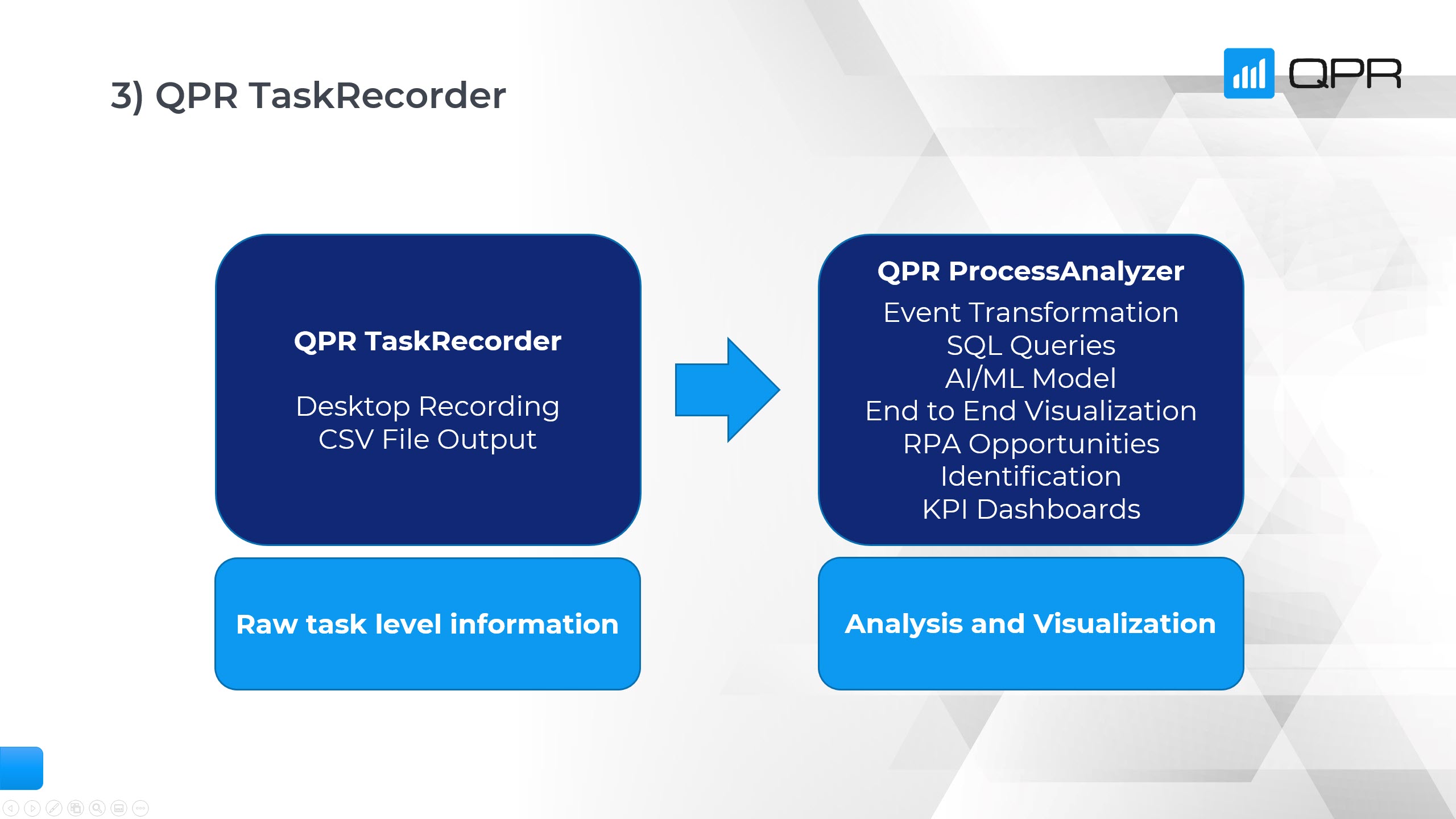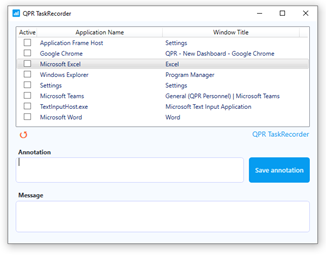 Unified Workspace and Application Catalog
QPR ProcessAnalyzer's workspace now has all process mining objects, e.g., dashboards, process models, data tables, scripts, and integrations in one unified workspace view.
It gives you an even better user experience as you can easily discover new process insights and manage your process mining project.
The new Application Catalog in a nutshell:
Connections to all major system providers

Including SAP, Microsoft, Salesforce, Oracle, Workday, Epicor, and ServiceNow

Processes discovered

Ready applications for: PtP, AR, AP, OtC, and Plant Operations

More specific applications such as: Talent Acquisition, Loan Application, Claim Processing, and Incident Management

Features for all key process mining use cases, such as:

Intelligent Automation, Process Improvement, Digital Transformation, Compliance, Auditing, Process Monitoring and Conformity, and Process Orchestration


Latest highlight:

Process Orchestration that leverages intelligent automation products with ML predictions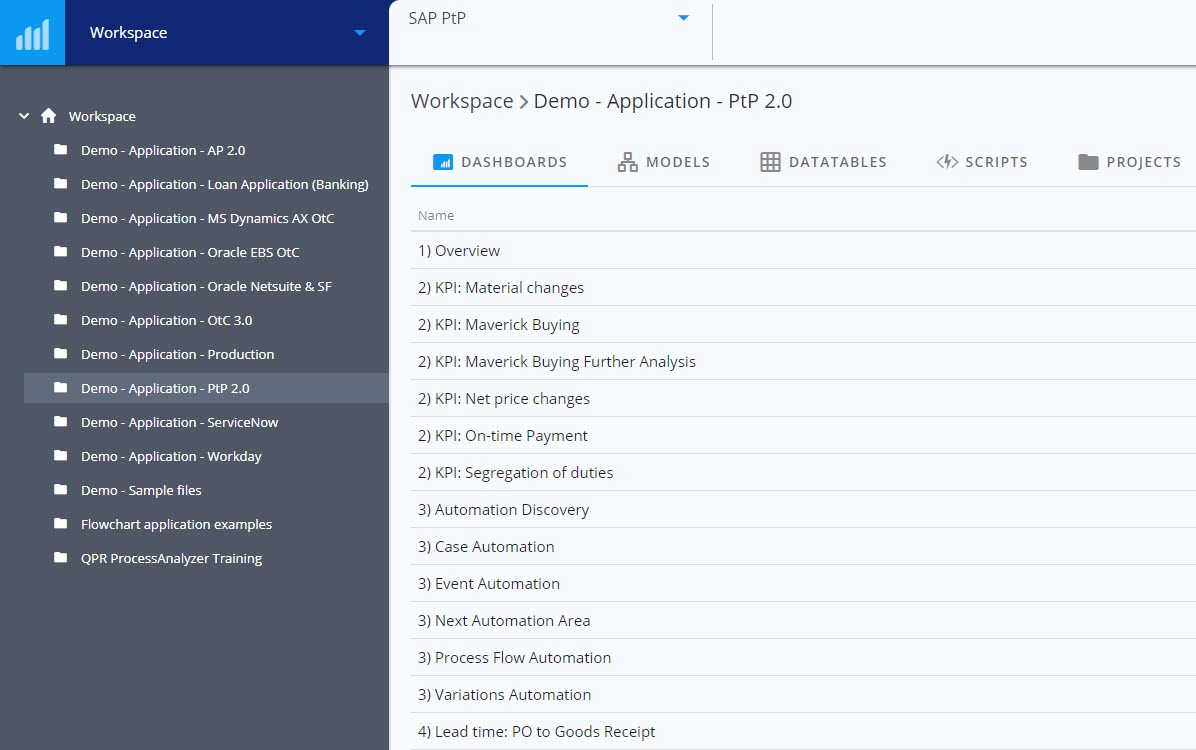 Performance improvements
The higher the data volumes across industries, the more demanding requirements for the performance of analytics tools.
Recognizing this urgent need from customers, QPR has invested in performance improvements on many fronts. Our process mining tool now offers even more simplified process models (= fewer data to be calculated), caching and pre-calculation for common queries, and optimized calculation formulates on QPR Expression language.
These improvements raise the overall performance of QPR ProcessAnalyzer by approximately 50 %. In some specific use cases, the software performance has improved by up to 800 %, which frees up more time for the actual analysis and learning from the process insights.
Support of operating on data lakes Snowflake, RedShift, Databricks
As many organizations have been investing in data lakes and data clouds (Snowflake, Amazon Redshift, or Databricks, to name a few), QPR experts have developed a new function to support this.
You can now directly use any data from your data lakes with QPR ProcessAnalyzer. As you no longer need to replicate data from your operational systems to QPR ProcessAnalyzer, you can leverage the existing data, comply with single data policies, and reduce your IT costs.
With the snowflake connection, you can instantly scale your calculation resources

Up to

256 times the performance

as compared to a single node system

Calculation power of up to

1 billion

events

as tested by QPR

Usage-based IT costs

enabled by automatic hibernation while the system is not in use




Numerous further usability improvements
QPR experts have also given QPR ProcessAnalyzer a large number of minor improvements on content and usability.
We're excited to introduce to you: new analysis presets, in-memory scripting, refreshed web user management, images on dashboards, user-specific time format, new data import wizard with data types, and the list goes on... These best-in-class features will surely give you a pleasant user experience and better workflows in your process mining projects.
See these updates in action in this webinar!
Would you like to see these new updates in action? Join our webinar or book a demo with a QPR process mining expert!

Check out our G2 profile to see what other users think of our process mining software, or write your own review to help us improve! 😊
Written by

Olli Komulainen
Olli Komulainen has been doing process mining for the past 4 years participating +50 customer projects in Healthcare, Telecom, Professional Services, Automotive, Logistics, Chemical and FMCG industries. Today, he is responsible for QPR Process Mining marketing and QPR ProcessAnalyzer business development.