Process Mining Benchmarking with QPR ProcessAnalyzer 2018.7

QPR ProcessAnalyzer 2018.7 brings new features for benchmarking, model management and analytics. To see what the new features and improvements look like in practice, check out our release webinar here or below for a brief overview:
QPR ProcessAnalyzer - Benchmarking
Benchmarking is one of the most important features of process mining and the QPR ProcessAnalyzer 2018.7 makes benchmarking easier, faster and more powerful than ever before!

Our new benchmarking view lets you super easily select the benchmark dimension based on any case attribute (like region, product, vendor, currency, country, manager, month, year) or event type. After making the benchmark selection, you can then use any view as you like and see the results side-by-side for both benchmark areas.




Picture above shows selecting Chicago to be benchmarked against all regions is easily done using Profiling Cases analysis. Benchmark can be easily configured using any case attribute dimension, duration analysis or using the process flowchart.


Picture above shows how the 1.560 cases from Chicago are different from all 10.491 cases from al regions in terms of Product Group case attribute. Any view can be used to see the benchmark results.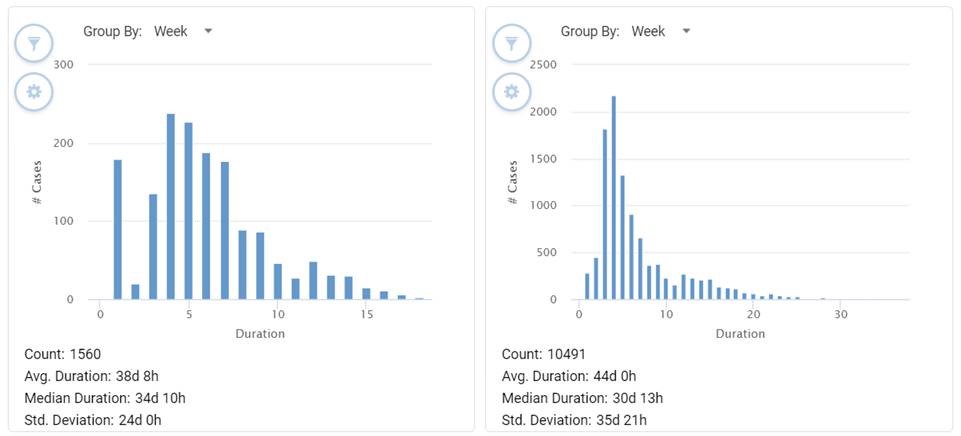 Benchmark shows how median duration in Chicago is 34 days compared to overall duration of about 31 days.



Benchmarking the process flowchart shows how Chicago cases have more straightforward process compared to overall flowchart. It is also possible to show the KPIs in the flowcharts for example for case amounts, durations and costs.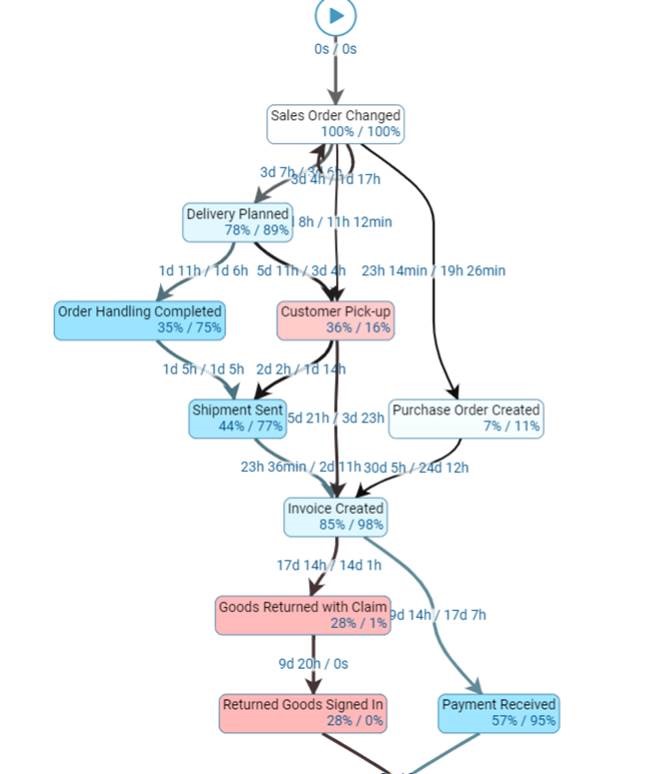 Benchmarking by flowchart using color coding
QPR ProcessAnalyzer also support combining the benchmark into one graph and showing the benchmark using intuitive color coding.
QPR ProcessAnalyzer - Model Manager
When we introduced the in-memory mode for QPR ProcessAnalyzer, we reached an out-of-this-world level of capability in terms of performance. As the model is loaded into memory, it is always easily accessible and loaded up swiftly for your analysis purposes. Of course, this requires that the model is loaded and the memory needs to be managed, as it is a limited resource.
With QPR ProcessAnalyzer 2018.7, you can now use the Model Manager view included in the Deployment Package. This view contains tools to see which models are loaded and enables handling of models stored on the system. The Model Manager gives an instant list of all the models loaded into the system and shows you which are loaded into the memory. Statistical data about each model shows the case amounts and event amounts of each separate model. This data is complemented with an estimate about how much memory each model takes from the server memory. With this data provided by the Model Manager, power users can manage which models are loaded into memory and how much memory is used on the server.
Usage of the memory manager is simple. Just select a model and right click to open a context menu from where you can load a model directly into memory. Need to free up some memory? Just drop a model using the menu and you have more memory available for other models. With the Model Manager, administrating your QPR ProcessAnalyzer server and the models in the memory is a breeze and gives you direct access to controlling memory usage making way for a more efficient process mining experience.
QPR ProcessAnalyzer - Improved Reporting and Analysis Capabilities
QPR uses a powerful Expression Language to analyze data in memory. In this version, the expression language has been further improved to support, for example, these use cases:
- advanced string functions to support free-text search and text mining from all model elements
- advanced GroupBy and GroupByValue supporting reporting and summaries
- Executing KPI analysis queries without a specific process mining model to support generic reports about the system like Model Manager.
QPR makes new functionality available for all on-premise and cloud users with 6 week intervals based on our development roadmap and customer feedback.
Interested to see the new features and improvements in action? Check out our release webinar below.
Written by

Teemu Lehto
Doctor of Science (Technology) and Process Mining evangelist active in marketing, sales, consulting, product development and research. Teemu has been involved in 200+ end customer process mining project from order-to-cash, purchase-to-pay, plant maintenance, auditing and service. Teemu is also an active speaker delivering the process mining message as well as writer for several process mining and machine learning scientific articles. Book a meeting with Teemu using the link: https://outlook.office365.com/owa/calendar/TeemuLehtoQPR@QPR.onmicrosoft.com/bookings/