Folders and Dashboards with QPR ProcessAnalyzer 2019.4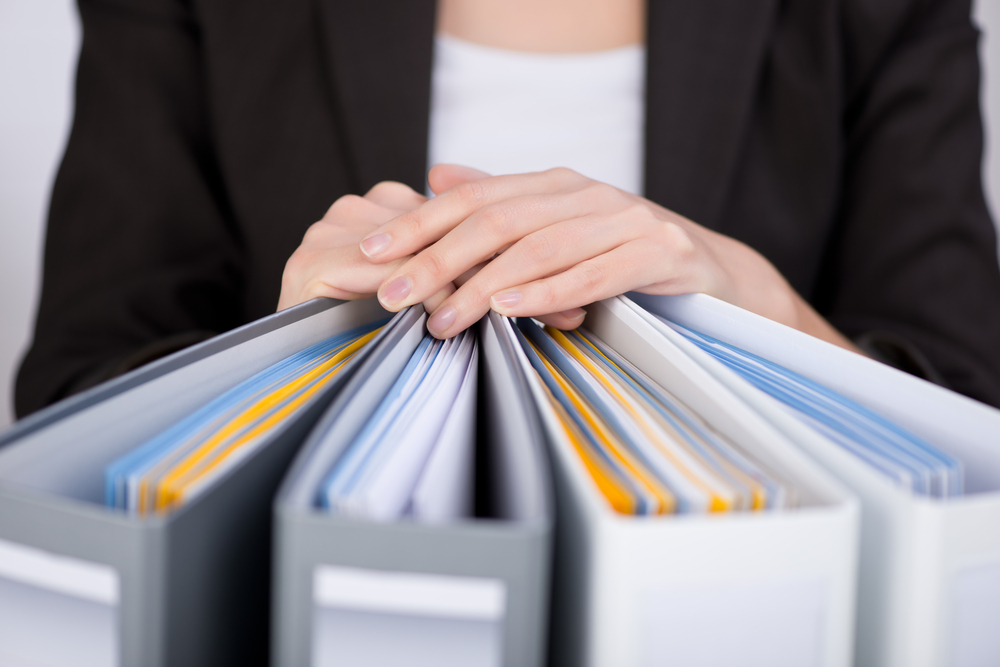 Operational Process Mining is done by monitoring real-time data with dashboards, alerts, and analyses. QPR ProcessAnalyzer 2019.4 introduces several features for managing and developing the growing amount of dashboards and analyses. With these features, it is easy to share business process findings with other team members and within the whole organization.
Folders
QPR ProcessAnalyzer is a process mining platform supporting customized views and customized solutions built on top of ready-made content and state-of-the-art product functionality. In this release, we introduce the Folders concept, which makes it easy to manage and develop custom views, applications, and ready-made solutions. Basic available functionalities include 1. creation of new filters folders and views, 2. importing existing views, 3. searching for a current view, 4. opening a view, 5. reviewing basic properties of a view, 6. exporting, 7. renaming and 8. deleting a view. A ready-made solution like SAP Order-to-Cash or Oracle Purchase-to-Pay can be packed into one folder and easily deployed to multiple customer environments using Folders. If your Folders structure looks empty, feel free to contact QPR and learn about ready-made content available for your ERP system(s) and process(es).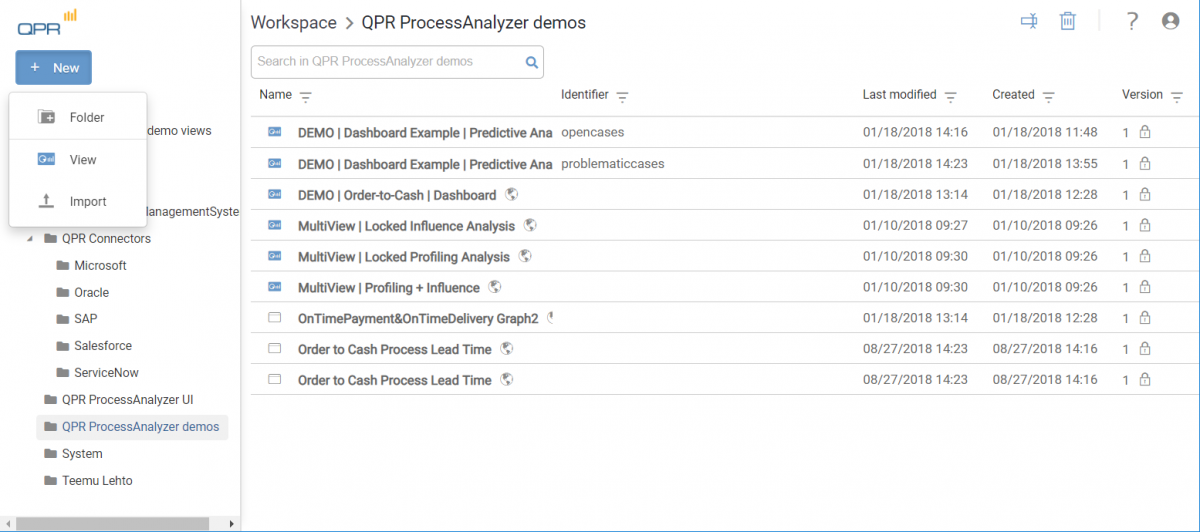 Dashboards
Business users want content, and dashboards are the way to deliver that! Now with QPR ProcessAnalyzer 2019.4 editing dashboards is more straightforward as ever before. Activate the Show Dashboard Designer function directly in your dashboard using the menu option below: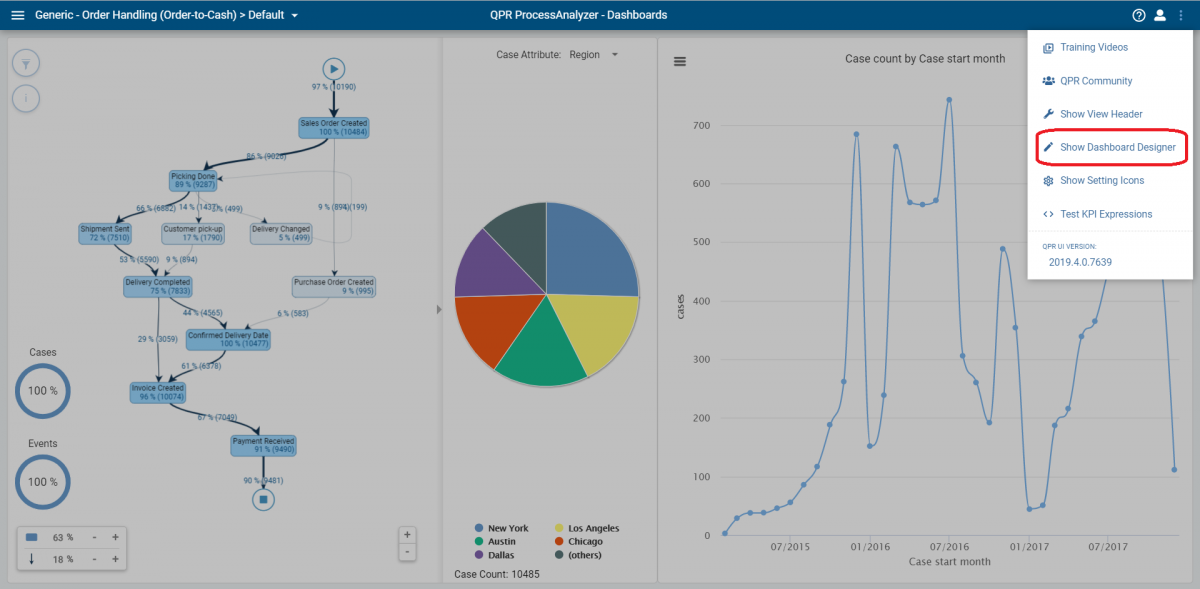 The Dashboard Designer view below gives you the access to edit all content of dashboard as well as add new presentation objects like KPI charts using the left-hand-side toolbar icons: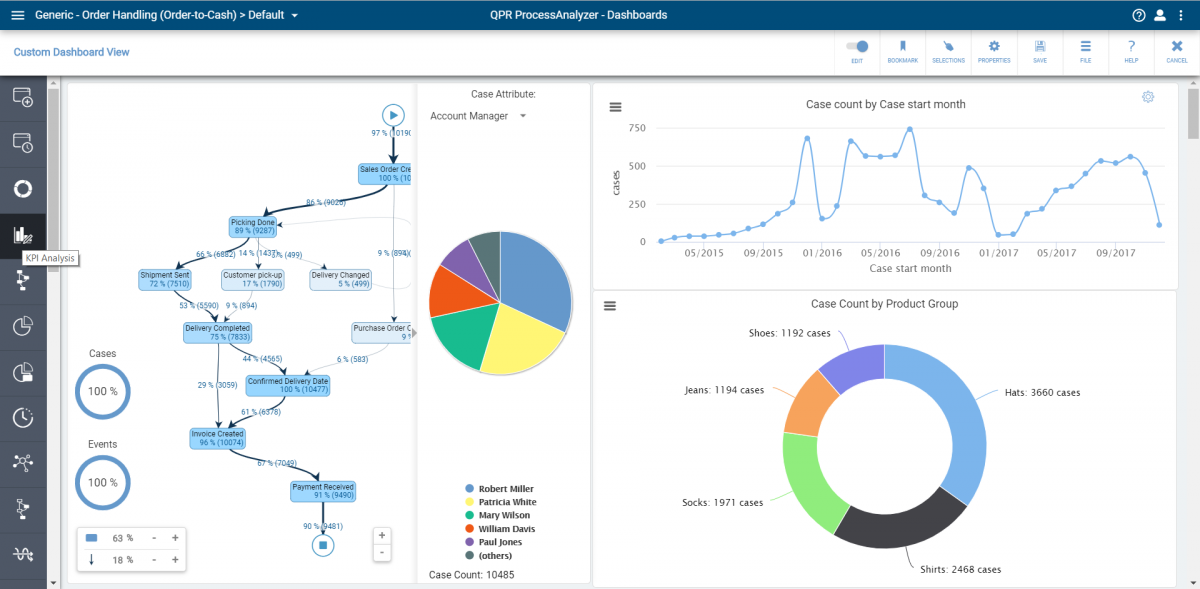 Happy Dashboarding with QPR ProcessAnalyzer 2019.4!
ChartView Drill-down Filters
QPR ProcessAnalyzer ChartView is the multi-purpose advanced analytics tool embedded and integrated into a process mining tool. In this release, we have added the possibility to create ChartView filters directly from the data shown in graphs. Select the data you are interested like the bar in the following column chart, and you get an instant Include Only or Exclude Cases filtering pop-up control with green and red buttons. This feature lets you instantly drill-down into details of any analysis in ChartView using visualization types: Column, Bar, Table, Donut, Packed Bubble (new chart type), Scatter, and Waterfall Chart.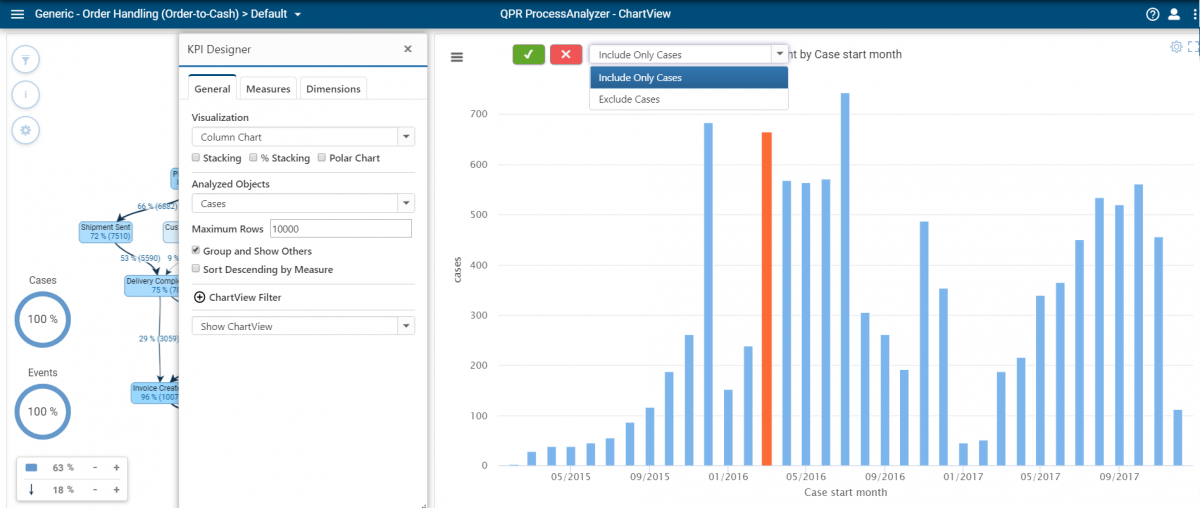 As always QPR ProcessAnalyzer 2019.4 also includes numerous other improvements related to performance, usability and minor functionality improvements. For example, the in-memory artificial intelligence core has been extended to support high-speed case level prediction, which will be released in the next version 2019.5 with a similar prediction view - stay tuned for faster predictions!
Best regards,
Teemu
Written by

Teemu Lehto
Doctor of Science (Technology) and Process Mining evangelist active in marketing, sales, consulting, product development and research. Teemu has been involved in 200+ end customer process mining project from order-to-cash, purchase-to-pay, plant maintenance, auditing and service. Teemu is also an active speaker delivering the process mining message as well as writer for several process mining and machine learning scientific articles. Book a meeting with Teemu using the link: https://outlook.office365.com/owa/calendar/TeemuLehtoQPR@QPR.onmicrosoft.com/bookings/