Find Root Causes for Conformance Deviations with QPR ProcessAnalyzer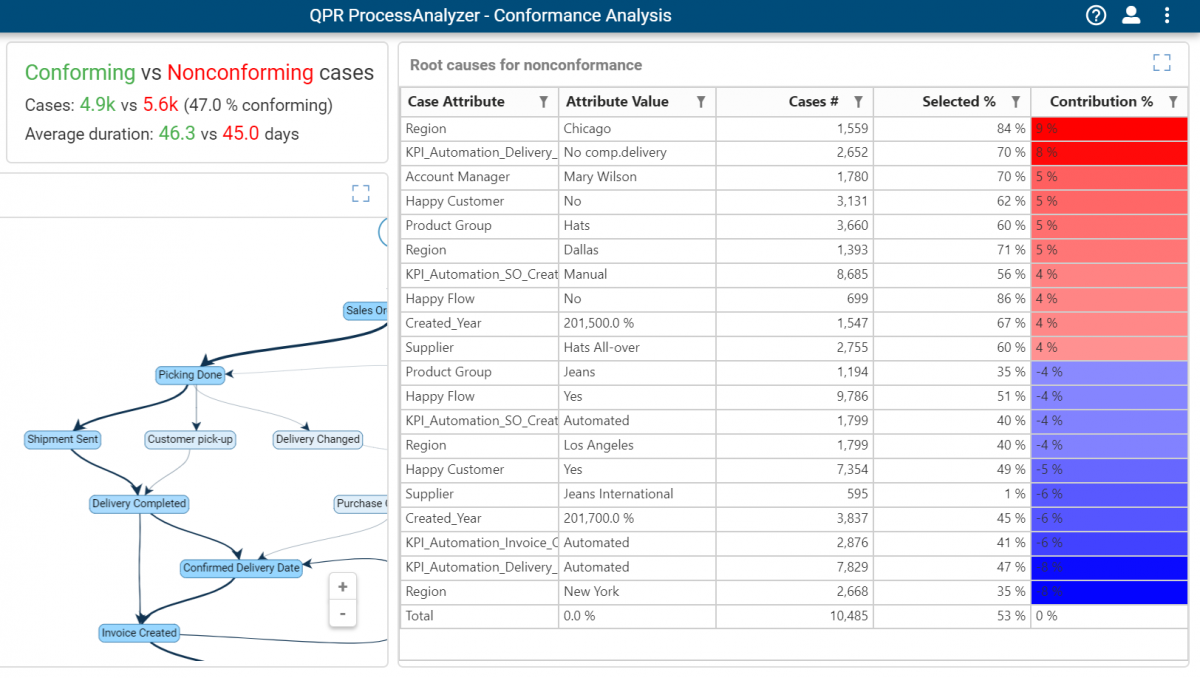 QPR ProcessAnalyzer 2019.1 takes you to the new year 2019 by integrating QPR's game-changing Root Cause functionality with Conformance Analytics.
Highlights:
Conformance Checking with Root Causes
Auto-created Design Models for Conformance Checking
Export to MS Excel, MS Word and PDF
Conformance Checking with Root Causes
With 2019.1, QPR takes the Conformance Analytics to the next level including Root Cause analysis and auto-created design models!
Four step guide for getting Root Causes for non-conformances.
Step 1 - Create your Design Model.
Design model is the starting point for Conformance Checking. Import your existing process design or create a new design using QPR ProcessAnalyzer web-based BPMN editor. I will use my favorite process model Order-to-Cash with this design model:

Step 2 - Discover the as-is process model
QPR ProcessAnalyzer makes it easy and fun to discover your own business processes. Just import the transaction level data using ready-made connectors or load data manaualy to find how process is in reality executed in your organization: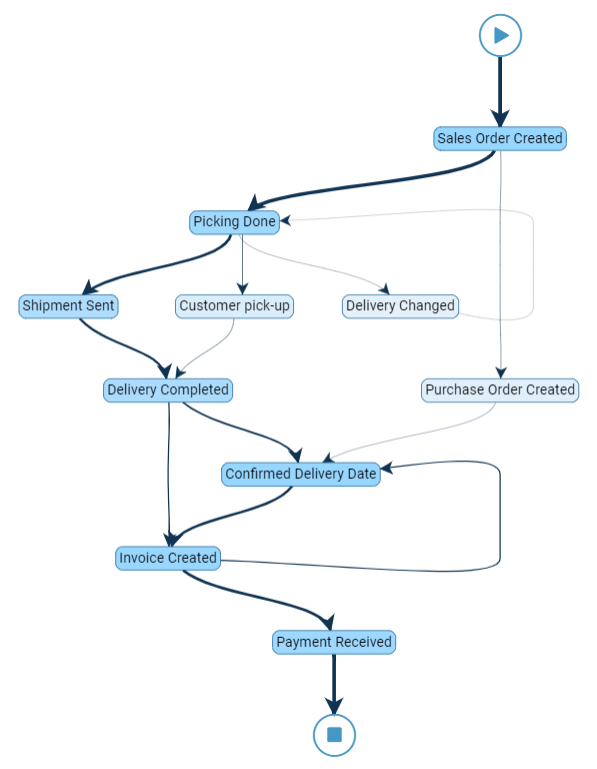 Step 3. - Run the Conformance Analysis.
Picture below shows that 47% of the cases in As-Is model conform with the design model. We also see that most important reason for nonconformance is that the "Confirmed Delivery Date" occurred directly after "Shipment Sent", which may mean that delivery was late since the "Delivery Completed" should have occurred before "Confirmed Delivery Date".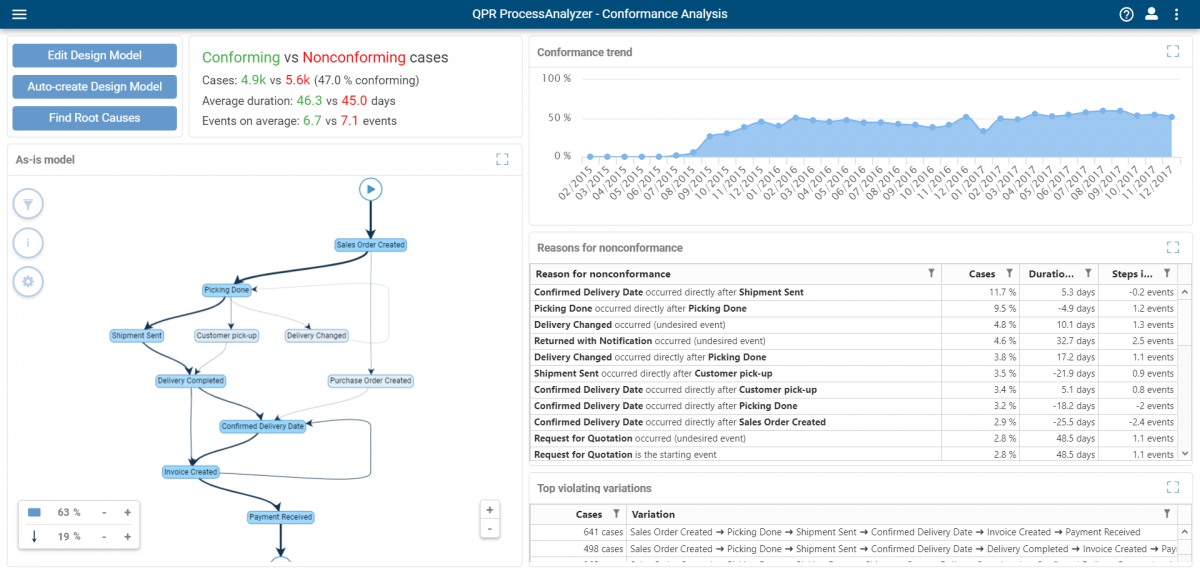 Traditional Conformance Checking results shown above are very useful for understanding what is really happening in the process and how the reality is different from the intended design. However, in order to actually improve the process and give management guidance for allocating business improvement efforts and resources, it is important to have a good understanding of the Root Causes for these problems....which leads us to the step 4:
Step 4- Run Root Cause analysis.
Root Cause analysis shows the problematic areas with more than average cases nonconforming cases in red color and the best practice colors in blue color. From the results below, we easily see that Region Chicago is the biggest problem with 84% cases non-conforming with design. Other problem areas include Account Manager Mary Wilson (70%) and Product Group Hats (60%). On the other hand, we also discover best practice areas when the conformance rate is very good - for example, Region New York only 35% of cases are non-conforming. The Supplier Jeans International is relatively small with only 595 cases but the conformance rate 99% is superior showing that it is indeed possible to execute the process as design - maybe the people in charge if this supplier can tell us more how they did it! :)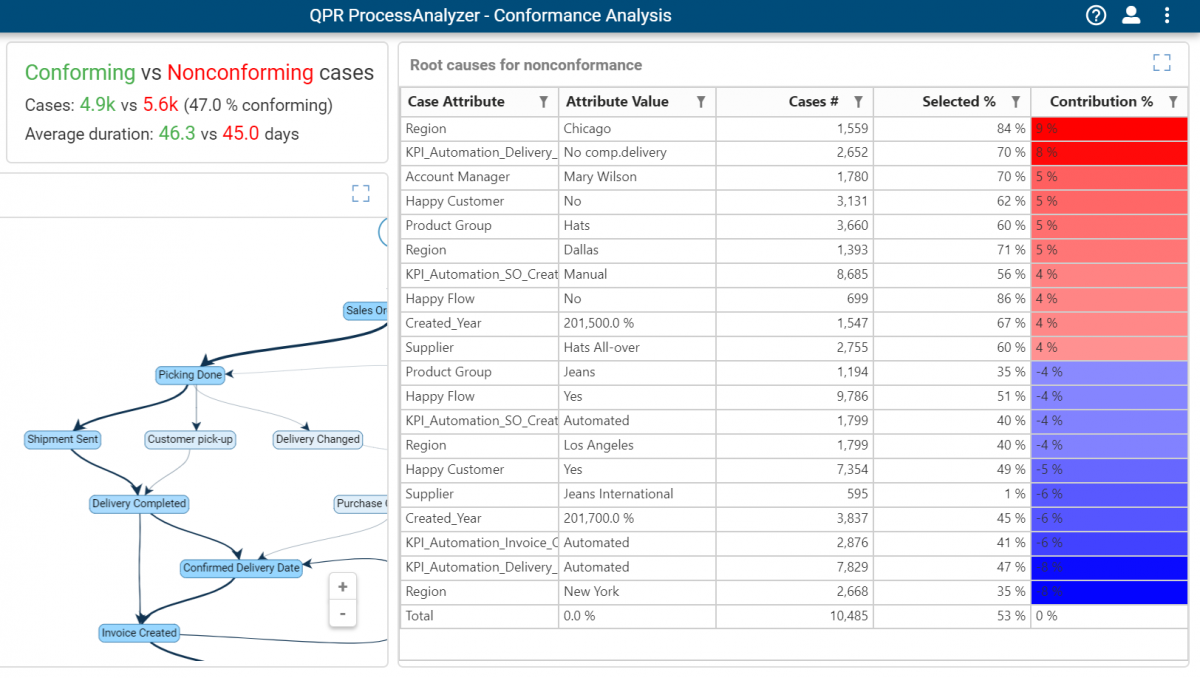 Auto-created Design Models for Conformance Checking
Many organizations have the design models but they do not know the fact based actual as-is models based on process mining. However - if you do have the fact-based models, it is relatively easy to design a process model that would be a good baseline for your organization. And with QPR ProcessAnalyzer 2019.1, the process is even easier:
Step 1 - Use the QPR ProcessAnalyzer Variation Analysis to select acceptable process variations
In the example below, we have selected the main variations for each of the three accepted business models. We then create a sub-model containing only these cases with the "Include Only Cases" filter command.

Step 2 - Auto-create the Design model
Use the "Auto-create Design Model" functionality to create a Design model with all tasks and flows taken from the previously filtered acceptable variations:

...which then results in an Auto-created Design model shown below:
Step 3 - Edit the layout
Use the BPMN editor to finalize the layout as you wish. QPR ProcessAnalyzer Conformance Checking is compatible with BPMN syntax as well as more compact Control-flow syntax.

Step 4 - run the Conformance Checking and Enjoy the results!
Closing the Design Model editor and removing the filter used for acceptable cases will immediately produce the Conformance Checking results. In the example below, 52.7% of cases conform with the automatically created Design model based on three acceptable business model variations: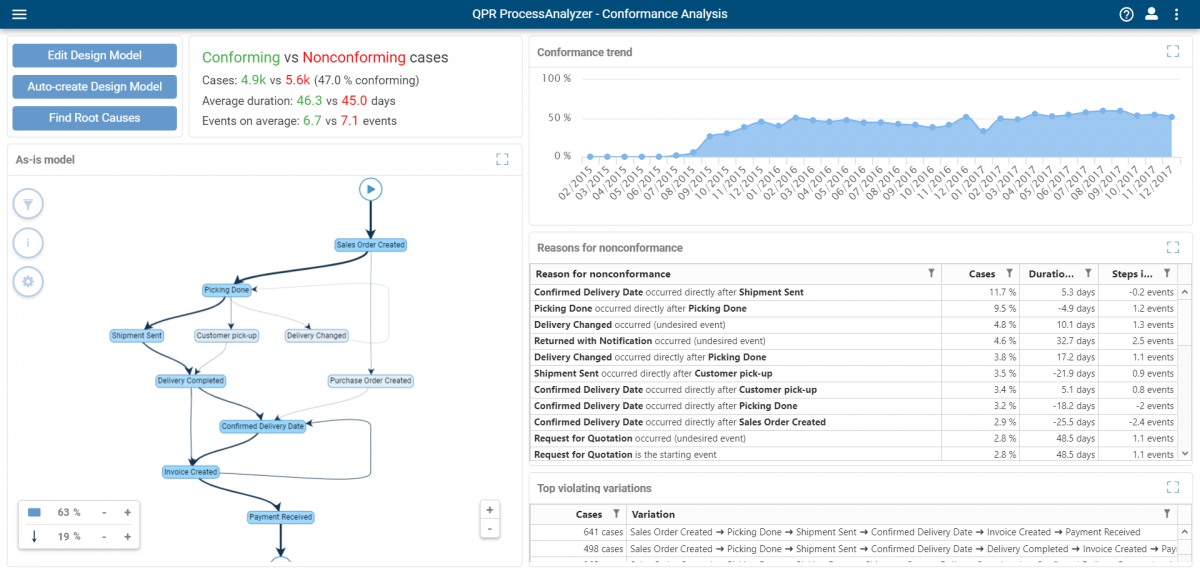 Export to MS Excel, MS Word and PDF
QPR ProcessAnalyzer is the only process mining tool in the market with an additional native high-end analysis client delivered as Microsoft Excel Add-On. While this Add-On client provides superior integration with MS Excel for heavy-duty process analysis and data scientists, the majority of QPR ProcessAnalyzer users use the Web-based client. These business users often need to extract some data from process mining analysis and send to a development team for further actions. With our new export functionality, it is super easy to let QPR ProcessAnalyzer to create a Microsoft Excel, Microsoft Word, or PDF file directly from the Web user interface for any users.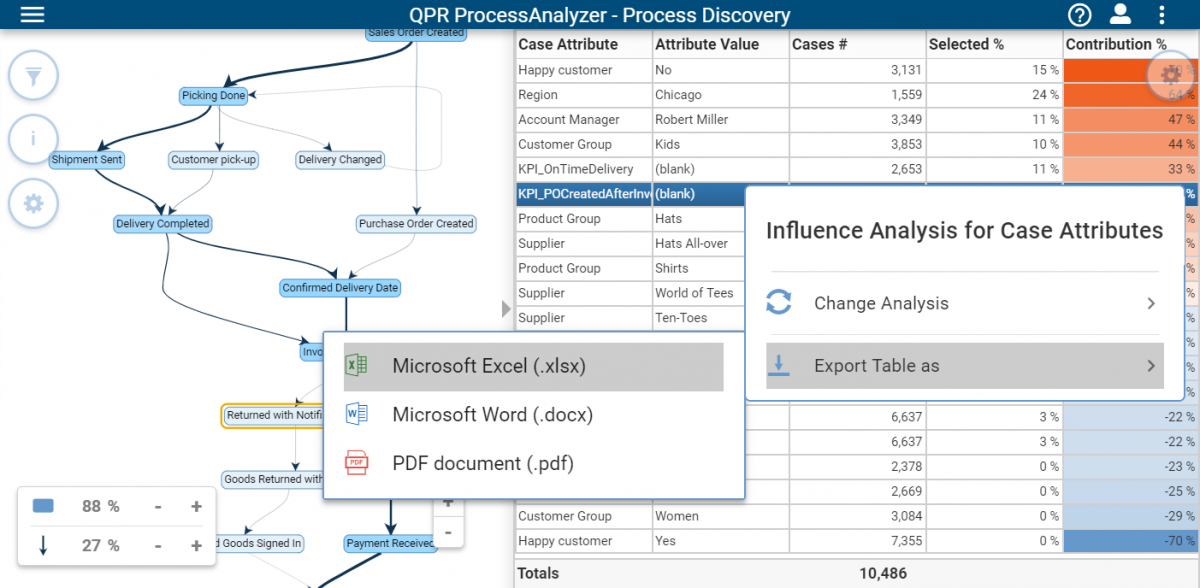 Picture above shows how easy it is to export Influence Analysis for Case Attributes results in Microsoft Excel (.xlsx) format directly from QPR ProcessAnalyzer Web client.
As always - feel free to send us your comments, questions, and ideas regarding these new features!
Best regards and Happy New Year 2019!
Teemu
Check out our release webinar recording:
Written by

Teemu Lehto
Doctor of Science (Technology) and Process Mining evangelist active in marketing, sales, consulting, product development and research. Teemu has been involved in 200+ end customer process mining project from order-to-cash, purchase-to-pay, plant maintenance, auditing and service. Teemu is also an active speaker delivering the process mining message as well as writer for several process mining and machine learning scientific articles. Book a meeting with Teemu using the link: https://outlook.office365.com/owa/calendar/TeemuLehtoQPR@QPR.onmicrosoft.com/bookings/