Easy-to-define KPIs with ChartView Filters in QPR ProcessAnalyzer 2019.2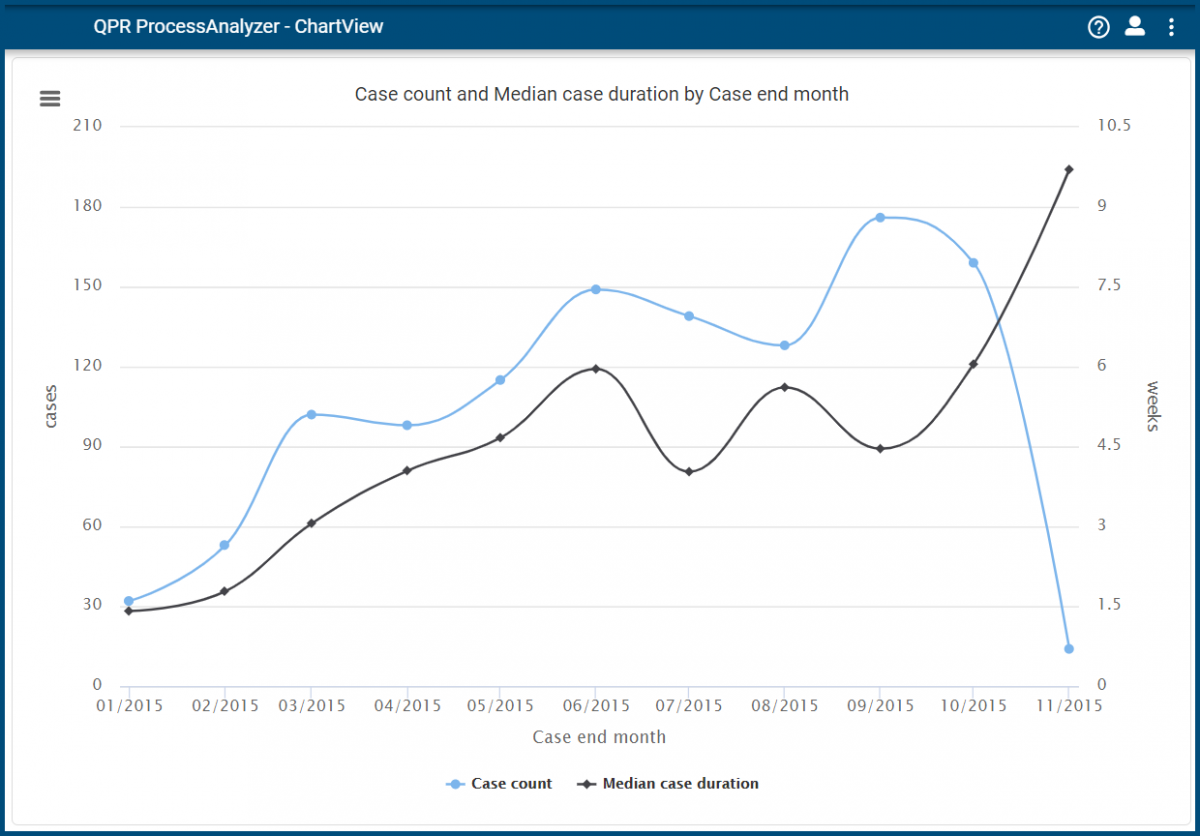 QPR ProcessAnalyzer 2019.2 makes defining the Key Performance Indicators (KPIs) fun and easy with the new ChartView Filters functionality. Other major improvement include improved search for projects and models in QPR UI as well as the compatibility with Microsoft Excel 2019. And as icing on the cake we launch the new QPR ProcessAnalyzer Training Video Library with more than 20 training videos to help you become a process mining champion in a few hours!
Easy-to-define KPIs with ChartView Filters
With new ChartView 2019.2 everybody can make business relevant KPI measures and charts within minutes! Improvements include:
Multiple KPIs in the same chart with different right & left axis definitions. Picture below shows Case Count using left axis and median case duration using right axis: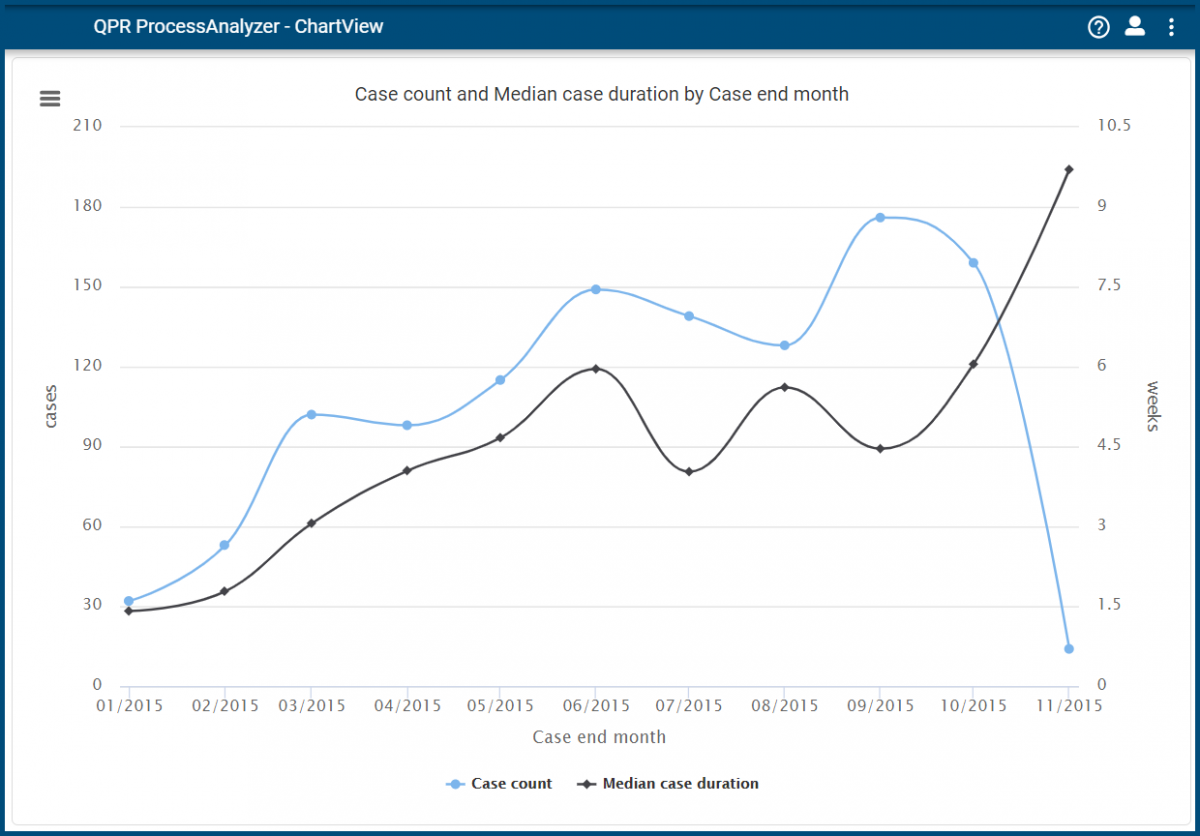 ChartView Filters focusing the analysis to relevant cases and flows. The chart below shows
Average Case Duration in days using left vertical Y axis.
Case start month on horizontal X axis
Purchase Order Cost as the bubble chart radius
Purchase Organization as the bubble chart series specifying the color or the bubbles
As the specific chart view filters we have used:
Case must start with Event Type PR Created
Case must make a flow from PO Created to PO Changed [Value]
Case must belong to receiving plant AU1, GB1 or HK9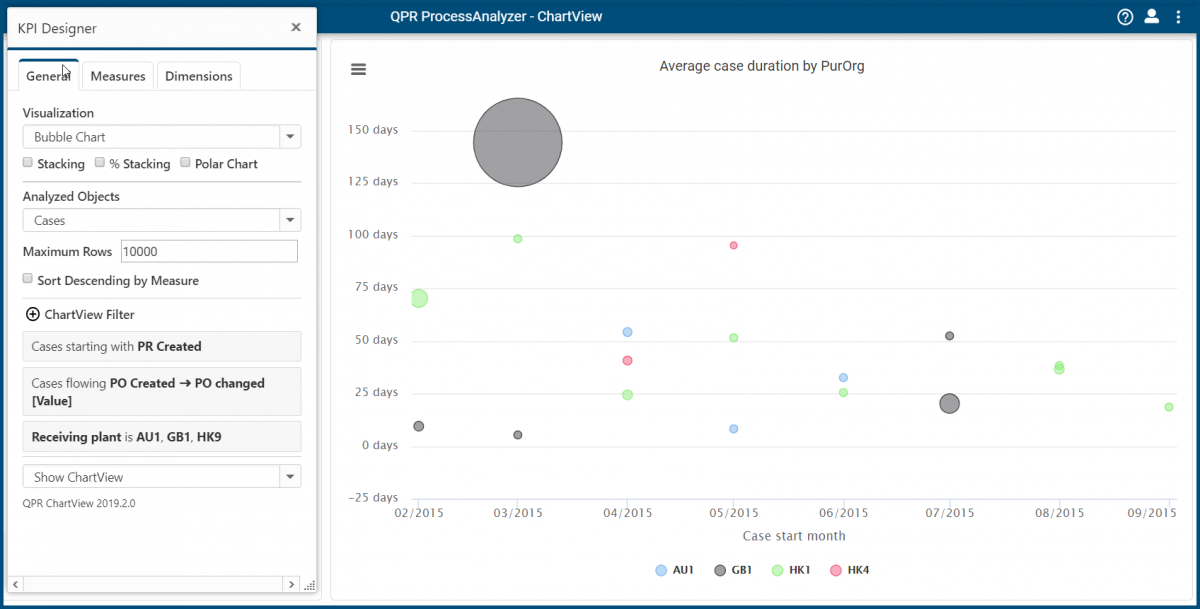 Well...how does this whole setup work? The great news is that this is all covered by the flexible QPR UI with a few clicks. This is the 3-component KPI Designer with settings for General, Measures and Dimensions.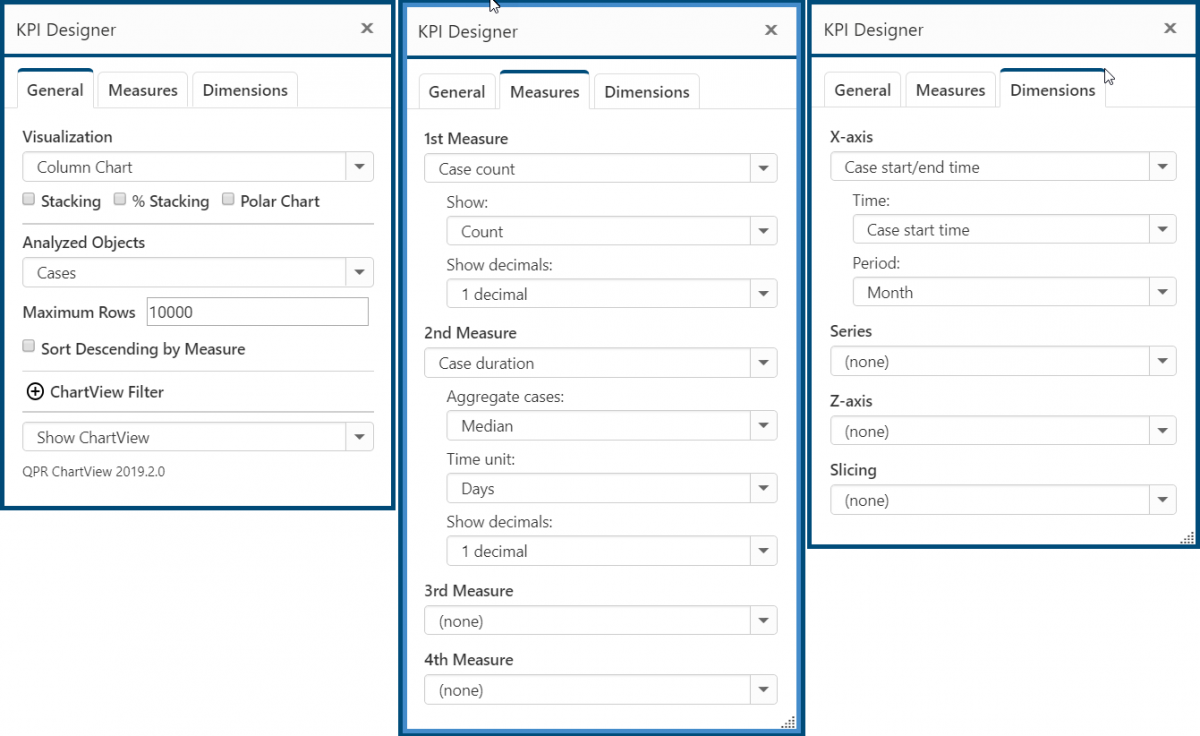 The new Filter settings are easily controlled with the additional Edit Filter functionality: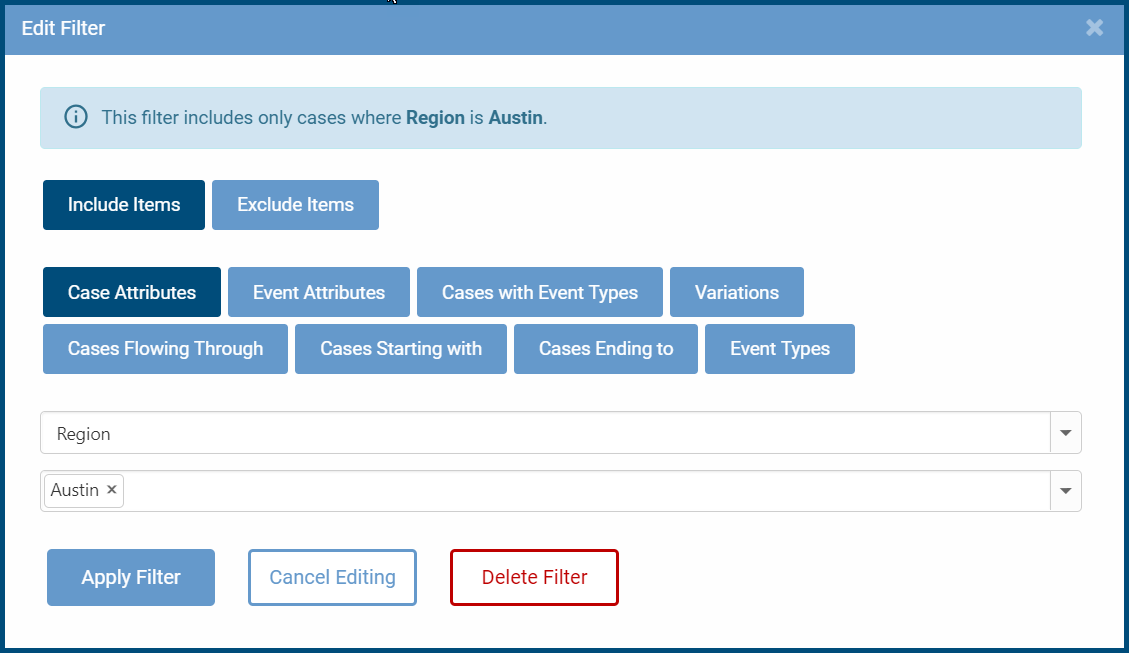 Quick search for Projects and Models
QPR ProcessAnalyzer is compatible with enterprise level process mining with advanced user administration, process mining model management and folders. In 2019.2 we added a new quick search for easily finding the relevant process model directly from the main analysis title bar. Key functionalities visible in the picture below contain:
Model name and active filter name visible in the title bar. Example below shows the model name "OrderToCash" and filter name "Main ProcessFlow".
Quick search - just type in a few letters contained in a project or model name and the list is filtered instantly
In-memory status and amount of cases shown in the list to help choosing the right model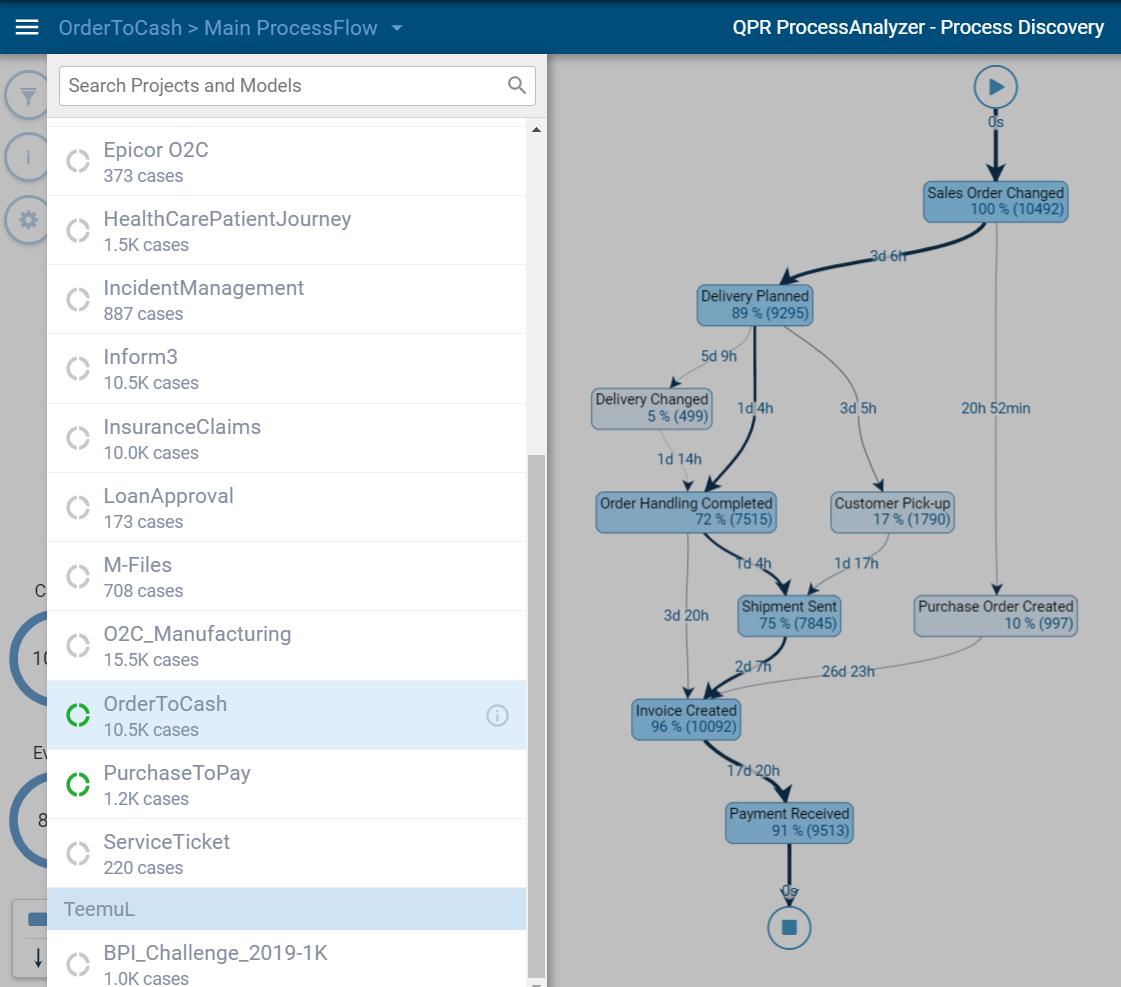 In addition to providing a quick list of project and models for selection purposes the list gives easy access to model information with the (i) button on the right. It is possible to customize the info screen and by default it shows the information below: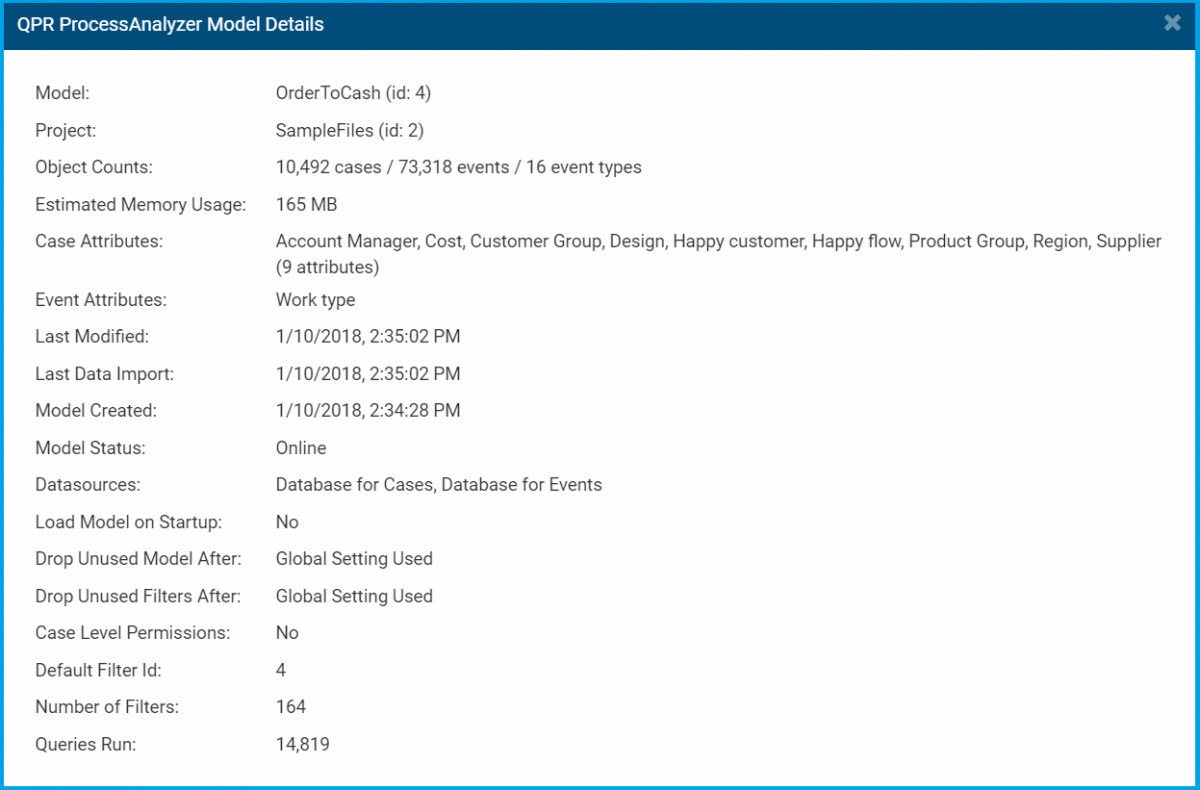 Support for Microsoft Excel 2019
QPR ProcessAnalyzer is the only process mining tool in the market with native Microsoft Excel add-on client. This integration gives every business analyst the choice of extending their process mining analysis with familiar Microsoft Excel functionalities and delivering the enhanced results to others as Excel files, email attachments and Sharepoint sites. Supported Excel versions now include MS Excel 2019, 2016, 2013 and 2010.
Icing on the cake: QPR ProcessAnalyzer Training Video Library
QPR ProcessAnalyzer Training Videos turn any process mining beginner to a process mining champion capable of conducting high-quality process analysis and findings with root causes. Example videos include:
Getting started: How to log in
Process Discovery: Flowchart analysis, Duration Analysis, Profiling Case Analysis, Event Type Analysis, Case Analysis, Event Analysis, Creating Filters
Process Analysis: Influence Analysis for Case Attributes, Influence Analysis for Flowchart, Conformance Analysis, Conformance Analysis with Model Autocreation, How to create a basic dashboard
Click here to access the training videos! :)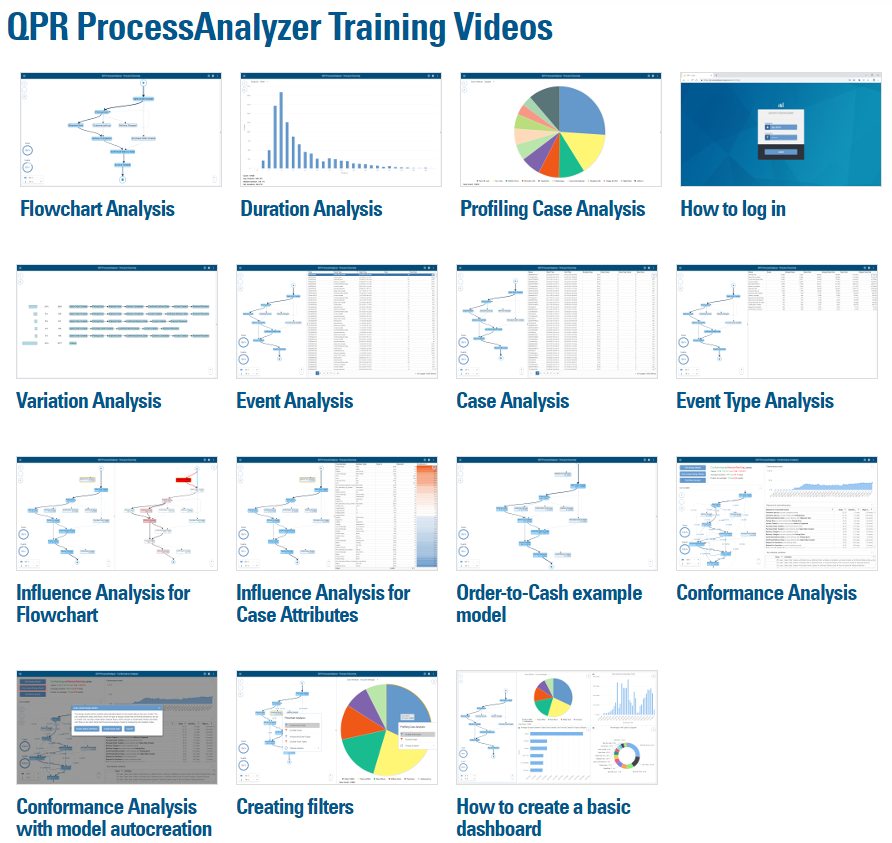 We are super excited about QPR ProcessAnalyzer 2019.2 and are eager to hear your comments!
Check out the recording of our release webinar to learn more!
Best regards,
Teemu
Written by

Teemu Lehto
Doctor of Science (Technology) and Process Mining evangelist active in marketing, sales, consulting, product development and research. Teemu has been involved in 200+ end customer process mining project from order-to-cash, purchase-to-pay, plant maintenance, auditing and service. Teemu is also an active speaker delivering the process mining message as well as writer for several process mining and machine learning scientific articles. Book a meeting with Teemu using the link: https://outlook.office365.com/owa/calendar/TeemuLehtoQPR@QPR.onmicrosoft.com/bookings/