Accelerate Digital Transformation with Automated Process Mining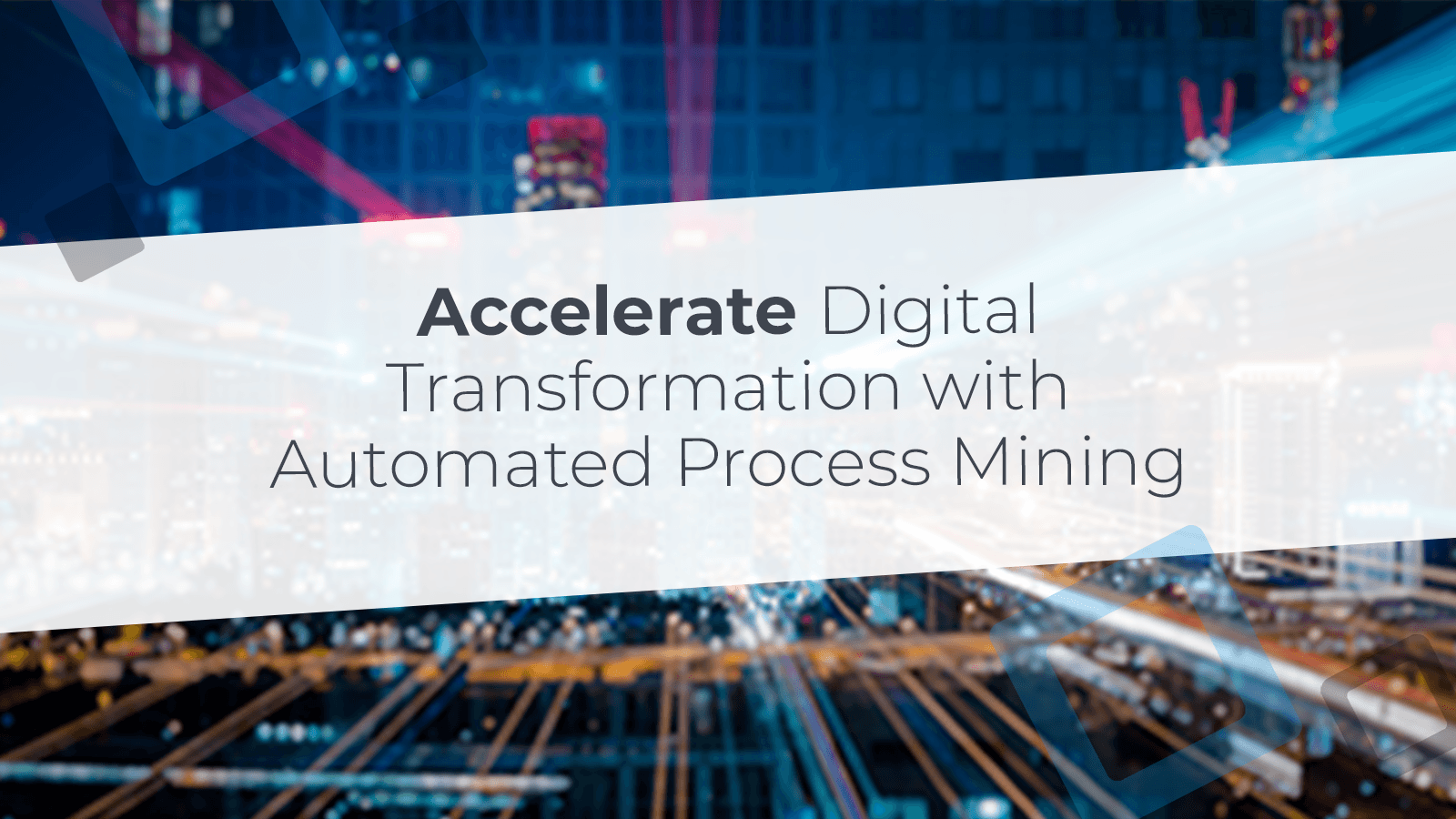 According to a 2021 CIO report, 77.3% of CIOs placed digital transformation as their top priority. However, with the immediate need that the pandemic placed on businesses to offer remote working and more online services and products, this should come as no surprise. Instead, it has simply brought the agenda for digital transformation forward.
Related webinar: From Insight to Act within 5 Days – Using Automated Process Mining to Accelerate Your Business Transformation
Whilst the implementation of digital technologies can help accelerate progress towards enterprise goals such as financial returns, workforce diversity, and environmental targets by 22% (Deloitte, 2020), it is understandable that organizations are ready to embark on this journey.

To start these programs is no mean feat, especially considering the cost of delivering such a transformation and the potential cost if they fail.

If we consider the statistic provided by PTC, 40 % of executives reported that the top benefit of digital transformation was operational efficiency, but knowing which areas to start with can be difficult.

A long-standing technique to improve operations is to first start by conducting interviews/workshops and mapping processes as they are now and then how you want them to be. Whilst process mapping is tried and tested, this takes time and is open to errors. Have all the necessary individuals been interviewed? Was a key sub-process accidentally overlooked? Before investing heavily in technologies such as AI, RPA, and IoT to support these processes, first, consider if and how you can select the right processes to transform your business.

While it is stated that 89% of heads of IT increasingly need to rely on advisors to navigate new technologies, processes, and methodologies (CIO, 2020), automated process mining can help address a significant piece of the puzzle.

Process mining tools (read: what is process mining), such as QPR ProcessAnalyzer, draw data directly from an organization's information systems, which is then used to visualize and analyze the process flows that actually take place. This helps organizations to quickly and effectively identify any compliance violations, bottlenecks, and process automation opportunities.

The next step once you have identified processes ripe for improvement is to determine whether a simple fix is available, such as training key staff or tuning schedules and whether there is a technology suitable to transform it. To support this, QPR ProcessAnalyzer also provides unique predictive process analytics and the ability to 'act' and trigger email, automation and RPA solutions to avoid potential future problems and embed the planned transformation.

Organizations such as Piraeus Bank have significantly improved their processes and ultimately their customer service by utilizing automated process mining. In fact, Piraeus Bank cut its loan application process from an average of 35 minutes to 5 minutes by fixing its process automation problems.
If you'd like to know more about automated process mining and how to act on its findings, on the 27th July, Jumar Technology in partnership with QPR Software are hosting a free online event: From Insight to Act within 5 days – using automated process mining to accelerate your business transformation. Join us and ask your questions as we discuss how to:
Remove process bottlenecks and improve lead-times,
Spot and predict non-compliance of business-critical processes,
Streamline workflow to improve business agility significantly
Editor's note: This blog post was brought to you by Jumar Technology and QPR Software. Read more about our partnership here.
What are your thoughts? Let us know in the comment section below!
Written by

Yen Do
Marketing manager in Process Mining at QPR Software.