Challenges in Logistics
Logistics professionals are faced with increasing customer requirements as well as procurement and warehousing efficiency targets. Customers demand accurate and timely deliveries while organizations strive for lower inventory levels and cost efficiency.
On-time delivery fails
Goods are delayed, lost, or damaged during shipment.
Goods are delivered to the wrong destination.
Wrong goods are delivered.
Order amounts are not met.
Too high warehousing costs
The organization cannot pinpoint from which warehouse or distribution center the problems originate.
Mistakes in sorting and inventories.
Too high warehouse levels.
Vessel capacity is too low.
Difficult to manage Supply Chain
Too high transportation costs.
Rules and regulations are not followed.
Too much data in operative business systems about supply chain performance and key influences.
Logistics data is rarely used for process improvement.
No proper visibility to ERP - what logistics data it actually contains and what can be drawn out.
Strategic objective to develop new supply models to address gaps in existing delivery capabilities or to move from Make-to-Stock to Make-to-Order supply model.
No clear visibility to supply chain.
Production is halted due to missing raw materials.
Tackling these conflicting objectives is not a simple task and requires a new approach.
Solving Logistics Challenges with QPR Process Mining
Typical benefits from using QPR ProcessAnalyzer and QPR's solution in logistics process mining and operations improvements include:
On-time delivery +13%​
Goods delivered on time.
Order amounts are met.
Right goods delivered to right destinations.
40% savings in warehousing costs
Fewer mistakes in sorting and inventories.
Warehouses on an adequate level.
20% wider geographical reach
Optimized warehouse and distribution center location.
Sufficient vessel capacity.​
Logistics Process Mining by QPR
QPR's process mining solution for logistics is based on QPR ProcessAnalyzer product as well as ready-made analysis views and KPI process indicators focusing on logistics process improvements.
Learn how to improve your on time in full KPI.
QPR provides the right tools and methods to make most of the data and turn it into valuable information – process intelligence. Based on event data, QPR ProcessAnalyzer, a process mining software, can:
1) automatically visualizes the real end-to-end process
2) provides key performance metrics
3) shows what causes process bottlenecks. It provides insights into supply chain performance.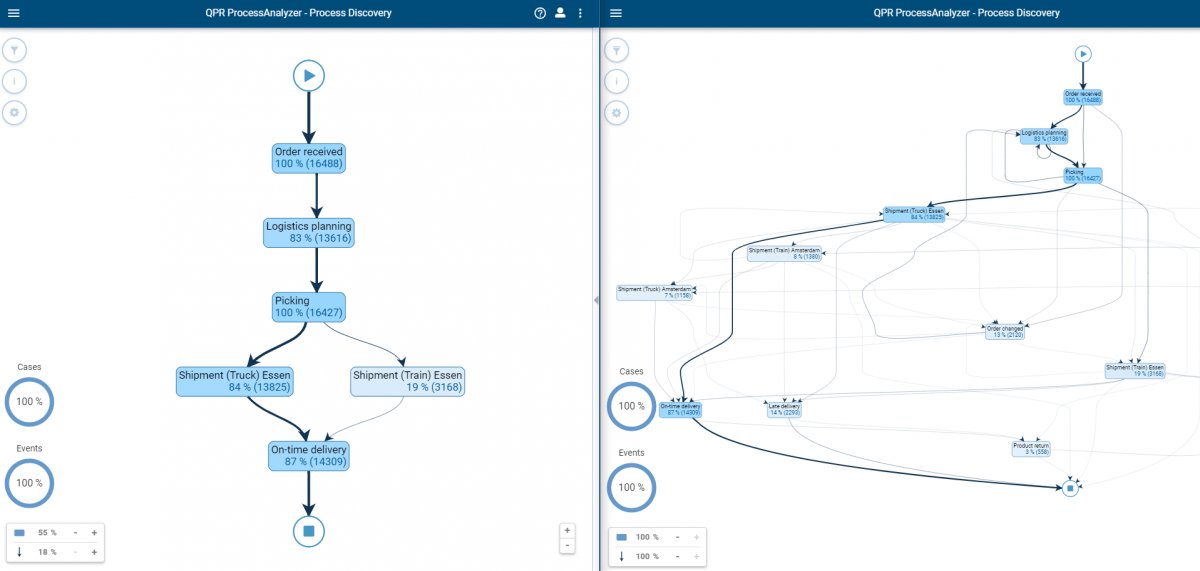 When asked to draw the logistics process, most people visualize something like the flowchart on the left. A straightforward execution of cases with maybe some options or decision points. When the process is visualized based on data, the reality is closer to the flowchart on the right.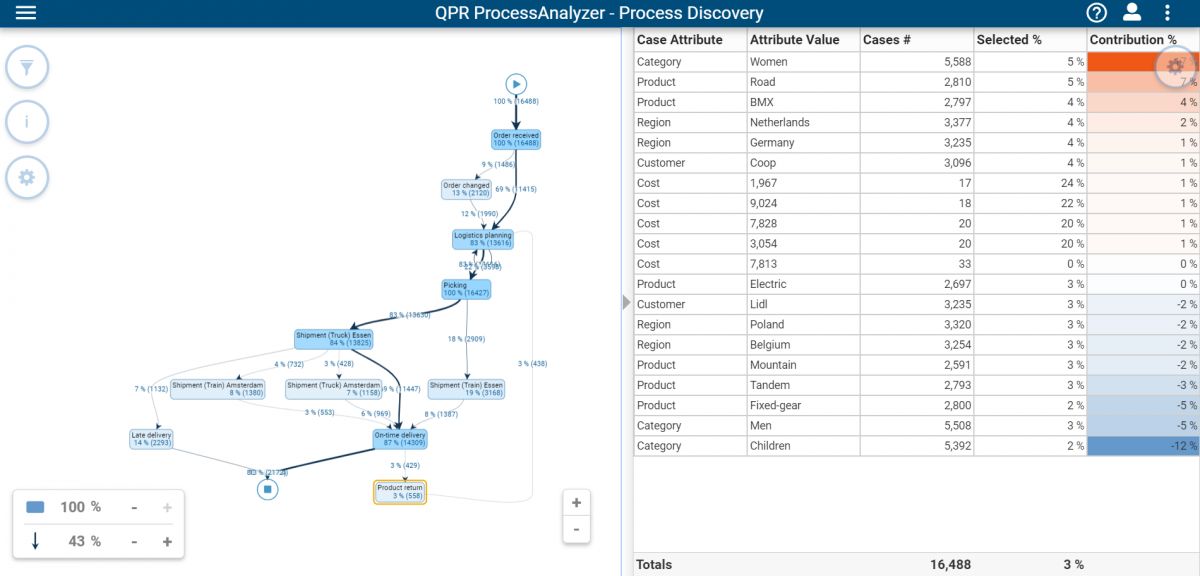 Influence Analysis easily reveals what are the characteristics related to certain cases. Select a step in the process flowchart on the left and see, what are the typical characteristics related to cases going through this step. In this picture, the attributes defining the selected cases are Category - Women as well as Product - Road where the contribution is highlighted in red. On the other hand, we can see that Category - Children and Category - Men are typically not so related to cases going through Product return. These attributes are highlighted in blue.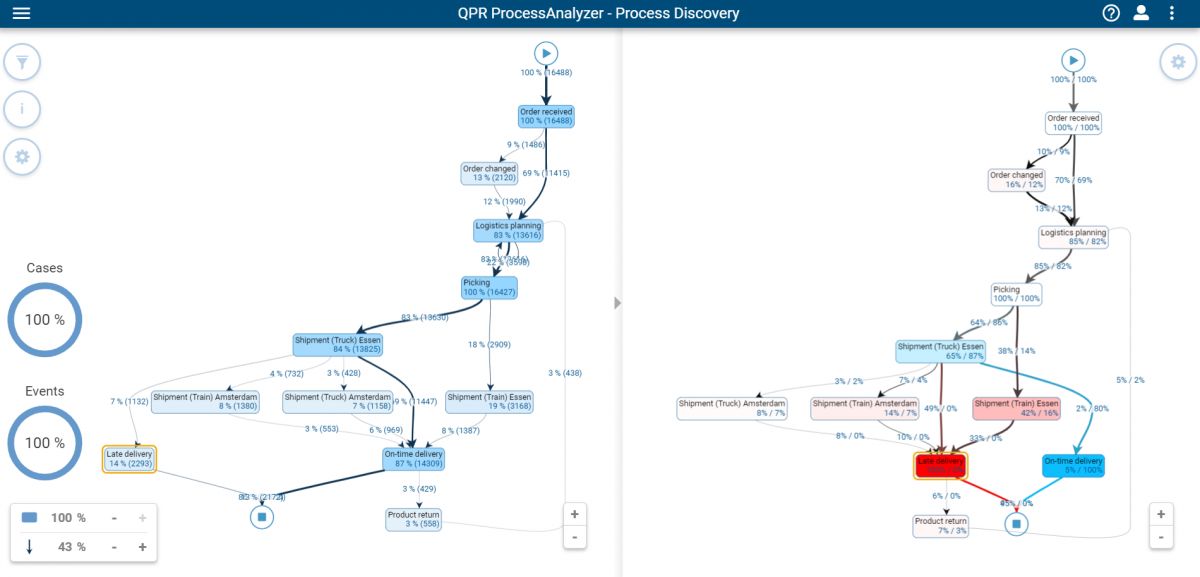 Red process steps are more commonly related to late deliveries than the steps highlighted in blue. It seems that, whenever products are shipped in Essen and by train, late delivery is more likely than for example when the goods are shipped in Essen by truck.