QPR Software Management System has been audited and found to be in accordance with ISO 9001:2015 standard.
The scope of this certification includes design, marketing and delivering software, services and solutions for Process Excellence.

Nina Ritonummi, Quality Director at QPR Software, excitedly explained the meaning of this certificate to QPR in terms of quality excellence and improvement using customer feedback.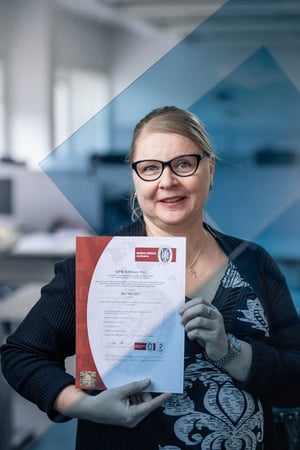 On quality:
"For me, quality is the way of managing and developing an organization with goals of growing a successful business and keeping the customers happy."
On how ISO 9001 helps QPR to achieve quality excellence:

"One ISO 9001 requirement is that organization must determine the sequence and interaction of the processes. That's why QPR re-designed its process architecture and published process integration model.

ISO 9001 requires regular internal and external audits, which gives our process owners and employees the opportunities to evaluate their processes and discover what to improve."
On using customer feedback to improve quality:

"QPR consultants work closely together with customers by supporting them and acting as a resource in their operational development projects. So our consultants have possibility to get customer feedback on a daily basis. We regularly arrange with customers project steering meetings, where we can agree to take timely preventive or corrective actions together.

After delivery projects we also collect formal customer feedback using NPS surveys. NPS is an index that measures the willingness of customers to recommend a company's products or services.
In short, close co-operation during projects gives us first-hand information on customer needs and satisfaction, and, as a result, help us to improve our products and services."
About QPR Software
QPR Software Plc (Nasdaq Helsinki: QPR1V) provides process mining, performance management and enterprise architecture solutions for digital transformation, strategy execution and business process improvement in over 50 countries. QPR software allows customers to gain valuable insights for informed decisions that make a difference.
Dare to improve. www.qpr.com

For additional information, please contact:

Teemu Lehto
Vice President, Process Mining
QPR Software Plc
Tel. + 358 40 546 0202
Email: teemu.lehto(at)qpr.com
Or book a meeting with one of our experts via the link below. We are always happy to have a demo or an in-depth discussion with you!