Meet Konstantin Khlopin, Principal Software Engineer at QPR
Over 10 years ago, Principal Software Engineer Konstantin Khlopin worked at a small software company that provided services to other companies – QPR, among others. After he changed jobs, it didn't take long for Teemu Siipola to ask if he would come and work for QPR instead. "It was a surprise: I wasn't planning to move, or even looking for a job."
However, he decided to take the leap. 10 years later, Konstantin is still working at QPR and Teemu is still his supervisor. He got used to life in Finland easily and quickly, even though he didn't speak Finnish. His colleagues helped him with everything that can be challenging for an expat – opening bank accounts and making electricity contracts, to name a few examples.
The helpfulness didn't end there. Konstantin speaks so warmly of Product Development; it makes us marketeers want to change careers and head over to his team.
"Everyone is always ready to help each other – we like our jobs, do things willingly, and provide support to each other when needed. This supportive culture, combined with the high standard of professionalism and expertise, lays the foundation for the fantastic team spirit we have," he explains.
Konstantin has been able to stay at his job for a long time because of the culture, varied tasks, and diverse responsibilities. He started from the user interface before diving deeper into back-end calculations for process mining:
"Most people change companies very often, but I have stayed here for 10 years because I simply haven't gotten bored – I've gotten to work with new products and different technologies. I started with Delphi and JavaScript, then moved on to .NET and C#, and now I'm working with SQL and distributed computing: using cutting-edge cloud data solutions like Snowflake."
Coding is not the only part of his work. Although he likes working with technologies, he also needs to work with people. Because of this, he has enjoyed his secondary role as scrum master: coordinating the scrum team, planning the work for each sprint, communicating with product owners, having meetings, and refining specifications. His colleagues make the task easy, as he doesn't need to coordinate much or constantly remind people. Everyone is an expert in their own area and knows what they need to do: "It's very easy to coordinate a team when everyone likes their work and finds it interesting."
When Konstantin is not coding or leading scrum teams, he enjoys learning about different cultures from classical literature and films. His fascination for cultures also sparked an interest in traveling. A long-time dream come true for him was his trip to Japan in 2019 – getting to see all the ancient shrines and temples with majestic mountains in the background.
Although traveling brings him joy, he also loves the Nordic culture where people respect others' individuality and space – you don't have to try to fit the mold and be like everyone else. "Difference is strength," he notes.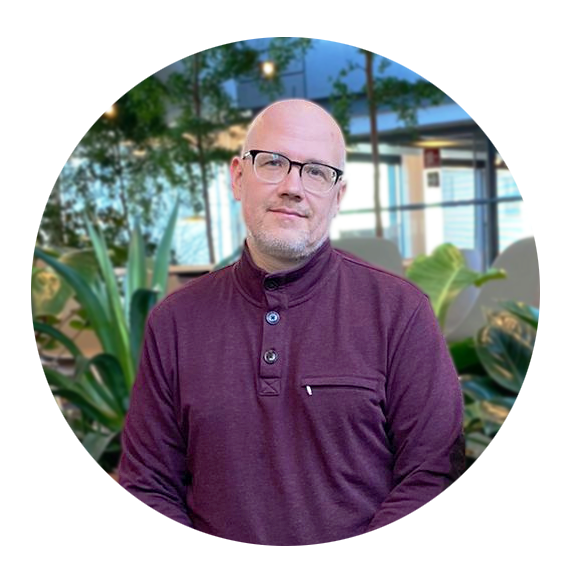 "Most people change companies very often, but I have stayed here for 10 years because I simply haven't gotten bored – I've gotten to work with expert colleagues, new products, and different technologies in a supportive and professional culture. I started with Delphi and JavaScript, then moved on to .NET and C#, and now I'm working with SQL and distributed computing: using cutting-edge cloud data solutions like Snowflake"


Do you want to work with Konstantin and other experts?
See our open positions and apply today!
Sign up for our newsletter