Are you considering creating a Digital Twin of an Organization to transform your company into a digital organization? Learn the what, why, and how in this blog post!
Every organization is unique. To succeed and achieve business goals, you need to understand how your organization functions. For example:
What are the organization's objectives?
How do people work together to achieve results?
What is the interface towards customers, suppliers, and other business partners?
If you can find answers to these questions, it will be more likely for your work to be strategic and efficient. However, just knowing the answers are not enough to drive change across the company. A digital twin can come in handy for an organization to scale the transformation on an enterprise level and pave the way to success.
What is a Digital Twin of an Organization (DTO)?
A digital twin is a dynamic digital model of any organization. A Digital Twin of an Organization includes:
The past performance data
Understanding of current business goals and business models
Performance KPI indicators with target levels
Detailed transaction-level situational process analysis
Support for intelligent business decision making
The digital organization helps align both new and current employees with the company goals and operations. For new employees joining the organization or changing a position or role, the digital organization should provide an understanding of business operations, performance goals, and overall strategy statements. For existing employees, the digital organization provides up-to-date information about the latest strategy, direction, and agreed on business models.
The digital twin is also a storage for information, such as performance KPI and transaction level data analysis of the current situation.
Why do we need a Digital Twin of an Organization (DTO)?
A Digital Twin of an Organization serves as a system for all stakeholders to align with company goals and operations. It helps us to understand our customers and also to improve our work to be efficient, effective, and agile. My top-10 reasons for why an organization needs to build a DTO are:
The world is changing
Business models and operations vary due to digitalization
The hiring of new employees
Existing employees change positions and locations
Mergers, acquisitions, and divestments shape large organizations
Robotic process automation (RPA) is taken into use to automate individual tasks and process steps
Customer experience is becoming increasingly important and critical in business operations
Competition is getting global and intense
Only the fittest will survive
Artificial intelligence (AI) is used to boost business operation efficiency
A Digital Twin of an Organization guides a business to focus on the organization's strategic objectives and increase productivity.
What are the components of a Digital Twin of an Organization (DTO)?
The following picture represents a DTO solution, taken from QPR's demo model for "Capital Bank." It shows the critical components of a Digital Twin of an Organization on the strategy level and operational level. A digital twin should consist of destination, map, performance, situation, decision.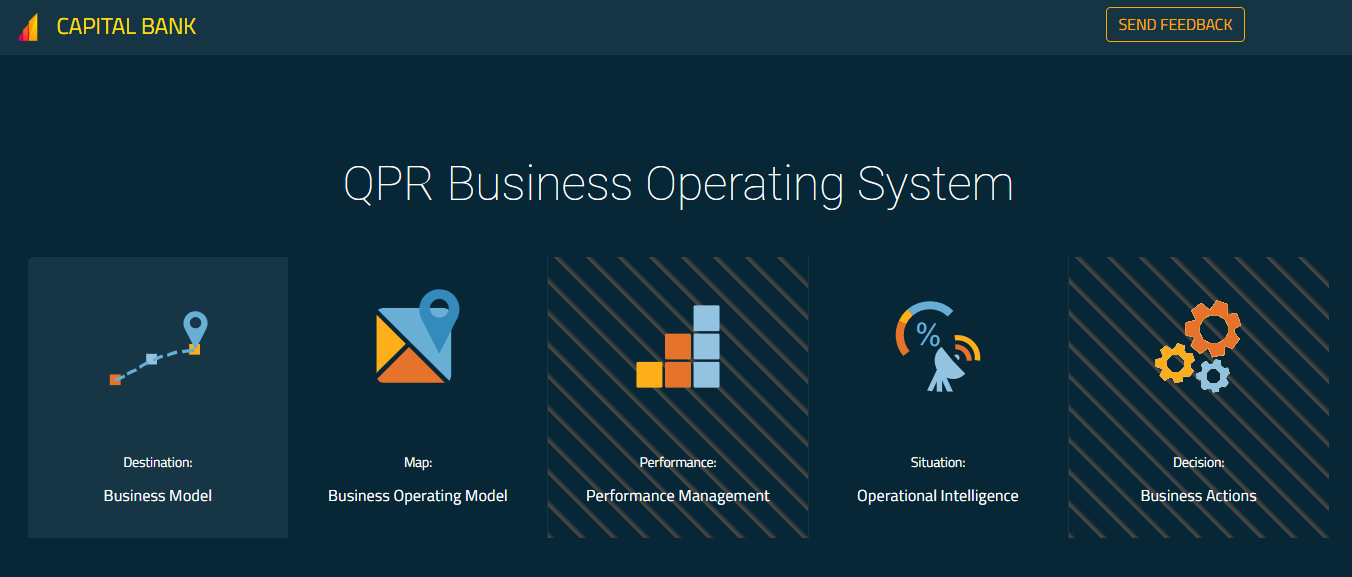 QPR Business Operating System
The strategic level of a digital twin includes the destination, the map, and performance.
Destination & map - business model & business operating model
Where does your organization want to be in 3-5 years?
How should the organization's operations be functioning?
In QPR Business Operating System, it means starting with business design to build a business model and business operating model. This goal of business design is to identify relevant business models for the organization and set strategic goals.
Performance - enterprise performance management
What is the current KPI performance against goals?
The strategic level continues with performance management. The goal of performance management is to define and cascade business objectives, implement performance indicators, and dashboards. The purpose is to monitor performance against targets and support higher level business transformation projects, programs, and initiatives.
The operational level of QPR Business Operating System consists of situation and decision. It starts with design, which takes business models as input and extends them to full operating models. That design contains end-to-end process diagrams as well as information, application, and technology architectures. These models serve as a map for implementing and running the organization to meet the strategic goals.
Situation - business operational intelligence
What is the actual situation at the moment based on transaction-level data?
Process Mining is a discipline to receive the situation of the operational level of your organization. The Process Mining and Intelligence module provide day-to-day real-time information, reflecting the actual status of behavior and performance of each end-to-end process. Operational Intelligence is like a continuous health check. It shows the performance in details to discover problems and bottlenecks, such as unwanted process variations, long lead times, as well as root causes related to these findings.
Decision - business decisions support
What should be done now to achieve better results?
Based on business operational intelligence, your organization can make data-driven business decisions to make improvements that drive the most values.
How to build your Digital Twin of an Organization (DTO)?
It is a motivating and rewarding job to build and maintain a Digital Twin of an Organization. You can first start with small pilot projects targeted to the most crucial areas using the latest technology. After achieving concrete business results, you can scale up your digital organization to maximize the benefits!
Are you interested to learn more about the Digital Twin of an Organization? Check out my webinar here or schedule a chat with me.