Process Mining for Service Management
Lassi Uusitalo | 5 min read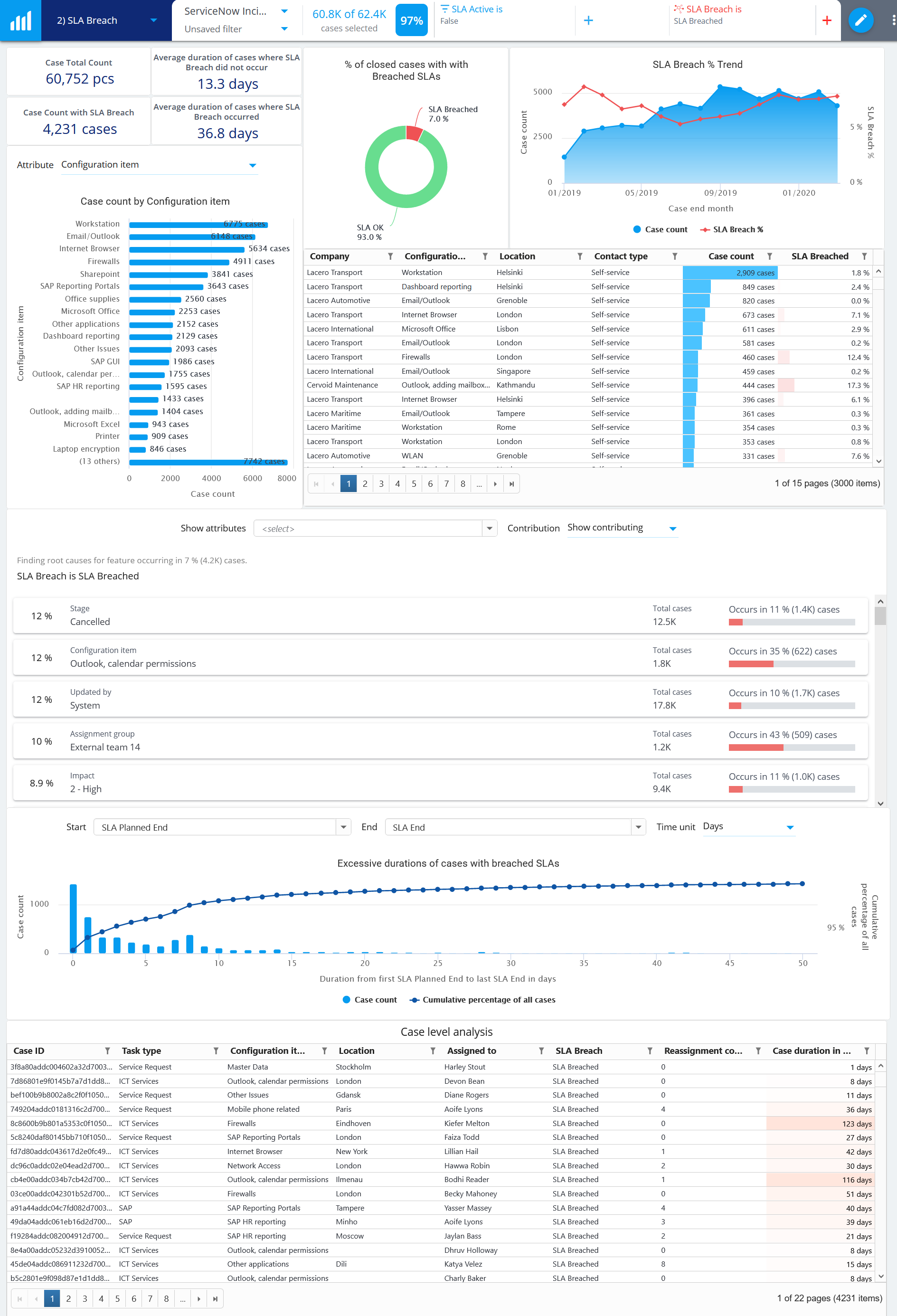 Service Management refers to the activity of building and maintaining customer relationships by making information technology accessible to the customer base. Due to the high volume of daily service requests, hidden process variations, and unidentified bottlenecks, Service Management becomes an excellent target for process mining.
In this article, you'll learn the benefits of applying process mining to your Service Management processes and 3 practical ways to optimize them by using process mining.
See the recording of our webinar in this topic, and download the presentation slides here!

Read: What is Process Mining?
Assessing your Service Management process
A well-executed Service Management is key for upholding a positive image of the company. It is also a critical 'make or break' point for customer loyalty, when deciding whether or not to keep using the services of your company or start looking elsewhere.
"We provide excellent service value to our customers!" proclaims the Service Manager. Here's the question: How do you know? With the shear volume of daily service requests, it is difficult to keep track of ongoing service requests.
Which service requests should have been resolved by now?
What are the common reasons for SLA breaches?
How to improve the overall Service Management process? ...not to mention the difference in the provided service quality between different sub-units of the organization?
This makes Service Management an excellent target for process mining, which brings visibility to the entire end-to-end process and identifies root causes for problems in the process execution.
Steps included in a Service Management process
Generally speaking, we could categorize some process steps involved in a Service Ticket as follows:
SLA starts: A service provider receives a request to look into an issue with the product/service by a customer or another stakeholder who needs the issue to be looked at.
A task is opened/created: A ticket is created internally, which is then assigned to a member of the customer service team or a technical expert.
An expert works on the ticket: This may either be a straightforward and quick answer to satisfy the original inquiry. However, sometimes you might need to get more information from other stakeholders - such as the customer themselves, vendors, specialists etc.
The ticket is resolved: The expert has solved the reported issue! Hooray!
SLA ends: The service has been fulfilled (hopefully before the agreed resolution deadline within the SLA).
The ticket is closed: The service request is closed with no expectations to be further investigated unless the service request is reopened.
Ideally, all service requests would be this straightforward. However, in reality, most of them are not. There may be several repeated back and forth conversations, some tickets that are not handled by the right people, some records that are not recorded as they should be, among many other factors that can possibly lead to longer service request resolution times and ultimately breached SLAs.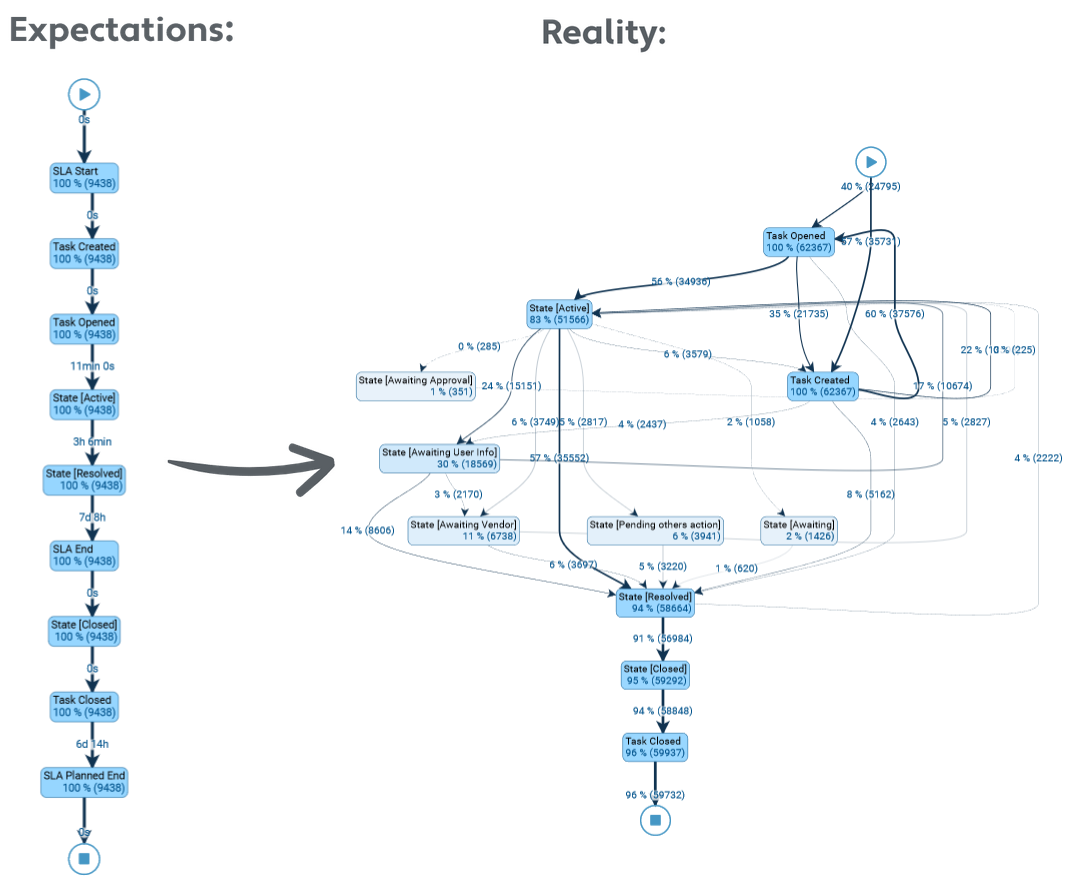 How it all works: Process Mining for Service Management
A number of different event types, such as "SLA Start" or "State [Awaiting]", are recorded into your service management system database with timestamps. From the starting point of the process to "State [Resolved]" and all the way until "SLA End" (and beyond), a record exists of when such an event took place in the service management process.
Already with this data, we can create the process mining model that uses these events (and more) to show you how your service management process happens in reality. QPR ProcessAnalyzer - QPR's Process Mining software - draws data directly from your information systems (such as ServiceNow) with built-in connectors. It then visualizes and identifies symptoms of inefficient processes, such as bottlenecks, reassignments, and SLA and/or conformance violations.


3 practical ways for optimizing your Service Management process
Take these three steps to optimize your Service Management process with QPR ProcessAnalyzer:
Discover your as-is processes: see the end-to-end process duration and benchmark it internally
Use Root Cause analysis to understand where and why issues (such as long lead times) are happening
Monitor and improve continuously by utilizing built-in KPIs for Process Compliance, service request resolution times, and many more.
1. Discover and benchmark as-is process steps in different parts of your organization
Process Mining provides computer-generated process flowcharts, which are created based on traces you can find from your data management systems (e.g. ServiceNow). Based on these flowcharts, you will instantly spot how much undesired behavior is happening in your Service Management process, where certain process steps are being skipped and in which cases certain process steps are taking longer than expected.
Combined with Process Discovery tools, such as duration analysis and case attribute profiling, you can identify the main issues in your processes (such as long resolution times), where they are happening, and how to start further investigations for compliance checking and process improvement.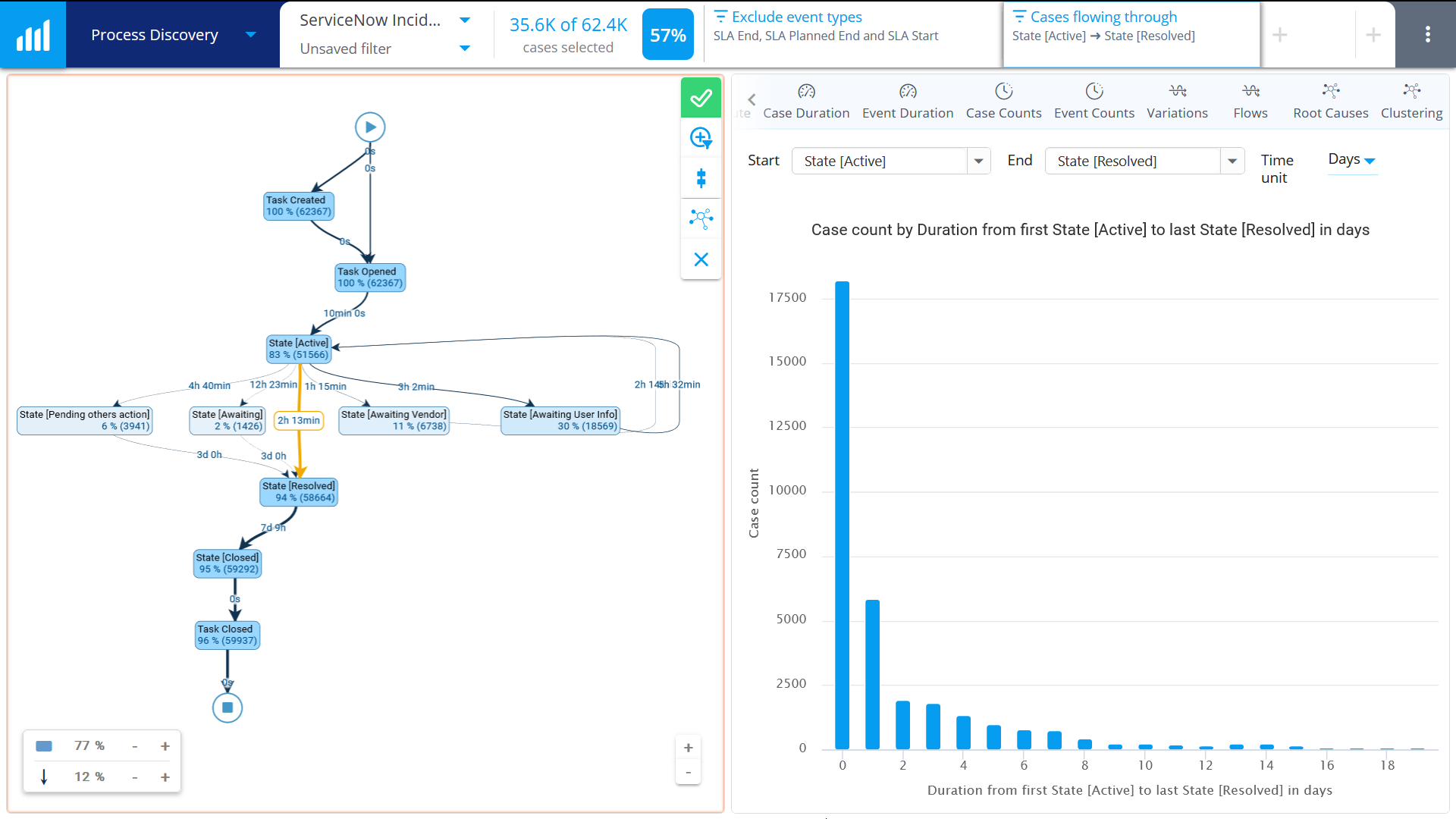 2. Understand where and why issues are happening in your Service Management processes
With Root Cause analysis, you see which cases have a higher tendency for reassignments or rework (repeated process steps), which chains of events lead to problems later in the process, and other sources of SLA violations.
The root causes in the process are also ranked according to their contribution to business outcomes, which gives you an idea about what you should focus on to increase customer satisfaction and decrease resolution times.
However, there are more ways in which you can use the powerful Root Cause analysis. You can also identify so-called "role models" with it, i.e. see where the investigated issues are less frequent, to enable internal benchmarking for the rest of the organization.
Once you have analyzed the root causes, you are well equipped for a plan of action for further investigations and process improvement initiatives. You can then start using multiple ways of further visualizing your data through ad-hoc analysis and long-term process monitoring via Dashboards.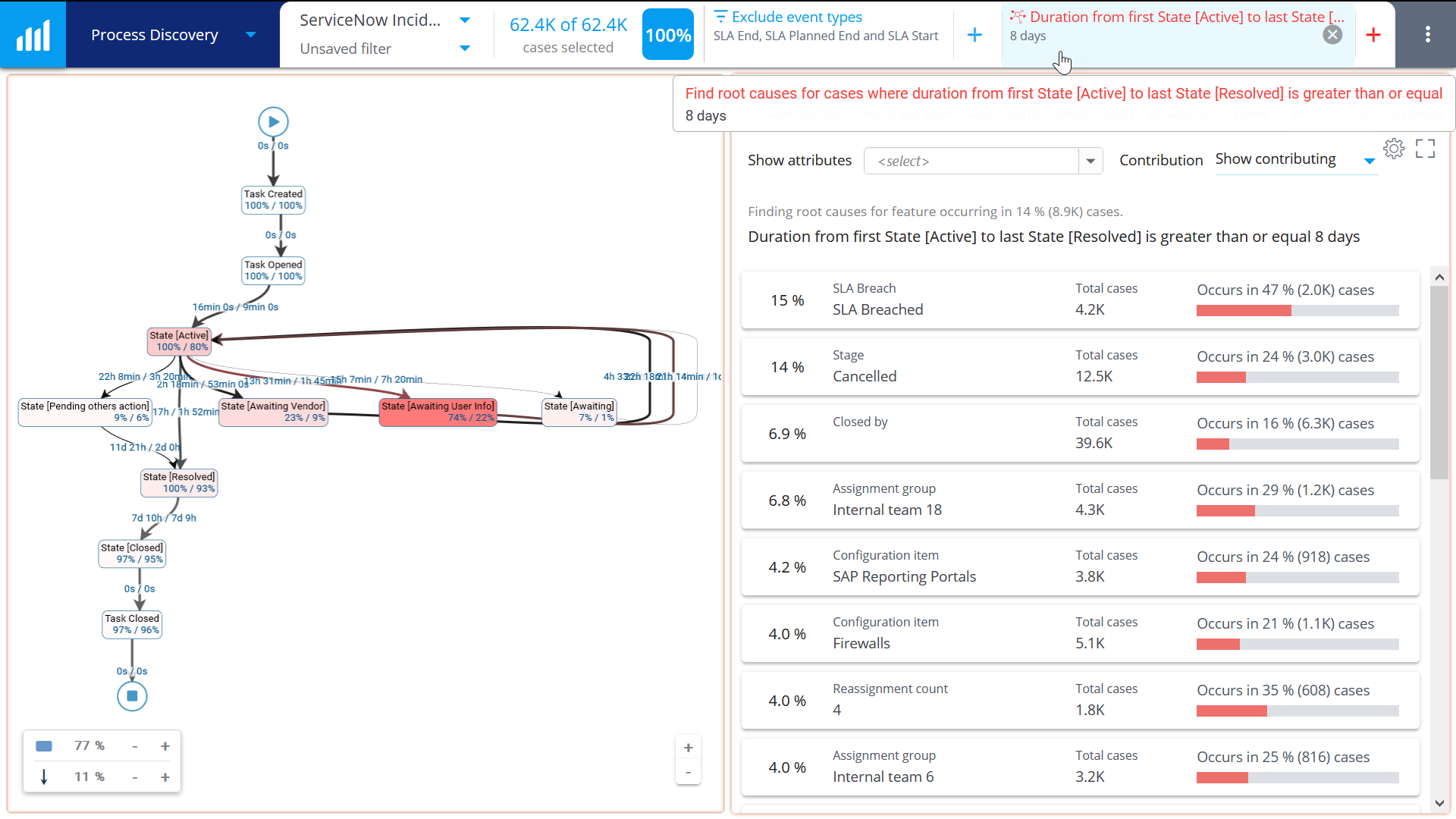 3. Improve continuously with ready-made applications for a variety of Service Management use cases
One notable benefit that process mining offers over traditional BI reports is its ease of use - the fact that you won't need a data scientist to interpret data or findings from the data, as AI-based advanced analyses and customizable dashboards have been readily built for you.
On top of this, QPR's pre-built Service Management dashboards make process mining easier and faster than ever before, as everything is already set up.
This means that once you open a dashboard, you will for instance instantly see where and when SLA breaches are happening, its business impact, as well as its root causes.
Currently, the QPR Service Management Application includes dashboards for, among other analysis & overview angles:
Operations Overview
SLA Breach
Service request reassignment analysis
Leadtime: SLA Start to SLA End
Process conformance/compliance
The Dashboards have been created in collaboration with process experts both internally and externally to ensure that they give the most insightful information to the most topical questions for Service Management professionals. They can be used for continuously monitoring your operations, digging deeper into your KPIs (such as SLA compliance %, service request resolution times, service request reassignment counts) and highlighting sources of delays or opportunities for process improvement.

Below you can find two examples of ready-built Dashboards for the Service Management Application in QPR ProcessAnalyzer: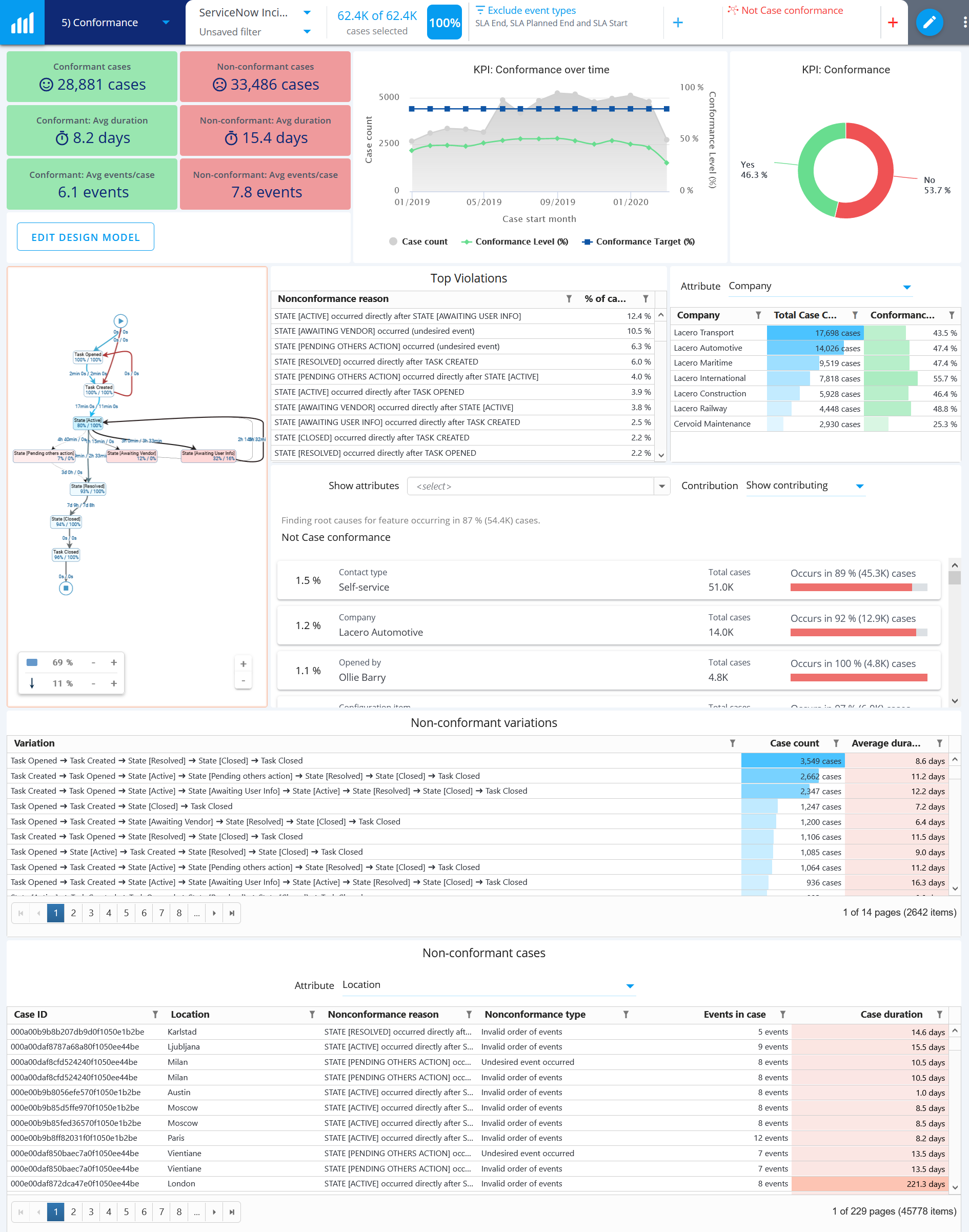 Interested to hear more about what you can do with the Service Management application? Make sure to check out the webinar beneath where I gladly will tell you more!

To sum it up: What are the benefits of using Process Mining for the Service Management?
Through process mining, it is possible to know precisely how your Service Management processes operate:
How long it takes from a new incoming service request to issue resolution
At what rate is your organization experiencing SLA breaches and where and why this is happening more frequently
How much your organization is complying with the designed Service Management process model - and how to improve.
When you can pinpoint the development areas in your process, you can focus your improvement efforts where they will produce the most value. With this objective insight, you will have the confidence to make changes, e.g.:
Improving and streamlining your service request escalation procedures

Identifying learning points from tough service requests and documenting best practices for training purposes
Developing your Service Management processes to reflect how to deliver the highest service value to your customers and other stakeholders
Know exactly how, why, and where your Service Management is performing better than ever, and where you still need to improve on your way to optimizing your Service Management. The best part is that these improvement ideas are not based on opinions or gut feelings - with process mining you have the facts and data on your side to make decisions and mobilize improvement initiatives with the confidence that this is the right path forward!
Webinar Recording (45 minutes)
Download presentation slides (in PDF)
Written by
Lassi Uusitalo
Business Development Specialist passionate about process excellence, process mining and story telling. Always looking for new angles to process understanding and tackling the most complex business challenges of the day.