Take advantage of process mining to improve Purchase-to-Pay processes
Matti Erkheikki | 3 min read
Purchase-to-pay (P2P) processes are typically those business processes that organizations want to harmonize and improve. We at QPR have had the opportunity to do so with many multinational corporations by utilizing data driven methods and our patented process mining technology. Even though P2P processes are not the "money making machine" of a company, their importance is great. In many industries significant amount of money is spent on external purchases which strongly impact the margins and working capital. Without well-functioning P2P processes there are severe disturbances also to the Order to cash (OTC) process, such as material shortcomings in production and late deliveries to customers.

From an improvement point of view, and in comparison to the OTC process, certain advantages of P2P processes make them an ideal target for data driven process improvement and process mining. One of the characteristics of P2P processes is that they don't have a direct interface with customers. P2P processes are - or at least have the potential to be - truly corporate level processes. OTC on the other hand is often quite different between, for example, business areas, divisions, product lines, or supply models, in order to serve the customer in a best possible way. Most organizations don't have a single OTC process for analysis. What they do have are centralized, high-volume P2P processes that are ideal for process mining. Being corporate level processes there is a lot of harmonization potential and typically high volumes. Fact-based visibility provided by process mining is the only way to understand the variations in real processes and validate the results of improvement efforts. High volumes mean big saving potential even with only modest fine-tuning.

High volumes also translate into substantial spending. Whenever money is transferred from one place to another in a globally operating business you need to care about compliancy. Process mining supports compliancy extremely well. Based on the transactional data and help of process mining technology like QPR ProcessAnalyzer, you can, for instance, easily verify that the "four eyes principle" is followed or that approval limits are not broken. You can also explore and monitor process behavior that may indicate fraud or at least unwanted process execution.

In our P2P process analysis projects we've noticed that process mining adds an important process flow dimension to many traditional measures that are followed in a P2P process using BI and other reporting tools. Let me give you an example. Purchase order based purchasing is a typically used KPI to follow how well POs are utilized. Purchase order based purchasing sounds self-evident but often isn't. Add a process flow dimension to that specific KPI, and the results are likely to change a bit. Why is that? With process mining you are able to see how many times the PO was actually created afterwards for example, after a goods receipt or an invoice, just to comply with the designed process. These cases would not be counted as PO based purchases.

Another concrete example of the value of the process dimension is in changes. In the OTC process analysis projects we are used to categorizing all changes as unwanted and bad for the end-to-end process. In P2P context this isn't necessarily as straightforward. Imagine two POs where the supplier sends order confirmations with changes to the original purchase orders. In the first case the process proceeds to invoice checking without any of the changes actually documented in the PO. Now the information on the original PO and the invoice don't match. This will likely cause a lot of hassle in the finance department and eventually there are also PO changes. In the second case PO information is changed soon after the order confirmation has been received. Now the data on the PO and the invoice match and the invoice is likely to fly through the rest of the process. I'm quite confident that the latter one of the cases went through the process faster and more efficiently. With traditional BI and reporting these two imaginary cases are likely to show identical values in terms of PO changes for instance. With process mining we are able to see that in the first case the PO changes took place only after the invoice was received whereas in the latter case already after the PO was confirmed by the supplier. Process mining obviously allows us to prove that in reality the latter case is better for the company.

Based on the experience from numerous P2P process analysis projects I'll summarize the main reasons for you to start P2P process analysis today:

1. P2P is a critical business process in almost every industry with huge harmonization and improvement potential

2. Adding a process dimension to measurement and analysis provides completely new insight to actual performance and compliance of a P2P process

3. You'll get instant results through cost savings, reduced working capital and improved performance in your OTC process

4. P2P analysis is very easy and fun with the help of QPR's turnkey solution for P2P processes supporting most of the major ERPs like SAP, Infor M3, Oracle and Epicor.
Written by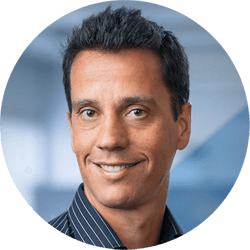 Matti Erkheikki
SVP, Process mining & strategy management business since January 2017 Member of the Executive Management Team since July 2007 Mr. Matti Erkheikki is in charge of process mining, channel business, and customer service. He has been served QPR Software since February 2002, initially as a consultant. In 2005 he worked as a Business Development Manager and in 2006 as the Regional Vice President of North America. From 2007 to 2014 he was responsible for QPR's business operations in Finland and in 2012–2014 also for the global OEM business. Prior to the current position, he was in charge of the domestic sales and global delivery of process intelligence solutions, developing an international process intelligence solution sales channel as well as for selling and delivering SAP solutions in the Finnish market. Mr. Erkheikki holds a Master's degree in Industrial Engineering and Management.