Process Mining Case Permissions with QPR ProcessAnalyzer 2018.2
Riku Mikkonen | 2 min read
Process Mining year 2018 is off to a great start and it is even getting better with QPR ProcessAnalyzer 2018.2. This release brings forth new features that focus on the data security and exportation of data from QPR ProcessAnalyzer. We feel that this new release opens up new possibilities for our users and are really excited to present these to you.

The Case Permissions feature allows for setting permissions based on the case attributes
A key feature of this release is the Case Permissions functionality that allows for a more refined security level access for QPR ProcessAnalyzer. Previously, you have been able to create project folders and add user group based permissions to control the visibility and access of your different process models.
We here at QPR are constantly taking Data Security into account and implementing Case Permissions further solidifies the Data Security of QPR ProcessAnalyzer.
Case Permissions allow for creating customized access rules for process models. The rules are based on the case attributes of your process models, creating a new world of possibilities to control access to data. One use case for this is limiting visibility of regional data. Organize users to groups by region and create a rule where groups can only see a specific regions cases. This allows you to divide the visibility of a certain model by region and all of this happens on the server side without any extra data being sent to the user.
Other possible use cases for case permissions could be restricting visibility by an account manager or an organizational unit. Setting Case Permissions takes the data security features of QPR ProcessAnalyzer even further, creating a secure environment for process analysis.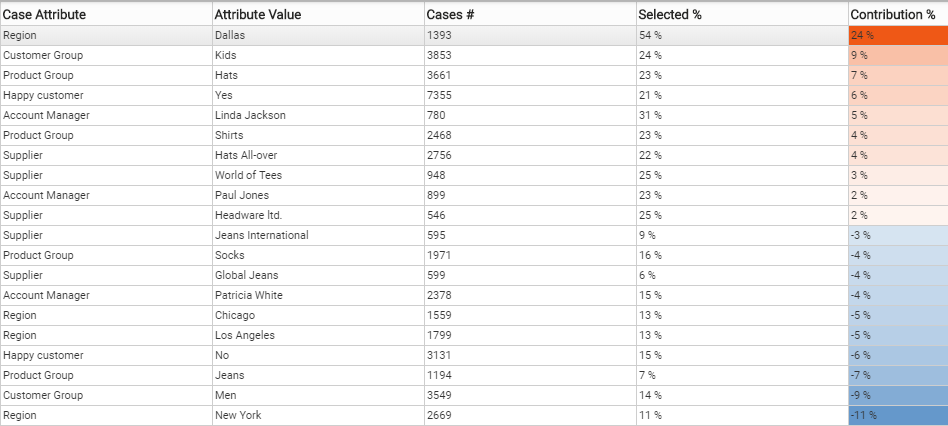 Influence Analysis shows basic information, but also allows for detailed info from the settings tab

Influence Analysis for Case Attributes has been tweaked. Influence Analysis is one of our flagship features which is based on patented technology. Using this analysis feature QPR ProcessAnalyzer shows you the root causes for your process deviations and gives you insights where there might be problems in your process. With the new version, selecting the analysis feature will now present you with basic information about the root causes for your selection. This gives you instant information that is precise and gives you insight about the selections you have made.

When you want to have more information about the root causes, just open up the menu and select the presentation options. This presents the more detailed information for your influence analysis, such as detailed distribution of the data. We have also implemented the Influence Analysis tool into our KPI Expression language. With this addition, you can implement real-time Influence Analysis results to your dashboards, creating new possibilities for presenting your analysis results.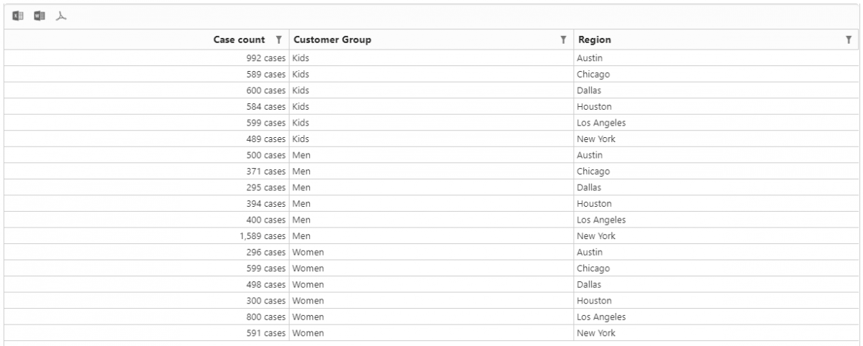 Data Tables created in ChartView can be exported in a variety of formats


In the previous release, we introduced our new ChartView feature. Using ChartView, you are able to create customized charts and data tables that have been generated with the help of the KPI Expression Language. For this release, we have gone and retooled parts of ChartView to make it even more powerful. The analysis designer layout has been simplified, so you are able to create the charts much more swiftly. One of the more special features added is the possibility to export the tables to an excel format. Just create the charts with ChartView and then add the data to your excel sheets. Other exportability is also possible, such as in a word format or as a PDF. All this is performed on the server side, making sure that your data is securely processed in QPR ProcessAnalyzer 2018.2 is a great release that takes the product forward and we cannot wait to show you more about our product.
Watch the release webinar on-demand
Written by