How Process Mining Enables Successful Digital Transformation - Top Trends for 2021
Saara Bergman | 5 min read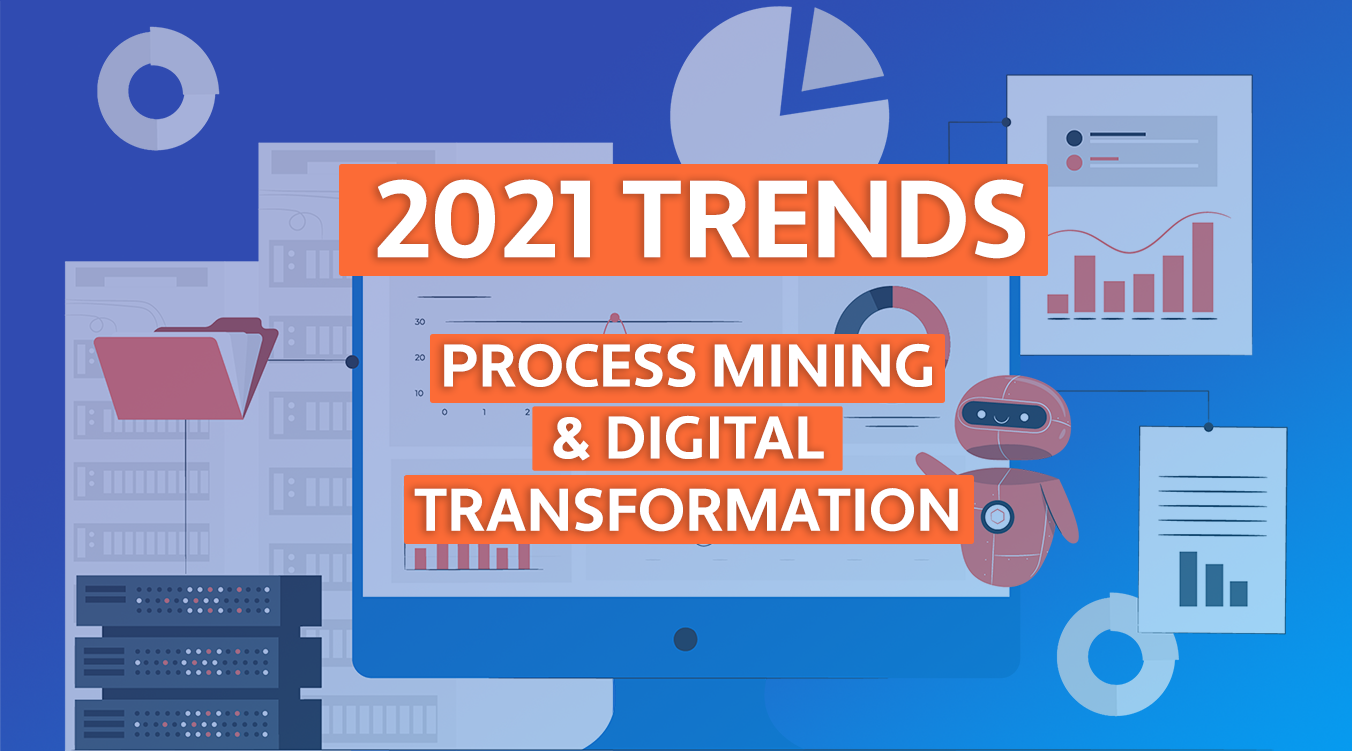 Although digital transformation is mentioned in just about every corporate playbook, many organizations are still failing to achieve the desirable outcomes with their digital transformation initiatives.
The fact is that merely offering digital services to customers or internal stakeholders is not enough in itself anymore - unless the digital processes are working seamlessly. According to Gartner, "digitalization is a top priority, but efforts are stalling", and in 2020 "only 40% of organizations have brought digital initiatives to scale".
Following the covid-19 pandemic, most businesses' digital transformation schedule turned from long-term plans into a challenge that had to be solved overnight. This abrupt change brought about severe headaches to management: exciting yet complex robotic process automation (RPA) projects, complications from intricate internal processes, and the lack of shared, data-based insights within the company.
Plenty of organizations have, however, already embraced digital transformation and different digital tools that support this change. The question is how well they have succeeded in this. We believe that the speed and accuracy of all processes within a company is becoming a key enabler of digital success – and in this blog, you will find out why you need process mining to improve these.
On-demand webinar: How Process Mining Enables Successful Digital Transformation - Top trends for 2021

1) In 2021, RPA is the most hyped technology used for digital transformation…
…but it will only cause problems if you have not optimized your processes first.
Robotic Process Automation (RPA) can indeed bring substantial business benefits to a company: it both improves efficiency and reduces costs by automating manual process steps. However, RPA can also be very costly if you implement it without first having a sufficient understanding of your business processes. The reason for this is that RPA "bots" are programmed to follow certain rules, while processes that companies wish to automate can have thousands of variations – i.e., processes that do not follow the rules.
Caught up in the excitement of RPA, companies often overlook the fact that the processes they are trying to automate have all these extensive variations. This is one of the biggest problems with RPA implementations: Robotic Process Automation alone is not designed to automate full, complex, end-to-end processes. RPA works best on process steps with few variations and little complexity.
"Robotic Process Automation alone is not designed to automate full, complex, end-to-end processes. RPA works best on process steps with few variations and little complexity."
Process mining presents automatically generated visualizations of a company's processes in dynamic flowcharts, in real-time. Process mining not only helps you discover your process variations – which are making the obedient RPA bots confused – it helps you find the root causes of these variations and get rid of them.
Moreover, RPA alone will not give you the overall insights and KPI monitoring that process mining brings to the table. With RPA alone, you can tell, for instance, that 14 000 activities are now performed by a bot. However, you won't know how many activities your company had overall, and how many manual ones are left to be automated, or what the exact ROI will be.


Process Mining helped a large bank increase their zero touch rate from 5 % to 40 %.
Something we have noticed with our current customers is that they do not know their automation rates and have trouble maximizing their ROI on current automation initiatives. Do you know what your percentage of zero touch processes is?
With the process mining software, QPR ProcessAnalyzer, we helped a large bank increase the automation rate of existing automation initiatives (instead of just focusing on finding new opportunities for automation), and in two months they increased their zero touch rate from 5 % to 40 % and saved € 2.6 million.
Process mining increases Robotic Process Automation ROI by:
ensuring you are automating the most suitable processes
keeping track of the process execution and variations
monitoring RPA rates, trends, and manual activities


2) Business Process Management will support automation-driven agility.
As more processes are digitized, Business Process Management (BPM) is becoming a key driver of digital transformation - and optimizing internal processes is at the forefront of this.
As shown in a survey conducted for the PEX Report 2021, the most common strategy for business transformation in 2021 is "optimizing internal processes on a departmental or business unit level" and the second most common business transformation strategy is "enterprise-wide business re-engineering for operational and customer excellence". The results are clear – the role of frictionless internal processes and process improvement through BPM is more important than ever.
With new technologies that enable digital transformation – such as RPA, intelligent automation, and artificial intelligence – organizations need to focus on optimizing their internal processes. In 2021, we believe that the main value and usage of BPM will be to support automation-driven agility, rather than only being used to drive efficiency in itself.
"With process mining, we can discover processes in 2 hours instead of 3 weeks"
However, there are better ways of doing BPM than manually mapping processes and using workshops and interviews as a basis for understanding processes. Process mining can be used in all stages of a traditional BPM lifecycle:
During process modeling, process mining takes the event logs from IT systems and creates an automatic visualization of the process (in form of a dynamic flowchart, which you can easily investigate from different angles)
During process redesigning, process mining provides a holistic view of bottlenecks, rework, and process variations. An important analysis is the root cause analysis, which automatically pinpoints the causes for any problems in your business processes. Process mining also helps you choose the most optimal process variations and implement the best possible to-be process.
During process execution and monitoring, process mining provides KPIs automatically – there is no need to build a KPI reporting system and calculate KPIs.
During process strategy, process mining helps achieve full transparency and makes it easy to predict problems before they even occur. Process mining utilizes Machine Learning and Artificial Intelligence which help continuously improve processes.


By combining dynamic, automatically generated process mining visualizations of processes with a built-in BPMN editor, it is easy to analyze and improve internal processes. "With process mining, we can do this in 2 hours instead of 3 weeks", commented Cecilia Anneroth from Ericsson about discovering their processes with process mining compared to traditional methods.




3) The maximum business impact from digital transformation will be gained through shared insight and data-based decisions…
…made with the help of AI, ML, and other rapidly evolving technologies.
For the past years, it has been a clear trend that organizations with data-driven and well-educated decision-making have better success with their digitalization efforts in the long run. These organizations are beating the market through building a strong, digitally enabled connection to customers, vendors and partners. No matter the technology used for digital transformation, shared insight and trust is key in any digital transformation initiative.
In 2021, it has never been easier to make fact-based decisions: process mining uses artificial intelligence and machine learning to help you predict problems before they even occur. Process mining also helps you see how a change in processes would impact your business, understand what ROI can be expected from different digital transformation -related investments, and where to make the most profitable improvements in processes or changes to automation initiatives.
When managers ask: "Are you just making these numbers up?", process mining shows them that the numbers are not made up and allows you to investigate all angles of everything, together."
As WD-40 analyst John Gilmartin put it: "Trust is key. When managers ask: "are you just making these numbers up?", process mining shows them that the numbers are not made up and allows you to investigate all angles of everything, together." - something that could not be done with traditional business intelligence.
What John refers to, is that process mining opens a door for co-creative innovation and maximal value creation together with any stakeholders. With process mining, you get the opportunity to share and investigate the actual process execution with relevant stakeholders: those in charge of digital transformation or those managing any important processes or relationships with customers, partners or vendors.
When you share and discover all process activities openly with trustworthy process data as a foundation, you can together with different units and divisions consider the best areas for improvement. While doing so, you may also uncover potential for new business models and value creation.
All in all, the outlook for 2021 looks promising. Organizations are continuing to increase their digitalization investments, and the ones who have already invested are now harnessing the value from the technologies and the rapidly changing markets.
Do you agree or disagree with these trends for 2021? Comment below!
On-demand webinar: How Process Mining Enables Successful Digital Transformation - Top trends for 2021
Written by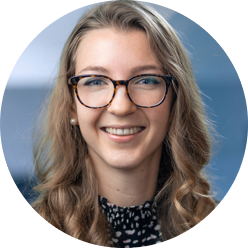 Saara Bergman
Product Marketing Manager for QPR ProcessAnalyzer